I don't pleasure fish very often these days so when I arranged to meet up with a mate I hadn't seen for a while we decided on combining it with a spot of fishing. He suggested we go to Luccombes Fishery as they've got several lakes along with good facilities on site including a cafe and a tackle shop. I met him at Exeter services at a very sociable 9:30 before we headed to Ikea for breakfast and I have to say it was great value at £2.50 for 2 sausages, 2 bacon, 2 hash browns, beans and a mini omelette, the addition of 2 toast and a coffee bumped it up to £4.40 but you can't go wrong for that price and very nice it was too. If I had one slight grumble, it would be that I'd rather have a fried egg than that omelette.
Then it was on to the fishery which is also a caravan site, we went into the cafe/tackle shop and paid for our day tickets (£7 for one rod which is the going rate) before looking at the ponds, there are five on site, Oak which is the largest lake and holds carp to 18lb and skimmers, Birch which is silvers only (tench, bream, crucians, roach, rudd and perch), Sycamore has carp up to 10lb, Ash holds carp to 23lb and Larch which has carp to 14lb plus tench, bream, crucians, roach, rudd and perch. Si had fished Larch before and caught a nice mix of fish so that was where we decided to head for.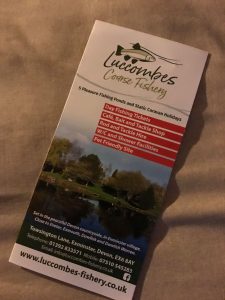 We drove down to the little parking area behind the lake and opted for two swims in the middle, the forecast for the day was pretty grim although as we were setting up it wasn't too bad. Landing nets and unhooking mats are provided on every peg. Plumbing up there was a decent depth and I settled on one line at 10 metres and on the side tray I just had some Bait-Tech 2mm Carp and Coarse micros and a tin of corn so a very simple approach.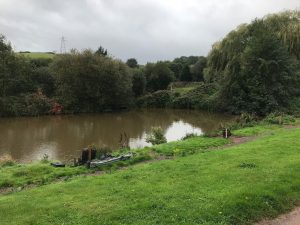 I potted in half a cup of micros with a few grains of corn and went straight in over it with corn on the hook, after about ten minutes I had a really positive bite which of course I missed! Next put in, the rig had barely settled before sailing away and as soon as I struck I knew it was a carp and after a short scrap I slid the net under a 3lb common and although a nice fish in lovely condition I was hoping it wasn't going to be a sign of things to come.
Back out again and another positive bite, this time it wasn't a carp and a lovely crucian around 12oz popped up, the next fish was a pound tench before another carp muscled in on the action. I then pulled out of a skimmer before catching one about 6oz and it was a bite a chuck.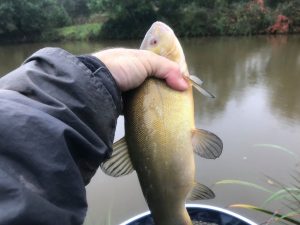 More crucians and tench followed along with a couple more carp and the odd skimmer, lovely fishing. The weather started to live up to the forecast as it got pretty wet and windy. Si was fishing the waggler and his first fish was a nice linear mirror and he followed that up with several tench and crucians as well.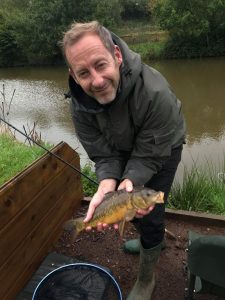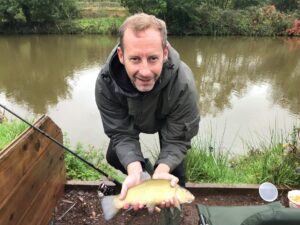 After a couple of hours I fed a five metre line and had a run of crucians and a tench before it slowed, back out on the longer line and I had a fish straight away and continued to catch until we decided to call it a day with the light starting to fade.
I ended up with 30 fish (4 carp for around 10lb and the rest crucians, tench and skimmers) for around 35-40lb, a cracking days fishing that was right up my street with quality silvers and just the odd carp. Would be interesting to have a silvers match using Larch and Birch ponds. A lovely venue and the fish were all in really good condition, for more info have a look at their website www.luccombes-fishery.co.uk