With a free date in the Ilminster club ticket and lots of people away, I booked into the Chard match at Perry St and it's nice to be able to just turn up and enjoy breakfast (even if the Tart was there!) and not have to worry about taking money and people moaning about pegs etc. I was up early and met most of the others at 'Spoons for breakfast which was nice but could've been hotter although the banter was top notch. Then we headed out the pond and it was nearly a full house today with 19 fishing.
Hoff announced the draw and I pulled out peg 3 which I was well happy with as it's a consistent peg and has some dead reeds on the inside to the left which normally holds some fish. I had Oz on my right with Paul H on the other side and Exeter Mike opposite on peg 17. I set up a Drennan 0.4 gram Carp 1  which I could use for the top two plus three line and two lines at 11 metres and a 0.3 gram Drennan Margin Crystal for dobbing bread by the reeds. On the side tray I had live and dead red maggots, corn, micros, bread and I'd also mixed up some Bait-Tech Special G Dark groundbait.
On the whistle I cupped in a single ball of groundbait containing a few dead maggots on the long line straight out and then some micros and a few grains of corn at the same distance but angled to the right, before starting with the dobbing rig. I really thought I'd catch quite quickly but apart from a couple of little knocks, it wasn't happening. Derek over on peg 15 got off to a flying start with a couple of carp on the lead and then Paul had a carp from his short line before Dunner on 18 and Exeter Mike both caught as well. I tried maggot on the dobbing rig and then back to bread resulting in a tiny roach which I chucked straight back but when Paul had a second carp and then Oz hooked one, I had to try something else.
Not wanting to go on the longer lines yet, I toss potted in some maggots at top two plus three and went over it with two dead reds on the hook, first chuck I missed a good bite and then hit the next one which came off as I shipped back. Another missed bite before I caught my first carp of around 4lb and it felt like there were a few fish there, everybody around me was getting regular bites and I thought we'd be in for a really nice day. I missed a good bite but connected with a fish and I was sure it was foulhooked, it gave me the right runaround before I netted a lump around 7lb, hooked under the chin!
My next fish was a 3oz roach and then I had another big common and still thought a decent weight was on the cards. Paul was still catching quite well and was now on six fish and Hoff on peg 6 was getting a few as well, Picky on peg 20 had a really good spell catching a fish a chuck fishing against the end bank and Oz had a couple of lumps to put him on four fish. Then my bites just stopped so with around two hours gone I went out on the longer line for the first time and thought I'd get one straight away but the float just sat there! It was like our end had just switched off! Picky, Paul and Hoff were still getting the odd fish and it sounded like they were now catching up the other end.
I kept rotating my lines but I just wasn't getting any indications apart from another tiny roach, I stuck at it though as it was looking like Paul would frame so there was still the section to fish for and there wasn't much in it, Les on peg 1 had four carp, Oz had five and I had three. As we headed into the last hour, I still thought there was a good chance of getting a couple more as there were blows coming up on my short line and I did miss a couple of bites late on but didn't add to my tally and after a promising start, my day had fizzled out. As people packed up and chucked in left over slices of bread, there were carp everywhere!
Picky and Paul had both finished on eleven carp and with Hoff, Scotty and the Tart on a similar number it could all be rather close and Commander Smith was already trying to get some earplugs for the journey home in readiness for the inevitable blow by blow account of the Tart's match. Les had the scales on our side so we started with him and his four carp went a level 16lb, Oz's five weighed 24lb 8oz and then it was my turn, Les credited me with 3oz for my two roach and then my three carp went 18lb before Paul weighed 50lb 2oz to go into the lead (and take a pound off me). Hoff on peg 6 was next and had 43lb 4oz, Chilly weighed 26lb 8oz and then Rich C plonked some big lumps on the scales for 26lb 12oz. Scott had 41lb 8oz on peg 9 and then Shane weighed 21lb next door on peg 10.
On the other side, Butch had 32lb 2oz in peg 11, the Tart had 49lb 5oz on peg 12 and took another nugget off me (he's been messaging me wanting the final score on the world famous nuggetometer but I've had to send it back for recalibration!). Then Bushy had 35lb, Mike Collins weighed 28lb 2oz, Derek had 32lb 2oz on 15, the two Mikes (Smith and Hosgood) didn't weigh, Dunner had 24lb, Mark G chucked back and then Picky 'Who's laughing now?' weighed 51lb 6oz to win the match. So it had been a really close match with just 2lb 1oz separating the top three.
Back at the results (and after we scoffed some lovely cakes courtesy of Smithy), Hoff announced Picky as the winner with Paul and the Tart completing the top three and then the section winners were Oz, Hoff, Bushy and Dunner before he called my name out as the silvers winner and I was almost embarrassed as I picked up a very handy £40 (I did say almost!).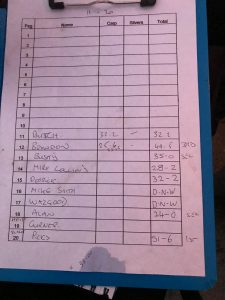 1 – Alan Gage (Chard) – 51lb 6oz
2 – Paul Homewood (Taunton) – 50lb 2oz
3 – Brendon Ions (Tackle Trader) – 49lb 5oz
Sections
A – Steve Osborne (Chard) – 24lb 8oz
B – Mark Hollister (Chard) – 43lb 4oz
C – Steve Bush (Chard) – 35lb
D – Alan Dunn (Chard) – 24lb
Silvers
Jamie Rich (Against Men and Fish) – 3oz!
Next up – Todber Manor
Coming soon – Another great review
Check Out – My latest interview (below)