My latest interview is with top match angler and fellow blogger Tim Ford,
Hi Tim, thank you very much for taking the time to answer my questions,
I've been reading your blog for years so it was nice to finally meet you in the flesh at Tobder the other week, so why 'Cluckers Peg'? and how did you get into blogging?
Thank you Jamie, and likewise it was great to meet you too after all these years. From a very young age I lived on a farm and we kept thousands of chickens and sold their eggs. When I joined the Silver Dace club the lads I met there soon nicknamed me Clucker, it stuck with me for years. As you know "peg" is the place that we draw to fish, so Cluckers Peg in reality means Tim's place.
The blog began out of necessity, as after fishing on a Sunday I would get calls and texts asking how did I get on, and where did I fish and how had I caught. After being out all day fishing the family were not impressed that I spent all night talking fishing lol. Then at work on a Monday I would get more calls and emails asking the same, and as I had a very busy job as a sales manager it was not easy. Discussing the issue one afternoon up the pub Mike Nicholls told me about his blog, and once I saw his blog I knew this was what I needed to do. I carefully pointed my friends and team mates towards my blog to reduce the Sunday/Monday fishing chat. I also wanted my blog to encourage people into fishing, and what I do know is that I have managed to get a few people (who had packed it all in) back onto the bank which is great.
Let's find out a bit more about you? When did you start fishing and what was your first fish?
I started with a garden pond dip net, poking the cane handle around under the stones in the stream on the farm, I was probably 5 or 6 years old. I used to catch bullheads and stone loach, and would you believe little flat fish, dabs I guess, that would have travelled up the Bristol Avon on the tides and up into the stream. My mum bought me a rod and reel from a catalogue when I was 10 and as you can imagine it was appalling stuff! I caught minnows in a bit of a weir pool part of the stream so I imagine a minnow was my first fish caught on a hook. I was allowed to walk down to the Bristol Avon at Jackie Whites soon after (just had to walk about 10 mins across one field) and this was what really made the angling passion come alive in me. I had more tackle given to me at Christmas and would have fished Xmas day if I could with all my presents, but of course I wasn't allowed.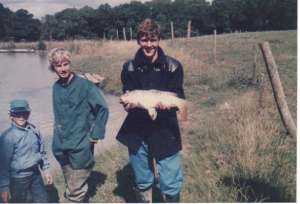 What's your favourite style of fishing?
I really enjoy catching fish in many ways. However, if you said to me I could only go fishing one more time and use one method then it would be with a rod and line and a top and bottom float; stick, crowquill or bolo. There is something about this style that I find really satisfying and every fish caught is a joy. Even though the pole is king on many venues I fish I always set up a rig as above as long as there is enough flow.
Your favourite venue?
Probably not a great surprise, but the lower Bristol Avon. Growing up I literally lived at Jack whites trying to snatch dace off the top, then later at 17 I fished it three times a week going straight after work using bread as this was all I could afford. Nowadays I think Swineford is my favourite as you have fast shallow and even some deeper pegs, and it is full of fish and all methods can work; lots of roach, bream and chub as well as tons of small fish in places. On a flooded river I would always go to Newbridge as number one choice hoping for the bream and big roach.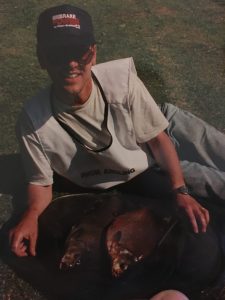 And favourite fish?
I guess it is the roach as they are in every venue and every one has to be caught rather than give itself up. They can drive you mad some days if you don't get the feed or presentation right, but get it right and the rewards are plenty of bites and a lovely net of redfins.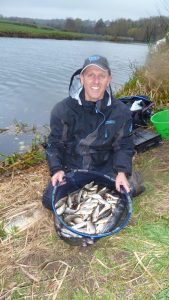 Can you remember your first match win?
Yes, I started match fishing quite late really with only one or two years in the junior section of  Silver Dace and I was proper rubbish! Once I realised there was a lot more to fishing I fast tracked myself watching anglers and reading everything I could. In my second senior Silver Dace match at Chequers I was on the straight and next to a great young angler Mark Holbrook. On my first cast on a waggler I caught a 1lb chub, I didn't have anymore but after some more small fish I switched to the feeder and had some skimmers, I think I had 13lb. I remember walking/running back through 5 fields carrying my gear to get home to tell my parents as soon as I could.
Have you any angling heroes or anyone who has inspired you?
The first person who I ever saw catch fish knowing what he was doing was a chap called John Follett, he was a family friend from Winterbourne. He caught a net of fish from the Frome in Winterbourne which left my jaw wide open and I had never seen fish like it before. I was then lucky enough to watch Topper Haskins fish the bread at Jack Whites and catch a huge bag on the crowquill. As everyone knows Topper was a regular winner of matches back in the day, and so the day I beat him off the next peg at Conham on the float and he congratulated me was just amazing. Later in life John and Topper fished together regularly as they had caravans on the same site in Burnham-on-Sea. Lastly Roger Amos RIP. Roger managed the Silver Dace teams, he saw something in me, and he said "don't fish in the B team come in to the A team, you will not fish a match but just watch, listen and ask." It was the best thing I ever did and I learned boat loads, I could never thank Roger enough for doing that, I'm just glad I did it.
A lot of people say commercial fisheries have been the saviour of match fishing, especially with the decline of the rivers but more recently there seems to have been a swing away from carp back towards silver fish matches and rivers, where do you think the future of fishing lies?
I think fishing on commercials is the easy future for anglers, in that the facilities, fish stocking and "short walks" are all highly attractive. I would say commercials have extended the "life" of a match angler which can only be a good thing for the older anglers. Winter fishing on carp lakes is a lottery, but so is fishing on rivers as all fish shoal up in very cold weather. You have to go with a mindset of knowing full well you could be on zero fish! Sadly whilst the rivers are fishing better than ever and in many parts of the country there are regular well attended matches, it is not the same in Bristol/Bath. We lost the Winter league, and the Commercial House is much smaller than just three years ago. There is a lack of youth in this area, and the older anglers don't like or can't physically handle the walks. Boats are an increasing problem mooring up in pegs and they don't care. I fear for the future of the local river matches after my generation have moved on, but they will still be pleasure fished.
Have you got any advice for youngsters who might want to get into fishing?
Subscribe to everything you can on YouTube! Seriously there is a huge amount of information on there, you can not fail to learn methods, tactics and rigs to use. Yes many maybe sponsored or tackle manufacturers promoting their goods, but top anglers are telling you exactly what to do. I would then pick one or two venues to begin and stick with these for a while, then you can get to know the better and worse pegs, and the other regular anglers will get to know you and give you advice and help. Lastly find your nearest tackle shop and use them, become a regular and the other match anglers visiting will help you as will the owner. Tony Rixon at Avon Angling was a big help to me, even if I did have to put up with a lot of wind ups lol. Lastly have fun and laugh, don't be to serious and let bad results to get to you, it happens to everyone
If you had a time machine is there one moment in fishing you wished you could go back and change? i.e. a dream fish coming off at the net or a decision in a match that's cost you a title?
This has really got me thinking, and whilst there are  quite a few examples there is just one that always has stuck in my mind, though it didn't cost me a title. It was my first junior national on the river Trent and I was useless and only had one skimmer. I then hooked what was a bream, and I played it all the way to my landing net and it came off just out of reach. The stewards behind me watching were very sympathetic, but I just wanted to be sick, and of course I never had another.
What are your most memorable moments in fishing?
Part of the winning team of the Intermediate National on the Trent, my first taste of a big win. Catching 10 roach on the river Wye between 1lb 15oz and 2lb 8oz pleasure fishing with a crowquill (luckily I had a witness but no camera). Landing a 5lb bream on the Angling Times Winter League Final on the Trent Embankment, I had about 200 people behind me watching and was literally wishing I had spare pants when I was playing it. It took me a few minutes to bait the hook after as my hands were shaking so much. Winning the match itself was great, but the moment was the first bream.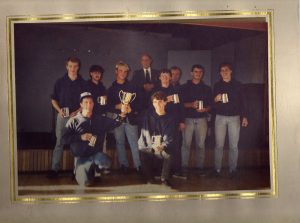 What was your luckiest moment in fishing?
I was once on the Avon at the Crane in a team match and was really struggling on a river that was speeding up and colouring up. With hardly a fish in two hours I tried to catch some bleak/dace shallow on a 7m pole but never had a bite. I sat there  for 5 mins with the pole held still, head down feeling sorry for myself and thinking what the hell was I going to do. All of a sudden I looked up and saw the elastic out of the pole! I landed a 3lb chub that had taken two maggots not moving, about 18″ deep, how crazy! I ended up winning the section lol.
Similarly, you have an enviable list of honours to your name, is there one that eludes you that you would dearly love to have your name on?
I have always wanted to win a section of a National, I have been second twice both times missing out by 100 grams. These days the Riverfest title would be immense, but the planets would have to align to win that one as just getting into the final is really hard. An angler as good as Dave Harrell has failed to get to the final in the last two years, so winning your 20 peg section to qualify is not easy. I will keep trying and with the final now on the Trent I would love to fish it as I generally do OK on that river.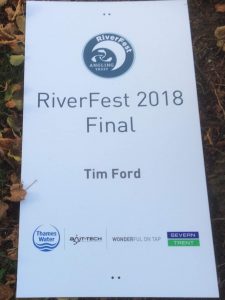 Have you got one piece of advice that will help the readers put more fish in their nets?
Cover your bases. It is rare you can catch on one line or one method all match (unless you regularly draw fliers) and you need to be prepared to change lines/methods/baits in a match. When I started some anglers would say do this for 5 hours, but these days you have to take every fish you can, dace on a waggler, roach on the pole, perch on worm, and even try the feeder. It's not about chopping and changing all the time so to speak, but rotating to try to keep something going in the net.
Match fishing has been steadily becoming more professional with anglers smartening up their appearance, big money televised events and more and more sponsored anglers but there are still only a handful of full time anglers, do you think there will ever be a time when match angling can become a viable career, like say professional footballers?
No I don't. Unfortunately I don't think angling can really work on TV like other sports and that's what you need to generate big money. Football, snooker, darts are all easily filmed, the camera catches the best of it. Even when you watch Fishomania (which generally I do) the camera doesn't focus on what I want to see, the float. I don't think a camera trained on just a float would appeal to a wider audience. Stupid as it may sound, but my idea I could see it working is in a "sterile" unnatural environment with totally clear water and underwater cameras. The camera would be trained on the hook bait and watching the fish taking/rejecting the bait and another camera above the water watching the angler. Imagine the audience seeing the fish take the bait and the angler not striking or missing the bite. It's probably a daft idea but it's mine.
You've fished with an impressive list of teams over the years but team fishing seems to be on the wane, why do you think this is?
It's a tough one to answer but I think there are three major factors; 1) cost  2) actual fish caught and 3) team events. The bigger the event the more pegs needed, the pegging needs to be in a line, and there are going to be good and bad areas. You have to take bait and tackle to cover all potential eventualities, and a decent outlay of money is needed. If you then only catch ounces it can feel wasted effort, especially if you only get to go once a week. The prize money for team events is not huge and doesn't cover your costs. However, for me the bond, friendship, learning and laughs are something you cannot get fishing on your own, and that's why I still fish with Thatchers.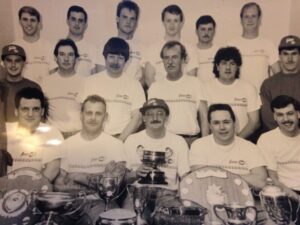 Before I let you go, here are a few quick-fire questions,
What's your biggest fish in the UK? And abroad?
21lb common carp on the pole at Viaduct. I've only fished in Ireland/NI other than UK so nothing big to mention really, probably a 6lb slab on the Bann.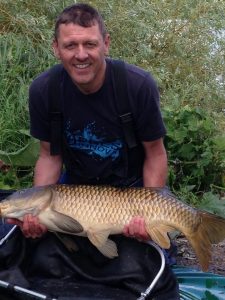 What's your favourite drink?
Cider (Thatchers)
Favourite meal?
A well cooked fillet steak in a good restaurant, not that I get to have it very often lol!
Favourite film?
Hmmm… A wonderful life (with James Stewart) and more modern times Star Wars films.
TV show?
Mortimer and Whitehouse Gone Fishing. I really love everything about the format.
What music do you listen to?
1980's music.
Football team?
Need you ask? Bristol Rovers! Up The Gas!
Do you have any other interests/hobbies outside of angling?
Season ticket holder at Bristol Rovers. Bird watching when I get the chance, I have seen 300 species in the UK. My wife and I are members of the National Trust and we have visited many places together. Since August I go to the gym 3 or 4 times a week and feel much better for it.
Thanks Tim it's been lovely to chatting to you, hopefully I'll see you again soon,
Against Men and Fish