With Xmas and New Year out of the way it was time for another 'Brendon's Bonus Bash' at Sadborow, we all met at Millfield cafe for a fantastic breakfast to set us up for the day ahead before heading out the pond. It looked nice with odd fish moving about and when the Tart announced the draw, most people fancied peg 5 behind the island. Les opened his little canister and was on peg 2, Hoffy on 8 and when The Tart said he was on peg 1, I thought I might be on it but when I looked, peg 7 was my home for the day which left Shane on 5.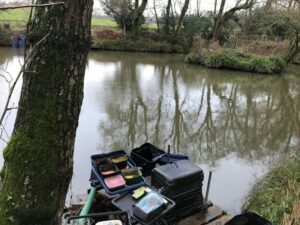 I set up a Drennan 0.4 gram Carp for two lines at 11.5 metres plus top two plus two and a 0.3 gram Drennan Margin Crystal for dobbing (not used). On the side tray I had maggots (dead and alive), bread, corn, Bait-Tech Sticky Micros and some expanders. The Tart was paying the top two today and somebody suggested we all bung a pound in the hat for silvers as well.
On the whistle I fed the right hand line with a modest amount of micros and a few grains of corn and then the left hand line more positively with half a pot of micros and corn and lastly cupped in some dead reds on the short line. Before I'd even finished feeding Hoffy was into a fish already! He's gone back out and was in to another fish straight away, then my float went and I was in. Hoffy lost his and then after doing all the hard work, mine snapped me under the pallet – doh! All around the pond elastic was streaming from pole tips as people played carp and it was looking like we'd be in for a good match. Shane said he could see a big ball of carp by the island and was catching really well.
After putting another hooklength on I had two carp in two chucks but then it slowed so I moved to the other line and first put in the float buried and another carp came to the net. At this early stage it was all very tight with everybody on three or four fish. Over the next hour or so, Shane, me and Hoff slowed up whereas the Tart and Les were starting to pull away. I was still feeding maggots on the short line but wanted to leave it as long as possible before trying it.
As we approached the halfway mark (and also the time the pond usually switches off), I was on eight carp but a couple of fish behind all the others. No more bites on my longer lines so with Les and the Tart getting odd fish on their shorter lines I came in on mine, first put in with three dead reds on the hook, the float buried but a tiny perch wasn't what I'd hoped for. Next chuck I had one about 2oz and then another tiny fish and that was enough of that! I put a 4mm expander on and after a few minutes, the float sunk from view and this time the strike was met with solid resistance and I netted a 3lb carp. On the next put in, another fish, this time a nice 5lb ghostie and I thought I might be able to gain some ground on the leaders but then the float just sat there!
I tried the longer lines with a soft pellet on the hook and missed a bite before catching a nice 2lb skimmer on the left hand line, no more action out there so back short and I hooked a fish briefly which may have been foulhooked. Then I've hooked a lump which gave me the runaround before it came to the top and it was a big chub, probably getting on for 5lb, hooked in the wing! Hoffy started catching really well fishing into the corner and had a couple of big ghosties and Shane had a great spell fishing short so I tried my top two plus two line again, a couple of small perch on maggot so I put a grain of corn on and waited an age for a bite, it felt like a good fish and after playing it for ages it was going round in circles and then the hooklength just gave way – great!
Going into the final hour, with the exception of me, it was really close with only a fish or two between everyone, I did have another carp long and then lost two in two chucks but only managed another couple of carp before the end. My final tally was 14 carp, a skimmer, a chub and a few little perch which I knew would be no good but hopefully my silvers would be enough for the fiver. Hoffy was admitting to 25 carp so would have 80lb+, the Tart had somehow lost count of his fish and might as well throw his clicker in the pond!, Les said he'd had three skimmers along with his carp so he was in with a chance of the silvers as well and Shane thought he had around 60lb.
We started with Shane and after two weighs his total was 63lb something, great estimate (take note Tart!), then we got to Les and his skimmers went 5lb 8oz before his carp gave him a 69lb total, the Tart was adamant he didn't have 60lb and to be fair, he didn't, he had 81lb!!!!! Then it was the Hoffs turn and his two carp nets totalled 91lb something. Last and definitely least was me, my silvers weighed 7lb so at least I had a fiver to come although I was bit gutted the chub was foulhooked as it would have been a new pb, but I didn't bother weighing it on its own. My carp took my total to 49lb and I was last on the pond, not the start to 2020 I'd hoped for! Still the pond had fished really well for the time of year and it's always an enjoyable day with plenty of banter.
1 – Mark Hollister (Chard) – 91lb
2 – Brendon Ions (Tackle Trader) – 81lb
Silvers
Jamie Rich (Against Men and Fish) – 7lb
So I won a fiver (well £4 as Hoff didn't have any change) and then had to give the Tart a pound and he's still nagging me to start up the world famous nuggetometer again but I'm refusing until he buys a clicker that works!
Next up – River Isle
Coming soon – Another trip down memory lane
Check Out – My yearly review (below)