The final V.E.S. Precision league match arrived and I was starting to think we'd never reach this point! If it wasn't Storm Dennis and strong winds, it was heavy rain and flooded rivers and then just when we thought we were out of the woods, the bloody Corona Virus arrived! It's supposed to be a river league but even the rescheduled fixtures were being rescheduled and we ran out of season!
With nowhere open for breakfast due to this horrible virus, we were meeting out the pond but I needed something to eat in the morning, the first garage I tried didn't have any hot food, the second one did and I bought a Jamie Oliver sausage roll and hog roll thingy and I must say I wasn't impressed, cost me nearly a fiver too! We had a good turnout for this one with twelve booked in, probably due to matches cancelled elsewhere and people going slightly stir crazy at home.
I tried to adhere to the government guidance but I'm not too sure what we do about the exchanging of money. With all the balls in the bucket, I got Steve to draw for everyone starting with me first and he pulled out peg 9 which wasn't one of the pegs I wanted although it looked like the wind would be off my back. He then preceded to draw peg 2 for himself, Baz ended up on 21 which is where he won the last match from and Ian Burton was next to me on peg 8. With the top three in the league all in the same section, I had a slender one point lead over Ian with Steve a single point behind him. I needed to beat Ian today because if we tied on points he had a superior weight advantage.
Rigs for today were a 0.5 gram Drennan Roach to fish 10 metres straight out and a 4 x 16 Preston Chianti to fish 11.5 metres angled to my left. For bait I had a pint and a half of casters, half a pint of red maggots, hemp plus some Bait-Tech Pro Natural Dark and Bream I mixed up 50:50. I got us underway at 10:00 and everybody around me started on the feeder while I cupped in a single ball of groundbait at 10 metres and then three on the longer line plus a pot of casters, hemp and corn. Shipping out with a single red maggot on the hook, I was expecting to catch straight away but the float just sat there!
Ten minutes passed without any sign of a bite and then Ian had a small roach on the feeder and when Big Frank up on peg 6 had a decent roach that required netting, I was wishing I'd brought my feeder rod with me. Baz was catching odd fish on the whip but after an hour I was still blanking and while I thought an overnight frost wouldn't do us any favours, I hadn't expected it to be this hard! I tried the more positive line for ten minutes with double red maggot but no bites and I didn't know what to do next.
Frank was now fishing the whip and I saw him strike and swing in a small roach and not long after, Ian had one on the whip as well. It was turning into a gorgeous day so maybe with it getting warmer, the fish had switched on, I went back on the shorter line and after a few minutes the float sunk from view and the strike resulted in a little bit of elastic coming out before I swung in a small roach to get off the mark (after an hour and a quarter!). I don't think I've ever been so pleased to see such a small fish and did a little dance on my box!
Frank and Ian were both now catching quite well on the whip and although I was getting regular bites, I was behind them at this stage and after about ten small fish, I tried caster to see if I could get some better roach but bites were very few and far between. Over the next hour or so I started to catch really well and it was a bite a chuck from small roach with nearly every fish coming either on the drop or just after the rig had settled. It looked like Ian and Frank were getting some quiet spells on the whip and I didn't think there was now much between us. I couldn't really tell how anybody else was doing, I knew Nick P on peg 6 and Jamie P on 13 were struggling but I wasn't sure how Steve on 2 was doing.
I still thought you'd need skimmers to win and that somebody would find a few and although I kept my longer line topped up with a ball of groundbait every hour or so, I decided to just get my head down and catch as many roach as I could. Ian was swapping between the whip, pole and feeder and Frank had slowed up so I kept plugging away putting small roach in the net. I was still trying caster every now and again and managed a few slightly better 2-3oz fish which I netted to be sure but probably spent too long on it.
With 20 minutes to go, my clicker was reading 100 fish (99 roach and a waspy little perch) and I was catching well but then it was like someone had flicked a switch and I never had another bite! I really didn't know what weight I had, at an ounce apiece they'd go just over 6lb but I knew they wouldn't average that, so probably 3-4lb. After packing up I took my kit back to the car and collected the scales, the anglers would stay on their pegs while we did the weigh in.
Terry 'The Toast' and Paul H had both chucked back on pegs 17 and 19, Rob had 10oz on 20 and then Baz had done well again to catch 119 small fish for a level 5lb, Dave P didn't weigh on 22 and it had been rock hard on the Aplin bank. Steve P had 5oz so it was now down to me and Ian to see who would take the league title. Nick P only had a few small fish and chucked back and then Frank on peg 7 had 2lb 12oz to go into second place.
Ian was next and had loads of fish for 3lb 11oz and I thought it was going to be close, I put my fish in the weigh sling and the needle crept past five and Steve P called it at 5lb 1oz which meant I'd won the league but things got even better as Jamie P and John Dursley on 14 didn't bother weighing so I had the top weight on the day as well!
We did the results back at the cars (with everybody well spread out) and the sections were won by Frank and Rob, Ian was third, Baz second and I won and picked up a very nice £85, then the top three in the league were Steve Parker with 15 points, Ian Burton with 12 points and I was the V.E.S. Precision league champion for only the second time and picked up £100 and then the icing on the cake was a nugget from Steve.
1 – Jamie Rich (Against Men and Fish) – 5lb 1oz
2 – Baz Morgan (Somerset Angling) – 5lb
3 – Ian Burton (Taunton) – 3lb 11oz
Sections
A – Frank Woodard (Ilminster) – 2lb 12oz
B – Rob Cox (Ilminster) – 10oz
After seven matches and dropping the worst result, the final V.E.S. Precision League table looks like this,
Jamie Rich – 10 pts (dropping 5) – V.E.S. Precision League Champion
Ian Burton – 12 pts (dropping 20)
Steve Parker – 15 pts (dropping 10)
Terry Morgan – 28 pts (dropping 20)
Rob Cox – 43 pts (dropping 20)
Frank Woodard – 56 pts (dropping 20)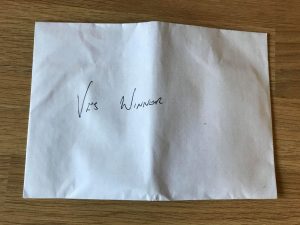 Here's a few facts and figures from this years league,
Number of different anglers who fished – 24
Highest attendance – 13 (River Isle)
Lowest attendance – 5 (Ilminster Canal)
Biggest winning weight – 16lb 10oz (Graham Field)
Lowest winning weight – 5oz! (Jamie Rich)
Number of different winners – 5
Most section wins – 3 (Jamie Rich)
Before I go I would like to say a massive thanks to V.E.S. Precision for their continued and very much valued sponsorship, the bowling club for looking after us so well in the mornings and hopefully we'll be back again soon and lastly to all the anglers that make it a great league especially with all the challenges we've faced (and continue to face). As I've mentioned before, this is my last season as match secretary and I'd like to wish my successor all the best and if I can help in anyway, just let me know.
Finally, given the announcement that we are now on lockdown in these very scary times, I'm not sure when I'll be fishing next, in lots of respects it's gutting as the weather has just started to get nice after an awful winter but as much as I love and live for my fishing, some things are more important. I will still be posting regularly with more from the archives and some talking points and if anyone wants to send some guest blogs in, please get in touch – stay safe everyone and hopefully we'll be back on the bank soon.
Next up – ?
Coming soon – Another trip down memory lane
Check Out – My last match (below)