I always look forward to this league as the fishing is normally really good, the breakfasts are superb and the banter even better! In the week leading up to the first match, the world went mad as the Corona Virus sent everybody into a blind panic with supermarket shelves empty of bog roll and pasta and sporting events called off all over the place, even the Big One was cancelled and it's been a pretty bleak 2020 so far with storms every weekend, wide scale flooding and now this, when will it ever end?
We met at Millfield Cafe and the breakfast was superb as always before heading out the pond to do the draw, it was great to catch up with lots of people I hadn't seen since last year. For the first match it would be an open draw to determine the sections for the first three rounds and then the process would be repeated at the fourth and seventh matches. With 19 anglers booked into the league there would be two sections of 7 and one of 6 with each going to Perry Low, Perry High and Sadborow. After explaining the format and reading out the rules, Hoffy announced the draw and I grabbed a little yellow canister and when I opened it I saw peg 19 (Perry St) staring back at me, not my first choice but I still quite fancied it. Of course Little Jack Horner (aka The Tart) drew spot on with corner peg 8 at Sadborow and as an added bonus, his section only had five anglers as one couldn't make it today!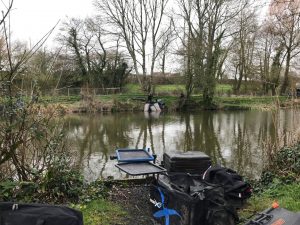 For company I had Hoffy on peg 20 with Clive next on my right, two pegs up, in the other section opposite, Commander Smith was on peg 2 with Mark Leahy on 1. I set up a Drennan 0.4 gram Carp for the top two plus two and 11.5 metres and a 0.3 gram MD Munter Hunter for the inside to my right. On the side tray I had red maggots (dead and alive), corn, Bait-Tech Carp and Coarse 2mm micros and some expanders. The wind was blowing up towards pegs 10 and 11 at the other end but I wasn't sure if that was a good thing as it was rather keen! Then blow me (pun intended), just before the start, the wind did a complete about turn and was blowing into 1 and 20! Also to add to the fun it started chucking it down (just for a change!).
On the whistle, I cupped in modest amounts of micros and corn at 11.5 metres and maggots on the top two plus two before starting on the longer line with corn on the hook. It was a fairly slow start which wasn't unexpected and then Duncan up on peg 4 landed a carp followed by Smithy and Mark and then Hoffy got in on the action and apparently Exeter Mike up on 15 had one as well. I was toss potting in a few micros and lifting and dropping the rig by a few inches trying to provoke some interest but it took nearly half an hour before I hooked a fish and that was when I lifted the rig and there was a fish on! After playing it carefully as I half expected it to be foulhooked (it wasn't) I netted a three pounder to get off the mark.
Smithy had a couple more along with a nice skimmer and Duncan was bagging, over the next thirty minutes I missed three really good bites on corn! But then from thinking there were a few fish there, I couldn't get a bite and when Hoffy landed a couple more, I felt like I was starting to fall behind. I'd been feeding maggots on the shorter line and had a quick go but no indications so I potted in some more bait and also introduced some micros and corn on the inside line.
Back out long but this time with treble dead red maggot, Smithy said he'd slowed up and I said the same but when I looked for my float it was nowhere to be seen! I struck and this time I knew for sure the fish was foul hooked but it stayed on and I slipped the net under a 2lb 'squeaker'. Two more carp from the longer line on maggot and I lost another foul hooker before the bites just stopped again. Hoffy was on six fish but now couldn't buy a bite and Mark and Smithy were now struggling.
Another go on the top two plus two maggot line was fruitless despite the odd bubble coming up so with half the match gone I only had four fish and things would need to improve dramatically if I was going to do any good today. The odd carp could be seen swimming about shallow and when Smithy had one shallow on maggots, I gave it a go for ten minutes but my heart wasn't really in it. Then both Mark and Lieutenant Smith came in on their margin lines and were into fish quite quickly so I dropped in on mine with dead reds on the hook and started getting loads of knocks and taps. I thought it was probably small fish so switched to corn but then a tentative bite resulted in carp number five.
Next put in as I laid the rig in, the float went straight under but when I struck a fish bow waved off so I think the line had gone across its back. I did hook another but straight away from the eel like fight I knew I'd foul hooked it and reversed another 'squeaker' into the net to put me on six fish. Thankfully with a couple of hours to go, the rain finally stopped and the sun even briefly showed itself. Butch came for a walk round and when he came back he said Carl up on peg 11 was bagging with twelve carp and that Exeter Mike was on eight so I needed a couple more fish to stand any chance of a top three section place but time was running out.
With 45 minutes remaining, I decided to concentrate on the top two plus two as I was convinced there were fish there, another quarter of an hour passed and then I had a little dig on the float which got me interested again. Ten more minutes ticked by and then the float buried and the strike resulted in solid resistance as a decent fish plodded off, I took my time and netted a nice fish of 5lb or so and thought that might put me ahead of Hoffy. A few more minutes went by and then I saw some ripples coming from the direction of Hoffy's swim, he was into a lump and I needed another!
He safely landed his fish and then my float went again but as soon as I struck I knew it was foulhooked and it came off, I was sure that would be the last of the action but as the hand on my watch approached half past, the float has gone and I was into another. I was convinced it was going to come off but I safely landed a decent fish five minutes after the whistle. After packing up we walked up to start the weigh in at Carl, he had seventeen carp for 65lb 4oz and would win the section comfortably. Mark G said he had eight carp (but actually had nine!) to weigh 36lb and I knew I didn't have that.
Mike C had four carp for 21lb 2oz from peg 14 and then Exeter Mike had finished up with eleven carp for 47lb 6oz, Clive had two nice carp for 10lb on 17 and then my eight went 29lb 8oz. Hoffy's last fish had been a 9lb lump and he weighed 34lb 6oz to push me down another place so I finished up a lowly fifth in the section.
In the other section, Bushy had carried on where he left off last year with a section winning 70lb 7oz from peg 8 followed by Duncan with 61lb 14oz, Smithy weighed 49lb 15oz, Mark Leahy had 43lb 13oz from peg 1, Geoff had 34lb 6oz from peg 10 and Shane had struggled for 10lb 9oz.
When the rest arrived back from Sadborow, Derek Hounsell had done well to win the section with 85lb 4oz from unfancied peg 4, Jay Jay was second with 76lb 4oz from peg 1, the Tart finished third with 64lb 6oz but they were only paying two today. Howard had 40lb 4oz from peg 5 and Beki had 26lb 12oz from peg 7. As we were on different lakes, me and the Tart did the side bet on section points so he took a quid off me although I think there should be stewards enquiry as he had two less people in his section! So a pretty pants day for me all round really with the highlight being the magnificent selection of cakes Wing Commander Smith brought along!
Perry Low
1 – Steve Bush (Chard) – 70lb 7oz
2 – Duncan Arnold (Torquay) – 61lb 14oz
3 – Mike Smith (Torquay) – 49lb 15oz
Perry High
1 – Carl Everton (Torquay) – 65lb 4oz
2 – Mike Hosgood (So Simple Baits) – 47lb 6oz
3 – Mark Garner (Chard) – 36lb
Sadborow
1 – Derek Hounsell (Chard) – 85lb 4oz
2 – Jay Jay (Torquay) – 76lb 4oz
3 – Brendon Ions (Tackle Trader) – 64lb 6oz
In other news, as I write this I've noticed the blog has flown past 3,000,000 hits, that's just incredible so once again, thanks to everyone that reads the blog and likes what I do.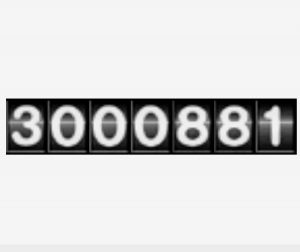 Hopefully we'll still all be able to go fishing despite this horrible Corona Virus as out in the fresh air has got to be a good place to be as long as we're all careful and maybe we'll start to get some better weather soon as well (we can live in hope!). Also if you have to self isolate at home, don't forget there's 14 years worth of blog posts on here if you're bored and if nothing else they'll help you to sleep!
Next up – Dillington
Coming soon – Another trip down memory lane
Check Out – My last match (below)