In these unprecedented times, if you're missing fishing already (I certainly am, especially with it being a gorgeous day outside), there are plenty of things you can do to keep you busy and stave off boredom while you are housebound.
1 – Give your kit a clean
If, like me you've spent most of the winter on muddy riverbanks, now's the time to give it a good clean and while you're at it, put your nets out to dry and check for holes (only the ones that shouldn't be there!). When you've done that, bung your fishing towels in the washing machine so they're all clean and fluffy ready for all that fish slime and groundbait when you finally get back out on the bank!
2 – Replenish those hooklength boxes
Its the ideal time to tie up a load of hooklengths and get those pegs in your hooklength boxes filled up so you're super prepared for the next match.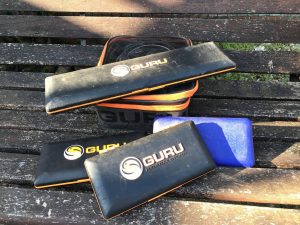 3 – Get making those rigs up
Similarly, all those floats you've bought and never got round to tying up, now is the time! We've all got some favourite rigs that never fail to catch fish, so give them a bit of loving care and attention, redo them and treat them to some new float rubbers.
4 – Read a fishing book
For me, the next best thing to actually fishing, is reading about fishing, there are loads of brilliant books out there from the funny to the instructional. Here's a few I've read recently, check out the reviews,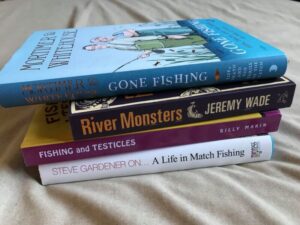 Mortimer & Whitehouse Gone Fishing
Steve Gardener on… A Life in Match Fishing
5 – Check out a fishing blog
Following on from number four, there are loads of great fishing blogs out there but obviously I'm only going to plug one, www.againstmenandfish.com of course! One of the longest running blogs out there, I've been going since 2006 and alongside 14 years worth of detailed match reports, there are reviews, interviews, trips to Thailand and product reviews. Have a look, let me know what you think, you could even send in a guest post, I'd love to hear from you.
6 – Watch some angling vlogs
There are loads of great fishing channels and videos on YouTube and Facebook with literally hours and hours of footage covering everything from live matches to monster fish. Some of my favourites are from Bait-Tech and Guru, Jon Arthur does some brilliant match vlogs, Carl and Alex's enthusiasm is infectious and Ali Hamidi and Dean Macey are always a great watch.
7 – Relive some classic fishing tv
Nothing but doom and gloom on the tellybox? Grab yourself a brew and some biccies and revisit some of the great angling programmes that have graced our screens over the years, Passion For Angling, John Wilson's Go Fishing and Mortimer & Whitehouse are all a fantastic watch. If you're really bored, check out 600lb Goldfish with Zeb Hogan (google it), a certain fishing blogger even turns up around the seven minute mark!
8 – Have a sort out
I'm not taking credit for this last one as I saw it on Ads Palmer's Facebook page but I thought it was a fantastic idea, basically have a sort through your fishing shed/garage and see if there's any kit you no longer use/need (I bet there's stuff in there you'd forgotten you even had!) and put it it to one side and once things start to get back to normal, donate it to the junior section of your fishing club and lets get some youngsters back out fishing. It could be anything, rods, reels or whips that you no longer use due to upgrading, terminal tackle or even bags of groundbait and pellets (maybe you've changed sponsors).
Above all, stay safe, listen to the government advice and we'll get through this