One of the first matches of 1999 saw me finally draw peg 14 at Horlicks, the trouble was it was bitterly cold and my cause wasn't helped when Rocking Roy came down just before the start and said I was sat at the top of the swim when most people fished the bottom! I got off to a flying start though, with a 6oz roach followed by a chub of 3lb 5oz (which was a new pb), several more 2lb chub followed and after an hour I had over 9lb. I had another decent chub and really thought I was on for a big weight when the bites just stopped.
Over the remaining four hours I managed just one more small fish and weighed 12lb 7oz which although a decent weight, I just knew it wouldn't be enough and so it proved with Malcolm Levy winning with a brilliant 22lb from peg 22 followed by Les with 14lb from peg 19. I finished up third at Horlicks but only the top two (and the top two at Donyatt) picked up.
The next match worth talking about was the Ilminster Open sponsored by Enterprise Angling. I drew 23 at Upper Coxes and had a few small fish before catching a better chub, I had two more and then Arf turned up to see how I was getting on and I added another one. It slowed up so I left my main catching area alone for a bit and when I went back to it I hooked what felt like a decent chub but then a big roach surfaced and I was convinced I'd finally broken the 2lb barrier. A few missed bites followed but I only added one more chublet before the end.
I had the scales and weighed in Colin Dyer's 14lb for yet another open victory, Colin had an incredible record in this match, winning it numerous times from sometimes mediocre pegs, twice with catches of 20lb+ when those sorts of weights were virtually unheard of on the Isle. My fish went 10lb 9oz (the roach was 1lb 10oz and to this day I still haven't caught a 2lb roach!) and I ended up third picking up cash and a tackle voucher but as I lost a chub and missed/bumped a few fish, it was an opportunity missed.
Chard's winter league was sponsored by the Ship Inn (where we had the draw and results) and as the series neared it's climax I was lying in second place just behind league leader Les. We were all at Donyatt for this one and Les pulled out a flier in the shape of 37 (known as Kingfishers) and I pulled out 41 (two above the bowling club bridge), a decent peg where I'd done well a couple of years back with 6lb 9oz of quality roach, dace and a bonus skimmer.
Weather wise, it was a horrible day with snow and hail at times, after a couple of hours, I only had a few small fish and it was starting to feel like my league challenge was fading away. I went for a walk and most people I visited were really struggling with the exception of Rocking Roy who was getting odd fish below the bridge. Back on my box and the rest had obviously done my peg some good as I shipped out, the float slid away and a decent fish was on, with only light elastic (and no pulla bungs in those days), the fish led me a merry dance before I netted a nice chub of 2.5lb.
Next chuck I happened to glance away for a second and when I looked back, the float had gone! Another good fish took me on a tour of the peg before I landed chub number two and I was up to 5lb. A couple more small fish followed before I had a third chub and that was the last of the action. I weighed 7lb 12oz for second in the section and match behind Les who'd done brilliantly to weigh 8lb 7oz of small roach. So even though he extended his lead by a point, it really felt like I'd been dealt a 'get out of jail free card' on the day. With one round to go and only two points in it, it was all to play for.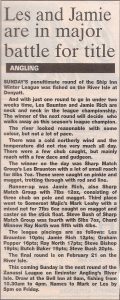 Two weeks later it was the final round and Les didn't draw very well, peg 15 which was mediocre peg in a good section and I drew peg 6 which was a good peg in a poor section so it was game on! To cut a long, boring story short, I blanked, never had a bite and I tried my heart out but I couldn't even find a minnow. I still finished second in the league behind Les but it was a rather damp squib to end the campaign on, Steve Bishop won on the day with 13lb from peg 22.
The pairs league kicked off at the end of March and for the first round I was on the resi low numbers with Bob Gullick and Rob Kepner either side of me. It was nip and tuck between Bobby and me all day but he took the verdict and my 43 skimmers, hybrids and roach went 17lb 10oz for second in the section.
For the long weekend at Easter I was fishing three days, on the Friday we were at Perry St and along with the overall prizes, Les was paying out £48 every five pegs. I drew peg 3 and fed three lines, groundbait at ten metres, chopped worm at five metres and hemp and caster on the inside. Had a few small fish long but it was hard going at our end, with an hour and a half to go I had a 1lb eel on the chopped worm line and then another of 12oz which I thought put me ahead in the section. Dino (Graham Pepper) had a decent skimmer and it was all very close, with five minutes to go he had a 4oz eel which saw him win the section with 3lb 9oz to my 3lb 7oz.
Then it was another two dayer on Sunday and Monday, I was at Sadborow for the first day and drew peg 5, I lost a fish first chuck and missed a few bites but then it died and I couldn't get a bite and was last on the pond. With ten minutes to go I came inside and hooked a carp, I did all the hard work and it was on the top ready for netting only to do me under the pallet at the last minute – doh! I still had time to miss a couple of bites before the all out, definitely one to forget!
For the second day I was at Howley and although I had no chance of framing overall, the winner of each lake would pick up £25. I drew peg 6 and wasn't overly impressed until Kev Rowles told me he was second off it the day before. When we got to the pond, there were carp everywhere, I fed down the middle with groundbait and two inside lines with hemp and caster. I started on the longer line and was catching some nice roach along with a pound hybrid before coming in on the inside lines. More roach and perch followed along with a couple of decent hybrids before the carp moved in and I had eight and lost three.
The pond had fished really well, Janders weighed 24lb, Mark Leahy had 19lb and then Steve Chant had 17lb before we got to me, my fish went 25lb 12oz to win the lake so a nice end to the weekend. Overall, Robbie Kepner won it with Kev Rowles second and Mark Leahy third, the two carp I lost the day before cost me £50.
The next round of the pairs league saw me on the resi again, but this time in the high numbers section, I was also next to Bobby G for the second match running and he recorded another section win with 19lb. I had 40 skimmers for 15lb 1oz but Rob K pushed me down into third with 15lb 14oz.
Round three and I drew end peg 9 at Howley, starting on the skimmer line I had a couple of carp and a skimmer before losing a carp on my light rig so beefed things up and had four more carp and two decent perch for 24lb 2oz and a lake and section win. I have to say I absolutely loved fishing Howley as it was a cracking mixed fishery and these were the days before you needed silly weights to win and multiple keepnets. The fishing did pose some interesting conundrums though, very often you needed a mix of carp and skimmers to win but the problem was how to fish a heavy enough elastic to land carp but also light enough not to bump the skimmers?

With some top anglers fishing the league, we had some interesting chats after the matches and Mark Harper came up with an ingenious solution that involved duel elastics, you had two lengths of elastic, say a number 10 and a number 5 with the heavier grade at the top, then there was a hollow bung and the lighter elastic with a stonfo or similar. Basically when you hooked a fish the heavy elastic would come out but you were effectively playing the fish against the lighter elastic. If it was a bigger fish, the lighter elastic stretches until the connector hits the bung and then you were playing the fish against the heavier elastic, brilliant idea that became commercially available and was sort of the precursor to today's hollow elastics and pulla bungs.
Fishing tackle, bait and venues were continuing to evolve really quickly and following on from the phenomenal success of Sillybait and other fishmeal groundbaits like Somerset Magic, the bigger firms like Sensas and Van Den Eynde were starting to bring out bait ranges aimed at carp and I remember buying one from Sensas called Green Lipped Mussel that was so potent that I couldn't mix it up without urging!
Next – 1999 continued