Chris W was keen to hold another charity match but with virtually no free weekends, he arranged one for midweek and I booked a days leave so I could fish, it filled up in no time and the Grand Wizard and Dave S went out and cut a new peg in the reeds but there was a wasps nest nearby and Chris received a sting for his troubles!
Originally we were all going to meet at Cartgate for breakfast as it's convenient but a certain someone who shall remain nameless (but is partial to the odd slice of toast) didn't fancy eating outside with plastic cutlery (Cartgate is takeaway only at present) so suggested the Airline Tavern in Yeovil. It was a bit out of the way but I'm happy to go with the majority as long as I get my breakfast in the morning.
We met up at South Petherton before heading to Yeovil, as we walked in Baz and Dave P were already there but there was a snag as apparently you need to book! There was a table for four available but obviously there were five of us. Me and Steve decided to head back to Cartgate so what a waste of time that was! Chris Norton who was fishing today also arrived after being turned away as there was no room at the inn and it was nice to meet him for the first time.
After breakfast, we then headed to the memorial hall for the draw and Chris said that two had dropped out that morning which was disappointing as with a little bit more notice, the spaces would have filled no trouble. The draw time arrived and we were still waiting for one to turn up (in the end he didn't arrive as apparently he overslept!) so Chris got his bag of doom out and commenced the draw. It was peg 6 for Andy B, Chris N was on 8 on the far side (which I wouldn't have fancied) and then it was Terry's turn, of course everyone wanted peg 4 (the reed bed flier) and Chris pulled it out for him.
Steve 'The Pole' was on 5 (a peg I fancied and have never drawn) and then it was my turn, I was just hoping to avoid peg 7 and did when peg 1 was produced from the bag (that'll do me), Baz was next door on 2 and Dave P was in the corner (peg 9). That just left the draw master himself and he asked me to pull a peg for him (he ought to have known better with my drawing arm!), I rummaged around and then handed him peg 7 (sorry mate!).
The pond looked nice and there were a few fish moving about, I set up a Drennan 0.3 gram Crystal dibber for fishing shallow at 11.5 metres straight out, a 0.4 gram Drennan Carp for fishing on the deck at the same distance and a 0.3 gram MD Munter Hunter for down the side by the reeds. On the side tray I had corn, micros, dead reds and 6mm Bait-Tech Carp and Coarse Pellets.
On the whistle I went straight out with the shallow rig, fired out a few 6mm's, lifted and dropped the rig a couple of times, the float buried and carp number one was on. The Grand Wizard was also into a fish straight away on the method and it looked like there were a few carp coming out round the pond. I was getting a few indications without really bagging and after 45 mins I had three 2-3lb carp and three pasties so decided to try the deep rig. Normally on the depth rig I feed micros and fish corn and have the shallow line separate but I thought I'd try fishing banded pellet and ping 6mm's so I could fish just one line.
First put in, I pinged a few pellets out and lifted the rig a floats length out before letting it settle and it flew under as a decent fish took off, I landed that one safely and then had another next chuck! There were loads of blows coming up and it felt like there were a lot of fish there. Over the next hour I've had a really good spell with three more nice carp and a few pasties. Bites started to slow going into hour three, so I tried corn and started toss potting in some micros which resulted in a couple of small carp, a roach and a rudd. It nearly always seems to happen here (with the exception of peg 4!), that you catch well for two, sometimes three, hours before sport slows and it's a case of picking off odd fish.
Looking around the lake, all the anglers I could see had virtually stopped catching and it was like somebody had flicked a switch! I tried treble dead reds and had a tiny rudd, another roach and a small carp came to corn but I was now really struggling. I could see odd fish swimming about shallow and even tried adding a couple more sections but they didn't want to know, similarly trying the inside line by the reeds resulted in no bites either.
Rob Cox turned up for a walk and said it was the same for everyone except Toastie who was bagging and Baz who'd got his head down fishing for silvers. I did see Chris N opposite land a decent carp and the Grand Wizard was getting the odd pasty. Basically I just went through the motions for the best part of four hours and didn't know what to do next!
Chris blew to end the match and my final tally was 21 carp (nearly all in the first two hours), two rudd and two roach. I packed up and caught up with the scales just as they were weighing in The Toast's final two nets of carp and his total was a brilliant 104lb 7oz which would be just enough to win today! It was a new pb match weight for him and it's also the best weight I can recall from the peg since I've been fishing the pond.
Steve 'The Pole' had 15lb 1oz and had pulled enough branches out for a build your own tree kit! Andy B had 11lb 6oz from peg 6 and then the Grand Wizard had 22lb 8oz of decent carp and his 6lb 3oz of pasties gave him a total of 28lb 11oz which I thought would be close between us. Chris N had 15lb 2oz on peg 8 before Dave P weighed 13lb 13oz and his 14oz of silvers was top so far!
Then it was my turn and my few silvers went 6oz and then when I pulled my carp net out it was obviously going to be close, 27lb 9oz was called giving me a total of 27lb 15oz and I'd fallen 12oz short of the Grand Wizard. Last but not least was Baz, he weighed 18lb 14oz of carp and then had a nice net of quality roach weighing 3lb 11oz to comfortably take the silvers pool.
1 – Terry Morgan (Ilminster) – 104lb 7oz
2 – Chris White (Stoke) – 28lb 11oz
3 – Jamie Rich (Against Men and Fish) – 27lb 15oz
Silvers
Baz Morgan (Somerset Angling) – 3lb 11oz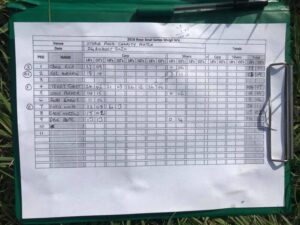 So I finished up third and picked up £20 plus a nugget from Steve which I gave to Terry, still an enjoyable day (apart from the breakfast fiasco) and definitely better than working. With my hindsight head on, when I stopped catching I should have fished maggot for silvers which might have picked up a few pasties as well and been enough for second place, although I obviously didn't know how close it was at the time!
A fantastic £85 was added to the club charity for the MacMillan Unit at Yeovil and District hospital and the total is nearing £600, brilliant stuff and fair play to two of the lads who couldn't make it this morning who have pledged to still make their contributions. Massive thanks as always to the Hebditch family for allowing us to fish their pond and also to Grand Wizard Chris for arranging it.
I have to say how much I enjoyed the bumper episode of Monster Carp on ITV4 at 20:00 last night, the three of them (Ali, Spoons and Tom) are obviously so passionate about what they do and that comes across when they land or lose a fish. Whenever I see Gillhams on the telly, it evokes so many memories for me, I've fished several other fisheries in Thailand and they've all been fantastic but Gillhams was the first for me and I still get butterflies when I see the sign at the entrance.
The resort is evolving all the time and has changed so much since I was last there in 2014, it really is an amazing place and I definitely want to go back again soon (although programmes like Monster Carp don't help as it'll be booked solid for when travel to the Land Of Smiles resumes!). I've been lucky enough to catch two Julien's, one at Gillhams in 2011 and the other at Palm Tree Lagoon in 2018, I can vouch for the speed of these beautiful creatures and several times during the fight, the line has gone slack and I thought I'd lost them, they are so quick you start to wind in feeling gutted only to feel the fish on again, you just can't keep up with them!
Next up – Covey Fisheries
Coming soon – Another trip down memory lane
Check Out – My last match (below)