We were back at Parrett Works again for this one and I'd been looking forward to it all week, especially after a fair bit of rain. It had been pretty wet, windy and wild during the week but thankfully it had settled down a bit as we approached Sunday and hopefully a tinge of colour and some pace should see the river fish well.
We met at the Ranch for breakfast before heading across the road for the draw, the banter was already is full flow and it just reiterates how much I love my Sundays and why they're so important to me. Chris W did the draw for everyone per usual and I really fancied having a crack at peg 32 although any of those lower pegs would do me as the top section seems to fish a little harder. When it was my turn, the one I wanted was still in there but he pulled out 21, it's a peg that's not been used for a while but apparently there were quite a few fish topping when they pegged out the stretch.
After the short drive and a short walk I was at my peg and it looked nice although there wasn't much far bank cover with bare bank visible, there was some vegetation in the water directly opposite and a branch in the water downstream (you can just about make it out in the photo). As I was setting up a couple of fish topped right across by the branch and I couldn't wait to get started. The other thing that was noticeable was that the river was clear with hardly any flow!
I set up a 1 gram bodied float for down the middle and a 0.6 gram DH16 for fishing across at 11.5 metres, both rigs had Guru Match Special size 18 hooks to 0.10mm. On the side tray I had maggots, casters, Bait-Tech Super Seed hemp plus some of my favourite Pro Natural Dark and Extra which I'd mixed the previous evening. I also had a little tub of tares that Nick P had very kindly picked up for me.
On the whistle I cupped in two balls of groundbait down the middle and fired some hemp and caster across before starting down the middle with single red maggot. I missed a positive bite first chuck and the maggot came back completely shredded, next put in the float sailed away and the strike was met with the thump of a decent roach before I slipped the net under a lovely fish of 6-8oz. A smaller roach followed before I started to catch minnows which always signals the switch to caster.
I had a really good first hour with 10 roach, 2 gudgeon plus a few minnows, things slowed up going into the second sixty minutes and I was only getting the odd small roach and gudgeon and minnows were starting to be a bit of a pain. Dave P on peg 23 shouted up to see if I was catching and said he was getting odd fish and had lost a chub second chuck.
There was still the odd fish topping and if I'm honest, I was dying to get across, I'd been feeding opposite and also just above the branch to the left so with two hours gone and bites dwindling down the middle it was time to go over towards the far side. I started getting bites straight away but the first one I hit was a minnow which wasn't in the script! Then things literally hit a snag when an unmissable bite saw the strike met with solid resistance, I had to ship the pole back and grab the elastic and pull, slowly but surely it started to come and a big tangle of branches came to the surface!
Trying further down the far bank resulted in more of the same and at one stage I've hooked the floating reeds and branches that provided the cover opposite and pulled all that across, so no more cover there! I was sure I'd catch by the branch to the left but the rig wouldn't even settle and I've snagged up several times, coming back with some big branches and losing a hooklength. So with another hour gone, I've only added a couple more roach and some gudgeon.
I had a go with hemp and tares across but only had a couple of bites and managed one small roach on hemp, then down the middle with the lighter rig, I had a lovely bite on a tare only for a small dace or chublet to fly out the water on the strike and drop off! I had a couple of nice roach on the heavier rig with caster before it was back to minnows and the odd gudgeon and resting the middle line was obviously the way to go.
Another look across just resulted in very odd fish so for the last three quarters of an hour, I decided to stay down the middle and I bumped a decent fish before catching my first dace of the day. I netted another nice roach but then it was back to minnows, I started upping the feed and had a really good spell catching two or three quality roach and a few small ones to finish with a flourish (time of day or upping the feed?).
I ended up with 35 fish (roach, dace and gudgeon) plus some minnows and tiny gobies I hadn't counted. Chris 'The Grand Wizard' soon arrived with the scales and my fish went 4lb 4oz which I was well pleased with. Dave P had 2lb 7oz and then Nick P weighed 2lb 12oz which included a lovely roach of 11oz. Terry 'The Toast' was next and had a net of quality roach on hemp and tares to weigh 5lb 12oz which I thought would be enough today. Chris W had 3lb 9oz from peg 29 and then Derek G had loads of small fish for 2lb 12oz from peg 32.
Back at the results and Bob Newbery was the top weight in the other section and had won again, this time with a lovely net of roach from peg 10 weighing 6lb 13oz. Chris Deady was next with 2lb 10oz on peg 9 followed by Clifford G on peg 5 with 2lb 9oz, Steve P with 2lb 2oz (peg 7), Jake B with 1lb 11oz (peg 1) and John L on peg 2.
1 – Bob Newbery (Stoke) – 6lb 13oz
2 – Terry Morgan (Ilminster) – 5lb 12oz
3 – Jamie Rich (Against Men and Fish) – 4lb 4oz
Sections
A – Chris Deady (Stoke) – 2lb 10oz
B – Chris White (Stoke) – 3lb 9oz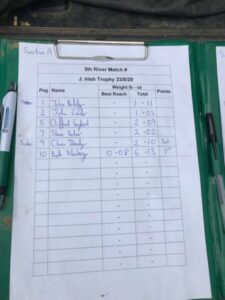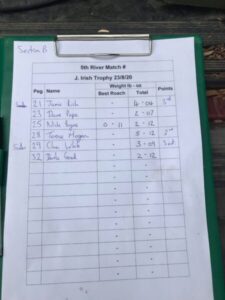 So I ended up third again and picked up £20 plus nuggets off Nick and Steve but lost one to Toastie. The river has fished really well and once again there were lots of close weights and a couple of chub were lost which would have made a big difference.
In other news, in the latest Ilminster match at Dillington, Baz Morgan made it four wins out of five with 15lb 13oz of mainly roach on the whip from peg 10, Paul Homewood was second with 13lb 4oz of skimmers on the pole and feeder from peg 6 and Graham Field was close behind with 12lb 11oz from peg 19.
Last but definitely not least, I have to mention the new series of Mortimer & Whitehouse Gone Fishing on BBC2, Sunday nights at 20:00, it's just a delightful programme, funny yet touching and as I watched it I was aware I had a big fat grin on my face for the entire duration, I even laughed out loud on a couple of occasions and that rarely happens with me! The fishing is really just an aside, although they do fish some stunning locations and stay in some wonderfully quirky accommodation, their friendship seems genuine and they are so comfortable in each others company, you imagine they would be the same without the cameras rolling. Essential viewing.
Next up – Hebditch's Pond
Coming soon – Another trip down memory lane
Check Out – My latest Random Ramblings (below)