The lovely Steve Chant has been running some opens here and after having a cracking day on bunghole peg 1 last time, I was hoping for more of the same this time, especially after a nightmare week with difficulties caring for dad, a £600 vets bill (not for dad!) and my back going when I was picking up dog poo! My week from hell didn't improve Sunday either with the dog crying and bashing into everything with his satellite dish at 2:30 in the morning, after going downstairs several times, dad then shouted for me and he'd had a toilet accident at 3:30! I finished cleaning that up around 4:00 and tried going back to sleep but the dog was still whining downstairs so I basically lay there until my alarm went off at 5:45 – shattered!
My back wasn't great but I managed to load my gear into the car and headed over to meet Steve and The Toast at the bowling club, massive thanks to Drew who looked after us with a lovely breakfast.Then it was on to the fishery and with a rolling draw, most people were already there when we arrived, Steve and his lovely wife Teresa met us at the entrance, I asked Steve if peg 1 was still in there but it had already gone, peg 16 was my home for the day and I had Blaker on my left and Gary Coton, who was fishing Covey for the first time, on 17. Terry was on 13 with The Pole next door on 12.
I set up a Drennan 0.4 gram Carp 1 for the top two plus two line where I would feed micros and maggots and a little handmade float for fishing across with banded pellet. On the fishy food menu today were Bait-Tech Carp & Coarse 4mm and 6mm's, micros along with red maggots (dead and alive).
On the whistle I cupped in some 4mm's on the far bank and then micros and dead reds on the top two plus two line. I started across at 15 metres (14.5m plus the dolly butt) and although I was getting the odd indication it was quite a slow start. Blaker missed a couple of bites short on meat and then I had a small F1. There wasn't much wind but occasionally there would be just enough to make presentation difficult, I could see Toastie and Chanter getting odd fish and Steve P was catching a few silvers but it was a bit of a struggle at our end.
After an hour, I only had two carp and a few F1's although I had pulled out of several as well, Blaker was starting to get a few fish from his short line so I decided to try mine, especially as I was getting a few twinges from my back. I started with treble dead reds on the hook and was toss potting in a few micros and maggots but it took a while to get a bite on this line as well. The first fish was a chunky 2-3oz roach and I started getting some 2-4oz skimmers before the next bite resulted in more elastic showing itself, it didn't feel like a carp and a lovely barbel around 12oz popped up!
Next chuck I had a gorgeous little 6oz crucian and was starting to enjoy myself, I put two live maggots on and it definitely resulted in more bites. It was a bite a chuck, mainly roach and little skimbobs along with the odd rudd on the drop and every now and again a carp or F1 would muscle in on the action and convince me they were crucians! After a slow start, Gary on my right started to get the odd carp and F1 but it wasn't really happening our end at all and I was wishing I'd fished for silvers from the start as normally 10-12lb is enough to win.
The Toast was now catching really well on paste, Chanter was catching carp, F1's and silvers fishing across and Blaker was starting to get a few down the edge. I was catching well in spells and added several more stunning little crucians in amongst the roach and skimbobs. With around two hours to go I was still really enjoying myself but my back was killing me and with hindsight I probably shouldn't have fished today.
I've caught quite well for the rest of the match and when Chanter blew for the all out, I had 9 crucians, that barbel plus loads of roach, skimmers and rudd along with a few carp and F1's. I struggled a bit packing up and it took me a lot longer than normal (this getting old is rubbish!) and Chanter soon arrived to start the weigh in with Gary who had 16lb 6oz. Then it was my turn and my carp/F1 net weighed 17lb 14oz and my silvers went 12lb 5oz which I was happy with as I spent the first hour fishing across.
Blaker had 42lb 14oz and then Terry 'The Paste' put a brilliant 77lb 14oz on the scales, Steve P had 6lb 7oz of silvers and then Chanter had 63lb 13oz from peg 11. Lee J on peg 9 went into second place with 72lb 12oz and Matthew B had 9lb 9oz of silvers on peg 7.
Hoffy on peg 6 weighed 37lb before Richard Bull on peg 4 had a cracking net of silvers for 21lb 2oz, Nic Baggot on peg 3 then went into the lead with 86lb 5oz, Kev N on peg 2 had 53lb 12oz which only left Dave White on the form peg and he made no mistakes to win with 96lb 5oz.
1 – Dave White (PR Floats) – 96lb 5oz
2 – Nic Baggot (PR Floats) – 86lb 5oz
3 – Terry Morgan (Ilminster) – 77lb 14oz
Silvers
1 – Richard Bull (Covey) – 21lb 2oz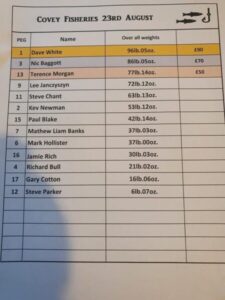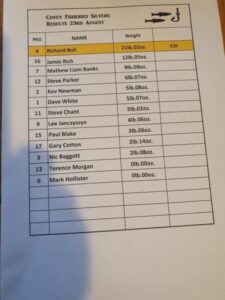 Another really enjoyable match (apart from my back and losing another nugget to The Toast!) and although peg 1 did it again, it wasn't that far ahead of second place and there were several close weights after that. I'm booked in to fish a silvers match in a few weeks and it'll be interesting to see how that fishes.
I must admit I was really suffering with my back when I got home and struggled to unload the car, I decided to pull out of the match at Summerhayes the following day and I was gutted as I was looking forward to fishing Sellicks for the first time in ages.
Mortimer & Whitehouse Gone Fishing was just a joy to watch again on Sunday night, they didn't catch very much but it really doesn't matter. They also had a chat with Feargal Sharkey who is championing chalk streams. Fishing and Teenage Kicks, does it get any better than that? If you've not seen it yet, you really are missing a treat, BBC2, Sunday nights at 20:00.
Next up – River Parrett (Stoke v Ilminster)
Coming soon – Another trip down memory lane
Check Out – My last match (below)