For part five of this series which started last year, I thought I'd have a look at the Carp & Coarse Pellets which I use a lot of, especially in the Summer. They're available from 2mm right up to 11mm but I tend to use the micros and 6mm sizes for most of my commercial fishing and occasionally 4mm and 8mm. They come in 700g bags.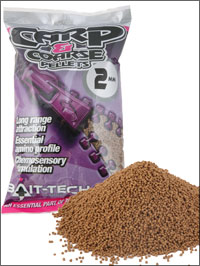 I normally prepare my micros the evening before a match and I add two extra levels of attraction, firstly I flavour the water used to soak the micros and then cover them for a few minutes before draining the water off and then I add a liberal helping of groundbait. The addition of some groundbait does two things, it helps to separate the micros and also gives them a light dusting so when you cup them in they give off an enticing cloud. Give the bait tin a good shake and put them in the fridge overnight and in the morning you will have lovely soft micros packed full of attraction.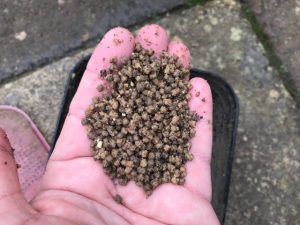 With so many brilliant groundbaits, flavourings and additives available from Bait-Tech, the different combinations are almost endless, for colour you could use Special G Dark or Green, Red Super Method Mix or a few squirts of Predator Plus Liquid and there are loads and loads of flavourings you can experiment with.
For the 6mm's, you can obviously use them straight out of the bag but very occasionally when fishing shallow or pinging pellets, the odd one will hang in the surface tension, this is very easily sorted, just give your pellets a liberal coating of Liquid Pellet or my favourite Nutty Stick Mix Liquid and stir the pellets round with your fingers – sorted!
The Juice Dumbells and Juice Pellet Wafters are brilliant hookbaits to use when fishing shallow or mugging, I've had loads of success using the white wafters. I find them really effective as a change bait when the carp have wised up to a normal pellet. Available in 8mm and 10mm.
Check out all the Bait-Tech products here
Image of 2mm's courtesy of Bait-Tech*