I've really enjoyed these inter-club matches and this year Ilminster fielded a team of 12 which is a brilliant turnout. We all met at the bowling club for breakfast before heading to Martock to do the draw and lock horns with our mortal foes! Last year we narrowly beat Stoke on the Parrett but they got their revenge at Dillington so honours even. For this one all the pegs were at Kingsbury and Chris Deady and Bob Newbery had been out there in the week to check out the swims and put in some new ones above the bridge, thanks chaps.
Stoke had 11 fishing so a decent sized match, Chris 'The Grand Wizard' White said the team result would be decided on the top ten weights from each side and then produced a lovely trophy from the back of his van. Not only were we all competing for our relative clubs pride, we were now fishing for the Isle & Parrett Challenge Shield (our very own version of The Ashes!).
We then queued up to pay our pools and Chris would draw a peg for us, a lot of people fancied peg 4 (the old number 1) which had won the last couple of matches and with half the pegs allocated, it was still in the bag. When it was my turn, he rummaged around and I had a funny feeling that he would pull out the very peg I wanted, he removed a peg, had a look and then turned it around to reveal……. the number 19! I was happy with that though as it would put me close to where I was last time.
Ian 'Bagger' Burton was the lucky angler to draw peg 4 and we also had some other good pegs, Steve P and Big Frank were above the bridge on pegs 1 and 3 which were a bit of an unknown quantity, The Toast, Rob, Neil and Leighton were on pegs 5, 6, 7 and 9 and then Baz, Nick P, me and Jake were all in a line on 17, 18, 19 and 20 and Dave P was on the downstream end peg, number 22.
After driving to Kingsbury, we parked up and walked to our pegs and when I got to mine I was where Nick P was last time, it looked really good with loads of far bank cover, almost too many options if that makes sense! While I was setting up, several fish topped and Nick said the same above me.
Rigs for today were a 1 gram bodied float for down the middle and a 0.6 gram DH16 for fishing across in a couple of areas at 10 and 11.5 metres, both rigs had Guru Match Special size 18 hooks to 0.10mm. On the side tray I had maggots, casters, Bait-Tech Super Seed hemp plus some tares and groundbait today was my favourite Pro Natural Dark and Extra.
On the whistle I cupped in two balls of groundbait down the middle and flicked some hemp and caster across to the left and right, starting over the groundbait with single red maggot, I was surprised when it took a fair while to get a bite and a decent gudgeon was my first fish. A couple more followed before I had a minnow so I switched to caster and carried on catching quite a few gonks. Nick 'The Gudgeoninator' was also catching gobies and had a roach as well.
After an hour I had around a dozen gudgeon and a small chublet but I was a bit worried that I hadn't caught a roach yet. I managed a few more gobies and doubled my chublet tally in the second hour but bites were tailing off and I was dying to go across where I'd been feeding hemp and caster. Not wanting to go straight over I added a section and went to the left to fish just past the middle and this side of the feed. I was just about to pick up the catty when the float buried and the strike was met with solid resistance, yellow hydro streamed from the pole tip and I was convinced I'd hooked a decent chub only to be surprised when a rather smaller specimen of 6oz popped up!
I then missed two really good bites but it was short lived so I went to rest it by flicking the rig in down the middle where hopefully I'd get some more gudgeon, the float went and again it was solid, this felt like a better fish and this time it was a 12oz chub that coughed up loads of casters in the net (never a good sign). Back to the left and no more bites so I've added a couple more sections and gone right across, the float sailed away and I netted my first roach of about 4oz so although not bagging I was getting odd fish and probably had 2lb with two hours to go so well on the way to my 3lb target.
No more bites to the left so I tried straight across and then downstream but it was like somebody had flicked a switch and I couldn't get a bite now! Nick said the same and Jake walked up and said he'd caught one nice roach but all he could catch now was minnows, a bank walker reported it was the same for everyone. I tried hemp and tares and even single maggot and couldn't get a touch on anything!
An hour ticked by and then finally a lovely slow deliberate bite and a nice roach was on, it came to the surface, I unshipped and reached for the net only for the hook to pull out! That was basically it until Nick had a roach five minutes from the end and then my float sailed away and I missed it! I'm positive there were roach there, I just wasn't good enough to catch them.
After packing up I walked down with Chris D to watch the weigh in and get some photos, Dave P on the end had some lovely roach for 2lb 15oz, Derek G (Stoke) had 1lb 13oz on peg 21 before Jake had loads of small fish for 2lb 6oz, I weighed 2lb 1oz and then the Gudgeoninator had 1lb 1oz, Baz weighed 1lb 10oz and Stoke's Mike G had 4oz (which even included sticklebacks!).
The next few pegs were all Stoke anglers, John S had a level pound, David Hilton on 14 had a nice net of fish weighing 4lb 7oz, Bob Newbery had 1lb 3oz, Mark D weighed 9oz and David S had 4oz. Then it was back for the results and the other section had fished a lot better than ours with three 4lb weights, Big Frank had won the section (and match) with 4lb 15oz, Stoke's Grand Wizard was just an ounce behind and would win the Axminster Cup and Leighton had done really well to weigh 4lb 6oz from peg 9 although he did lose a couple of chub.
Neil Purchase weighed 3lb 8oz from peg 7 and Ian Burton had 2lb 9oz, Clifford G (Stoke) had 2lb 3oz and the Toast added 1lb 10oz to our score. Steve P had 1lb 3oz, Chris D (Stoke) had 1lb 1oz, Dave P (Stoke) 15oz and Rob had struggled for 5oz.
1 – Frank Woodard (Ilminster) – 4lb 15oz
2 – Chris White (Stoke) – 4lb 14oz
3 – David Hilton (Stoke) – 4lb 7oz
4 – Leighton Cox (Ilminster) – 4lb 6oz
Section A
Neil Purchase (Ilminster) – 3lb 8oz
Ian Burton (Ilminster) – 2lb 9oz
Section B
Dave Phillips (Ilminster) – 2lb 15oz
Jake Woodard (Ilminster) – 2lb 6oz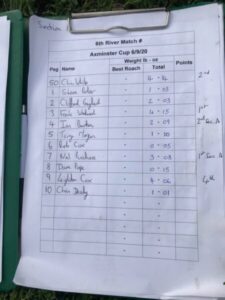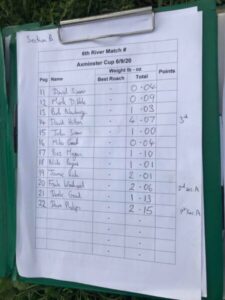 After the team weights were totted up we were declared the first winners of the Isle & Parrett Challenge shield.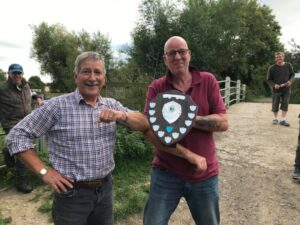 Team result
Ilminster AA (24lb 9oz) – Stoke AA (18lb 1oz)
The club would just like to say a huge thanks to Stoke AA for hosting us and making us feel very welcome and we look forward to returning the favour when they come to us on 18th October (although you're not having your trophy back!).
Sunday's Mortimer & Whitehouse Gone Fishing on BBC2 was the funniest one yet, 'massaging the meatbag' and the cooking stove hand grenade had me snorting like an asthmatic pig! Must watch tv.
Next up – Todber Manor
Coming soon – Another trip down memory lane
Check Out – My last match (below)