I'd really enjoyed fishing the Parrett over the summer and when Stoke rescheduled this match from last week, I booked in with Steve P as it would probably be the last chance to fish it this year. The weather had other ideas though and it rained solidly Friday and Saturday with strong winds chucked in for good measure. Ilminster AA very kindly offered the use of the pond and I think it's fantastic to see two clubs helping each other out and it can only be a good thing, leading to increased memberships, some decent turnouts in matches and therefore more peg fees for the respective clubs.
Stoke still wanted to hold the match on their river if they could, so the final pitch inspection would be at 7:30 on Sunday morning. The Ilminster anglers met at the bowling club for breakfast and waited for the decision, the phone call came and as expected the river was unfishable and with more rain forecast, the sensible (and safe) option was to use the pond and we would do the draw out there at 8:45. Obviously we couldn't decide on which pegs to use until we got there in case of pleasure anglers but no one was out there, which wasn't a surprise given the weather!
It was an open draw and the winners would be decided on combined weight, Stoke also said they would pay our peg fees, what a lovely gesture! As always The Grand Wizard (Chris W) was in charge of drawing the pegs and when it came to our turn, he pulled out number 8 for me and 20 for Steve, two decent pegs.
My neighbours for the day were Dave P on 9 with Hurf on the other side, it was still raining and we were getting the wet stuff and the wind straight in the chops – lovely! It was a bit of a rush to get ready in time so I hastily assembled a feeder rod and a single pole rig, a 0.5 gram Drennan Roach to fish at 11.5 metres. On the side tray I had a pint of casters, half a pint of red maggots, some dead reds, hemp plus Bait-Tech Pro Natural Bream Dark and Omen I'd mixed up the previous evening.
With the pond chocolate coloured, I wasn't too sure how it would fish after the influx of cold water but you can normally tell within a few minutes of the start. If the roach fed, I was sure the whip anglers would be hard to beat and I'd need skimmers on the feeder to do well. On the whistle I cupped in two balls of groundbait at 11.5 metres before having five chucks with the feeder to put some feed in on that line.
I started on the pole with single red maggot on the hook and after a couple of minutes, the float disappeared from view but I bumped it! Next put in I had a small roach and then another so tried double red maggot and had a dumpy little 3oz perch. A few more small fish followed so I put a caster on which resulted in another perch, I started getting some chunky roach and after an hour I had 20 fish for probably 1.5lb. Hurf had caught a couple of smaller skimmers on the feeder and I'd heard Baz on peg 6 say he was catching but I couldn't see him because of the tree.
From what I could see it looked like Steve P was struggling on the opposite bank, Ian 'Bagger' Burton over on 18 was getting a few on the whip and with Baz catching on it and the match being decided on weight, I felt I had to catch skimmers if we were going to stand any chance today so went on the feeder. Over the next hour I had few knocks and a couple of quick savage pulls which I missed but I think were small fish and all I managed was a roach and a perch.
Back on the pole and I've caught quite well including a couple of better roach that I netted rather than risk swinging and I was regretting wasting an hour on the feeder. I was up to 44 fish after three hours but then bites became a bit more sporadic and I would get a couple of fish before it went quiet. Twice I've struck and a fair bit of yellow hydro has come out making me think I've hooked a better fish but they turned out to be whopping great Dillington barbel (gudgeon) and I wish I'd taken a photo of the second one, it was huge!
I carried on putting odd fish in the net and with about twenty minutes of the five hours left, Rob came out to see how we were doing, he said Steve P had caught a couple of skimmers so I spent the last quarter of a hour on the feeder but had no more bites. I ended up with 63 fish which would go 4lb at an ounce apiece but I was admitting to 3lb. Hurf said he'd had six skimmers and thought he had around 4.5lb, Baz was admitting to 4lb and The Toast said he had 3lb so it had been difficult for everyone on our side. I was kicking myself for fishing the feeder when I'd been catching quite well on the pole early in the match.
It hadn't stopped raining all day and everything and everyone was soaked! I packed up and went to catch up with the scales, when I reached them, they'd weighed Frank who had 4lb 2oz on peg 22, Bob Newbery had a nice net of skimmers for 8lb 14oz on 21 and then Steve P had done well to weigh 4lb 6oz as he was blanking after three hours! Derek G on 19 had 4lb 3oz and then 'Bagger' Burton weighed 4lb 15oz on peg 18 so lots of close weights.
Neil Purchase on 17 had done brilliantly to catch 6lb 1oz, especially as he'd done a fair bit of squirrel hunting during the day! Wayne Cooper didn't weigh on peg 10 and then Dave P had 2lb 2oz to give him and Neil a combined total of 8lb 3oz. I was next and received some stick when I weighed 5lb 6oz which gave me a Steve a total of 9lb 12oz to go into the lead although I didn't think it would last long!
Hurf was very close to his estimate with 4lb 3oz so him and Frank totalled 8lb 5oz, Baz weighed 4lb 12oz on peg 6, Clifford didn't weigh on peg 5 and then The Toast wasn't far out with his guesstimation when he had 3lb 10oz to give him and Baz a combined weight of 8lb 6oz. Chris 'The Grand Wizard' on peg 2 had struggled for 1lb 9oz but it was enough for him and Bob to go into the lead with 10lb 7oz.
Then we reached Dan on peg 1 who was admitting to 7lb, he had a lovely net of fish, mostly on the whip for 11lb 15oz which meant him and Ian had stormed into the lead with a total of 16lb 14oz and Dan took my title of worst estimator as well! Last but not least was Chris Deady on peg 23 and he had a nice net of roach weighing 4lb 14oz to give him and Derek a 9lb total.
So back at the results, Dan and Ian were announced as comfortable winners with Chris and Bob second and Steve and me were third and picked up £25 each, I also collected three nuggets from Steve, Hurf and The Toast. I must admit I do think points is a fairer way of doing it for pairs matches but combined weight actually worked really well today and made for a really close contest. After Dan and Ian's weight the next six pairs had;
10lb 7oz
9lb 12oz
9lb
8lb 6oz
8lb 5oz
8lb 3oz
just ounces between several pairs and only 2lb 4oz separating second and seventh place! That wasted hour on the feeder cost us and Steve said he lost a good fish but as I've said many times before on the blog, with the benefit of hindsight we'd all fish perfect matches!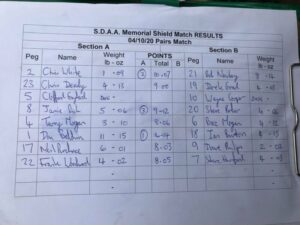 Pairs
1 – Dan Baldwin and Ian Burton – 16lb 14oz
2 – Bob Newbery and Chris White – 10lb 7oz
3 – Jamie Rich and Steve Parker – 9lb 12oz
Top three individuals
1 – Dan Baldwin (Colmic) – 11lb 15oz
2 – Bob Newbery (Stoke) – 8lb 14oz
3 – Neil Purchase (Ilminster) – 6lb 1oz
So an enjoyable day (apart from the weather!) and I'd like to say a big thanks to Rob for all his help and it was nice to see the match well supported.
Next up – River Isle
Coming soon – Another trip down memory lane
Check Out – My last match (below)