With heavy rain all day on Friday, the river was in the fields so it would be on the pond, which I wasn't too worried about as I'm just happy to be fishing at the moment! We couldn't go to the bowling club for breakfast so I stopped at Greggs in Ilminster which was very nice. As always Rob did the draw for everyone and when it was my turn, he pulled out number 2 for me which is probably the most consistent peg on the pond.
There was a decent turnout of twelve and it was nice to see Taunton lads Dan and Monkey, fishing with us again. As I parked up, I could see the level was right up and it was chocolate coloured, there were loads of small fish topping which was hopefully a good sign.
I set up a 0.5 gram Drennan Roach to fish at top two plus three and a 0.6 gram Drennan AS5 Pencil float for 11.5 metres. On the side tray I had a pint of casters, half a pint of red maggots, some dead reds, disco pinkies, hemp plus Bait-Tech Pro Natural Fine Lake Dark and Extra I'd frozen from last week.
On the whistle I cupped in a ball of groundbait on the shorter line and two at 11.5 metres before starting short with single red maggot on the hook. With loads of small fish still topping I was expecting to catch straight away but it was nearly ten minutes before the float went under with a small roach the result. More roach and little perch followed and it was fairly steady with the clicker reading 21 fish after the first hour. The only other anglers I could see were Ian 'Bagger' Burton on peg 21 who was catching odd small fish on the whip, Digger on 20, Terry 'The Toast' on 18 and Dan on 17 who were all on the feeder and I hadn't seen any landing nets go out yet.
It was a bite a chuck on double maggot in the second hour with some chunky 2oz roach and I added another 32 fish for around 2lb. I was just starting to think a decent weight was on the cards when the bites slowed up and I only added another 18 fish in hour three. I cupped in another golf ball size ball of groundbait and tried the longer line with no success. Chris D came for a walk and said nobody was really bagging, then a bit later Max turned up and said the same, I was now really struggling, just getting the odd small roach and perch.
Max went to have a chat with Baz on peg 4 and when he came back he said he was catching quite well on the whip, I'd seen The Toast net a couple of smaller skimmers and apparently Rob on 14 had landed a nice one but it sounded like it was quite hard going for most. I tried caster a few times but was having to wait ages for bites and the fish were no bigger.
With about an hour to go, Dylan wandered up from peg 10 and said he'd really struggled and had packed up. I struggled up to 90 fish which I thought would go between 5-6lb (at an ounce apiece) and then with five minutes to go the float buried and the strike resulted in two foot of yellow hydro coming out, it felt like a good fish and I was definitely in 'squeaky bum' territory! I'm sure I could hear Ian cheering me on to land it (I could be wrong!). Thankfully it didn't give me too many problems and I slipped the net under a lovely 2lb bonus chub with about a minute to go.
I packed up and Rob came round to start the weigh in with me, my fish went 8lb 6oz but would it be enough? Baz was next and weighed 7lb 4oz so I needed that last gasp chub! Monkey on peg 6 had 3lb 4oz and then Dave P had 2lb 12oz, Dylan had gone and then Rob on 14 had 2lb 10oz which included a nice skimmer.
Dan on 17 had 5lb 8oz but was regretting spending an hour on the feeder, Terry had four skimmers plus some small fish for 4lb 6oz on peg 18 and then Digger on 20 weighed 2lb 10oz. Then it was 'Bagger' Burton and he'd done well to weigh 5lb 7oz, Steve P on 22 had 2lb 7oz which included several small skimmers and Leighton on 23 had chucked back although he did have a skimmer and lost one earlier.
1 – Jamie Rich (Against Men and Fish) – 8lb 6oz
2 – Baz Morgan (Somerset Angling) – 7lb 4oz
3 – Dan Baldwin (Colmic) – 5lb 8oz
4 – Ian Burton (Taunton) – 5lb 7oz
Sections
A – Monkey (Taunton) – 3lb 4oz
B – Terry Morgan (Ilminster) – 4lb 6oz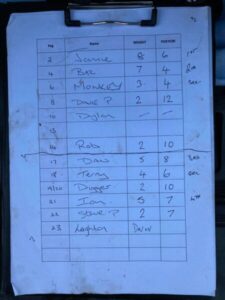 It was really nice to get plenty of bites and a result (especially after last week!), it's always a close match at Dillington and although my last gasp bonus fish won it, I'd have still been second without it so I think I fished a half decent match (drawing a flier always helps!). I picked up £63 plus I got my nugget back off Steve, who'd been keeping it warm for me since last Sunday!
After saying my final goodbyes to my dad on Tuesday, I was hoping I'd be able to win a match fairly soon so I could dedicate it to him, I wasn't expecting it to happen this quickly! So thank you Mr Chub, this one was for you Dad xxx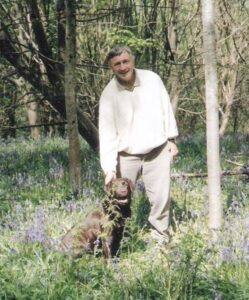 Before I go I would just like to wish everybody who reads the blog A Merry Xmas and I hope you'll be able to enjoy it in these trying and unprecedented times, stay safe.
Next up – River Isle
Coming soon – Another Random Ramblings
Check Out – My last match (below)