Before I get on to todays blog, we had the awful news in the week that Pete Lonton had passed away, he was an Ilminster AA stalwart who I knew and fished with for many years, very sad and our thoughts are with his family.
When it was looking like we might get back match fishing, I was talking to Rob about possible matches and he said he'd put something on Facebook to gauge interest and the 18 spaces filled up in no time. Since then Rob and Leighton have done loads of work out the pond, opening up new pegs and making sure the access path is clear, brilliant effort and it's very much appreciated by all the anglers.
I'd been doing a fair bit of prep and tied up some rigs, hooklengths and put new elastic in two top kits, I thought I'd try some of the new Preston Dura Slip and Daiwa Hybridlastic.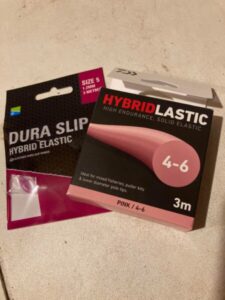 After breakfast at The Greenhouse it was time to pay our pools and Rob allocated our pegs using a randomiser app on his phone which worked really well, I ended up on 13 which I was happy with and I had Steve P next door again, Hurf was on the new peg 16 which looked really nice. It's always nice to see some new faces and today we had Chris Haines and Tony joining us for the first time. Karl Aplin was also fishing his first match with us for a while and sporting a mighty fine porn star 'tache! We were all surprised when he didn't end up on his usual peg 19 as nobody else had access to his Wi-Fi code!
I set up a 0.4 gram Perfect Gloucester with a 0.10mm bottom to size 18 Guru F1 Pellet hook for 10 metres. I thought I'd try them as they're a finer wire than my usual B611 barbless and they stay sharp and keep their points forever. The other rig was a little Preston Chianti for fishing shallow but I wasn't sure it would get used after a frost this morning and bright and sunny conditions. Bait for today was the usual maggots, casters and hemp with Pro Nat Dark and Extra groundbait.
Just before the all in, we held a minutes silence for Pete and then Rob got us underway, I cupped in two balls of groundbait on the 10 metre line and started with single red maggot on the hook, the rig settled, went straight under and a small roach got me off the mark. More followed but I bumped a couple and several came off as I shipped back. In amongst the tiny roach I was getting the odd slightly better one so tried double maggot but then waited ages for bites and the fish were still small.
After an hour, I had 20 roach for just over a pound but I'd probably had 7 or 8 come off as I shipped back and things would need to improve if I was going to do any good as I could see Baz up on peg 5 and Bagger Burton on peg 8 regularly swinging in small fish on the whip. Neil Dopson had been in touch asking if it was alright if he came out for a wander round and to take some photos, we had a good old natter as we lived in the same street for years when I was in Ilminster. There are a few photos below with Neil's permission and here's the link to his Facebook page – ND Photography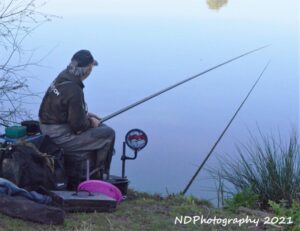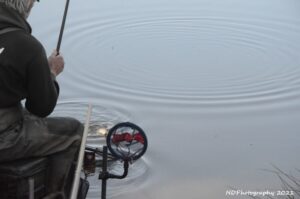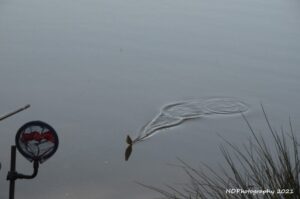 Pete Lonton's son, Steve, also came out to see the anglers and it was nice to have a brief chat with him. The second hour was slightly better and I added another 23 fish including a couple of roach that required the use of the net although I was still having too many fish coming off for my liking. Going into hour three, I was still getting regular bites and catching quite well when all of a sudden it was like somebody had flicked a switch and my bites just stopped. As we reached the halfway point I'd added another 17 fish to put me on 60 which would go around 4lb at an ounce apiece.
It looked like most people had slowed up from what I could see although apparently Karl had landed several chub on peg 23, fishing the long pole to the bush in peg 24 and Fieldy on the other side of it had caught a couple as well. There were blows coming up further out all over the pond and I'm convinced it's skimmers or bream but Jake on peg 10 was fishing the feeder and had only caught one small skimbob.
I had a quick dabble shallow and missed a bite but that wasn't the answer and I didn't really know what to do next, Rob wandered round and said he was struggling but Hurf on 16 was getting a few and Chris on peg 20 was catching lots of small roach on the waggler. Karl had added a couple more chub and was cruising to victory.
With around an hour to go and nothing to lose, I cupped in four balls of groundbait to see if I could make something happen. To be honest I was sat there going through the motions a bit and mucking about with my phone when the float went under and I had a little run of fish, I thought it might have been the time of day but it was short lived and I went back to catching very little. Steve P turned up and had packed up already as he thought we were fishing to four and not half past!
When Rob blew for the all out, my clicker was reading 84 fish and I'd caught 60 in the first half of the match and only 24 in the last three hours! At an ounce apiece they'd give me 5lb which I was sure wouldn't be any good today. I packed up and went round to get some photos of the weigh in. Rob on 17 was first and had 3lb, Frank next door weighed 2lb 2oz and Neil P had 2lb 6oz on 19 before Hainsey went into the lead with 129 waggler caught roach for a level 8lb.
Leighton had caught a skimmer but chucked back and then we got to Karl, he had 9 chub (and lost 1) plus some roach for a brilliant 19lb 9oz. Fieldy had also done well on peg 1, he'd caught four chub and lost a couple for 8lb 12oz. Tony on peg 2 weighed 2lb 12oz and then John on new peg 3 had several small skimmers on the feeder for 4lb 2oz.
Baz had continued to catch steadily on peg 5 and weighed 8lb 2oz to go into third place, Richy had 1lb 8oz , Dave weighed a pound and then Ian 'Bagger' Burton had a level 5lb. Dylan on peg 9 had 4lb which included a nice chub and Jake had 2lb 12oz. I was next and my fish went 5lb 8oz, Steve P had 2lb 4oz so I claimed a nugget but then gave it straight to Hurf who had some nice roach in his 6lb 12oz from peg 16.
1 – Karl Aplin (Ilminster) – 19lb 9oz
2 – Graham Field (Ilminster) – 8lb 12oz
3 – Baz Morgan (Somerset Angling) – 8lb 2oz
4 – Chris Haines (Haines Angling) – 8lb
Sections
A – Ian Burton (Taunton) – 5lb
B – Steve Hurford (Ilminster) – 6lb 12oz
So another disappointing day for me, I was really pleased with my peg and started well but just had too many fish come off, I probably had enough on the hook to frame but everybody has had the same problem. Conditions were far from ideal with a frost followed by bright, sunny weather and a flat calm pond, also 18 anglers round the pond was always going to make it quite hard going. It was actually quite a close match apart from Karl's weight and it'll be interesting to see how the bush pegs fish next match, it might well be that people run to those pegs and they don't fish at all!
Next up – Summerhayes
Coming soon – Another great interview
Check Out – My last match (below)