The next Stoke match was on Longs at Summerhayes and it generated lots of interest with 23 anglers booking in. A few of us met at Greggs in Bridgwater (my third different one in as many weeks!) before we headed to the fishery in convoy with Mr Parker in the lead. We turned right coming out of the services which was fine but then chaos ensued, somebody stopped on the roundabout and then we all went right the way round the the roundabout and headed back towards the motorway. Steve, Rob and Toastie then went past the turning and ended up going round that roundabout as well!
I headed off towards the fishery with Nick and Aaron behind me and not long after the others arrived, well apart from Steve who was nowhere to be seen! He eventually arrived and had been on a little sightseeing trip back down the M5! With the Breakfast Club finally fully assembled, it was time to pay pools, grab keepnets and let the Grand Wizard decide our fates for the day. I was just hoping to avoid Cyanide Straight and got my wish when peg 20 was pulled from the bag. It's on the bottom bank under some trees and can be quite chilly as it doesn't see any sun until mid afternoon.
Either side I had Leighton on my left with Lee T on 18 and then Parker The Pole next to him. With quite a few anglers around the lake combined with bright, sunny conditions, I did think it might be a little more difficult than normal and that 40-50lb would probably be enough to frame. My plan was to fish a few lines for silvers where hopefully I'd get some carp as well and then in the last couple of hours, fish the margins where I would boost my catch with more carp.
Rigs for the day were a 0.3 gram Mini Gimp to fish top two to the right where there was a deeper hole, a 0.3 gram Guru AR for top two straight out, top two plus one and two lines at 10 metres and lastly a little handmade float for the inside to the left where there was a dead tree in the bank. Quite a full side tray once again with red maggots (living and non-living), micros, expanders and Bait-Tech Special G Green and The Juice groundbait plus I had corn and 6mm's on the reserves bench!
On the whistle, I fed all my lines apart from the margin to my left which I would feed thirty minutes before I intended to fish it. I kicked off on the top two line with an expander but no bites after ten minutes and I was soon on the 10 metre lines. I missed a couple of indications before bumping a fish but then couldn't buy a bite! Switching to double maggot resulted in my first fish, a tiny skimmer but as it was foulhooked, I could hardly claim the bait change was a tactical masterstroke!
I'd seen Dave Chidzoy on 24 catch an early fish and Paul Adams had landed a few skimmers on 25 but on our bottom bank it was painfully slow and I mean slow! Three and a half hours in and all I had managed to catch so far was four little skimmers for 4oz! Leighton was still blanking, Lee had a couple of skimmers as had Steve and then the other anglers I could see were Dave Pope on 15, Chanter on 13 and Bagger Burton on 12 who as far as I could tell had only had a fish or two apiece.
Exeter Mike came for a wander round and it was lovely to see him, he even paid me a nugget from when we last fished together sometime in 2020 – cheers mate! I fed the left hand margin with five pots of loose groundbait and left it while I tried the top two plus one line for the first time, a positive bite resulted in the first carp of the day tearing off, it wasn't on long though and the rig came back with a scale on the hook!
With two hours left, it was time to try the margin line and even though I had very little in my silvers net and nothing in my carp net, with nobody bagging up around me, I still thought a good last period could salvage a result. I went in with a big bunch of maggots on the hook but at 3ft plus, I think it was too deep. I did eventually hook a decent fish but the hook pulled out of that one as well! It just wasn't happening so decided to feed the other side up towards the empty pallet between me and Lee.
I started getting some indications but a couple of times the float has sailed away and I've struck only for it to be solid before the rig has come back with a piece of branch or root on the hook. Finally I've hooked a big fish which I took my time with and eventually slipped the net under a lovely fish around the 8lb mark which was delicately hooked in one of it's barbels, how it never came off I don't know!
The next one I hooked, I had under control only for the hook to pull out and we were now into the final hour. Then I had a decent skimmer hooked in the wing followed by a missed bite where I connected with a fish briefly but that came off so there were fish there but not really feeding and with lots of fish lost and foulhooked during the day, it might have been that they were thinking about spawning. I did see a decent carp cruising within mugging range (old habits die hard!) so I plopped the bunch of maggots in front of it and saw it follow them down, I struck and it was on, another decent fish of 5-6lb.
Leighton landed a nice carp and had lost a couple during the day as well and Lee landed his first carp just before the all out. I managed another decent skimmer and a nice crucian but it had been a real struggle at our end.
With two sets of scales doing the weigh in, I was only able to get a few photos and also only got a photo of the overall results and not all the weights so apologies for that!  When I caught up with the scales, they were just weighing in Bagger Burton who had caught a few carp but had a pole section go in the pond, Chanter weighed 15lb odd but like most people had lost several foulhookers but at least he was still smiling! Dave Pope had 20lb something from peg 15 and then Parker The Pole weighed 3lb 2oz of silvers.
Lee had 4lb 8oz of silvers and that nice carp, then my two carp went 13lb odd and my silvers added 4lb 2oz to get my pound back off Steve from last week. Leighton chucked back and then Dave Chidzoy had 22lb on peg 24, The Toast was next and had done well to weigh 29lb 15oz on peg 27.
Back at the results and most of the leading weights had come from the top end, Dave White had the top weight from peg 39 with 76lb 5oz, Nick Chedzoy was second with 52lb 14oz on 35, Glen Radford had 44lb 13oz from peg 7 and Nick Payne was fourth from peg 34 with 34lb 2oz. The sections were won by John Tucker with 21lb 11oz (peg 11), Terry The Toast and Matthew Adams with 30lb 10oz from peg 30 (he also had a pole section go in but Dad Paul went for a dip after the match to retrieve it). Top silvers went to Jake Berkley with a nice net of skimmers weighing 14lb 2oz. Photo credit – Dave White*
1 – Dave White (Stoke AA/Sensas) – 76lb 5oz
2 – Nick Chedzoy (Stoke AA) – 52lb 14oz
3 – Glen Radford (Stoke AA/Tackleuk) – 44lb 13oz
4 – Nick Payne (Stoke AA) – 34lb 2oz
Sections
A – Josh Tucker (Stoke AA) – 21lb 11oz
B – Terry Morgan (Stoke AA) – 29lb 15oz
C – Matthew Adams (Stoke AA) – 30lb 10oz
Silvers – Jake Berkley (Stoke AA/Tackleuk) – 14lb 2oz
So a disappointing day for me although I did finish 4-1 up in the side bets, taking nuggets off Steve P, Rob, Leighton (plus the one from Exeter Mike) and losing one to Nick P. As always it was a excellently run match by the Grand Wizard with help from Glen, Andy D and Jake and nice to see such a good turn out with even more new faces.
Also check out this fantastic catch of tench caught at Rackerhayes Pond by Max from Tackle Trader in Newton Abbott, 25 tench for 111lb with the biggest going 8lb 4oz, what a stunning days fishing.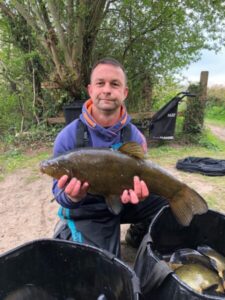 Next up – Hebditch's Pond
Coming soon – Another great interview
Check Out – My last match (below)