Since matches have resumed, although it's been nice to get back on the bank, I've had a pretty torrid time of it fishing-wise with the only highlight being a win at Harry's pond, a venue I always enjoy fishing. We were back again for another charity match although it was only me and Rob from The Breakfast Club this time. We met Aaron at Greggs to fuel up for the day before heading to the Memorial Hall in Stoke for the draw.
We paid our pools and then, as always, it was time for the socially distanced draw with Sam doing the honours for everyone. Of course all the anglers were praying they would be blessed with peg 4 although I'd be happy with anywhere on the near bank or peg 5 (which I've still never drawn!). As the names and then numbers got drawn out, we'd got about halfway through the list and the legendary peg 4 was still in there.
Andy Saunders who was fishing the pond for the first time drew peg 3 and then it was my turn, I really thought it might be my day, Sam stuck his hand in and pulled out…….. peg 11! Not a great peg to be honest and I thought I might be fishing for silvers today. With just Harry and Aaron left to draw, the legendary pipe swim was still in there, who would be the lucky angler, Harry was next but got peg 6, leaving Aaron with the swim of dreams!
Although we'd had another overnight frost which wouldn't do us any favours, it was shaping up to be a gorgeous day. My neighbours for the day were Dennis on peg 12 with Jake on my left and from my peg I had a great view up the pond so hopefully would be able to keep an eye on how everyone were doing.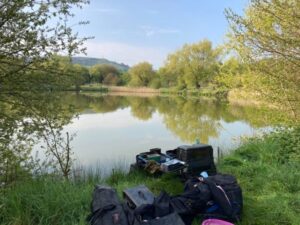 I set up a 0.6 gram Drennan AS5 Pencil float to fish two lines at 11.5 metres, one with micros and corn and the other with groundbait and maggots, a 0.3 gram Guru F1 Slim for fishing shallow and a Drennan Crystal Dibber for mugging. On the side tray I had red maggots (alive and dead), corn, micros and some Special G Green and The Juice groundbait. I also noticed when I was getting ready that the clip on one of the legs of my Maver pole roller had snapped, disappointing really as it's hardly been used and it seems fishing kit just isn't robust or built to last these days and the other thing it isn't, is cheap!!
Set up and ready, the banter was in full flow, it was a lovely day and I was really looking forward to it. The Grand Wizard on peg 1 got us underway and I fed the long line straight out with micros and corn and then to the left with two balls of groundbait. I started with corn on the hook and was toss potting in a few micros and lifting and dropping the rig. Andy B over on peg 8 got off to a great start landing a couple of nice carp on the method feeder and Chris N was soon off the mark as well.
It took ten minutes to get a bite and my first fish was a little Ginster followed by a nice roach and I was getting quite a few indications. After an hour I had six little carp and that roach for about 2lb and although I was doing okay I needed to catch some bigger carp as both Andy and Chris had caught some decent fish. I switched to the other line with double dead reds and had a good spell catching more pasties along with some roach and a skimmer.
Odd carp were cruising about so I had a quick go with the shallow rig and 6mm pellet but no indications and I also tried the deep rig with a banded pellet and pinging 6mm's but no bites on that either so I decided to just get my head down and catch what I could on dead reds. I was toss potting maggots on both the long lines and swapping between the two after every couple of fish. I was catching small carp quite well also adding a couple more nice skimmers and then had my first better carp around 3lb from the left hand line.
It looked like most people were catching small carp and the odd better one and I could see Harry catching loads of small fish up the other end. I then hooked another decent fish which turned out to be a foulhooked 2lb carp that I reversed into the net! More small carp followed with one perfect little specimen that wasn't even an ounce! Derek G came for a walk round and said Andy B was probably in the lead and admitting to 20lb.
I was still catching small carp and I'd also had several more skimmers, plus roach and the odd tiny rudd that were nailing the bait on the way down. Dennis was catching some small fish on the waggler and had also landed a couple of rather large log fish, then bizarrely, after three hours, I started hooking branches from both my longer lines and soon had enough for a build your own tree kit! Andy S landed a couple of nice carp on the pole and did well to get them out of the reeds.
Kev Francis turned up to see how we were getting on and while he was with me I had a really good spell, landing two more decent carp, another couple of skimmers and some pasties. Aaron had struggled to start with but Derek gave him some coaching and he finished strongly landing some decent carp. The Grand Wizard signalled the all out and I'd finished up with 4 nice carp, 26 pasties, 9 skimmers plus some roach and rudd, a really enjoyable day and I thought I might be in with a shout.
Sam and the scales arrived and weighed the Grand Wizard before I could get there for a photo, he weighed 14lb 7oz of mainly carp, Dave H had 9lb 7oz and then Andy S had several nice carp and some pasties for 18lb 9oz. We got to Aaron and he'd obviously been sneaking them in as he had three nets to weigh in, his pasties went 2lb 4oz and then his other two nets went 43lb 14oz to give him a total of 46lb 2oz, a great weight on the day, well done mate.
Sam had struggled on peg 5 (after winning the last time he drew it) for 1lb 1oz, Harry had fished for silvers and caught loads of small rudd along with a nice skimmer and some better roach for 5lb 14oz. Rob had a couple of nice carp for 9lb 3oz from peg 7, then Andy B had 33lb 15oz of decent carp on the method feeder from peg 8. Chris N weighed 18lb 8oz next door and then Jake had 8lb 6oz from peg 10.
I was next, my silvers went 6lb 6oz before my bigger carp weighed 11lb 14oz and then the pasties added another 11lb to give me a total of 29lb 4oz, last but not least was Dennis who'd also caught some skimmers plus roach, rudd and small carp for 6lb 1oz.
So Aaron won on the day and was well chuffed which is great to see, Andy B was second, I was third and Andy S was fourth. Another £120 went into the charity pot which now stands at a fantastic £561 for this year which is brilliant, well done everyone!
I know I've mentioned it before but I think it's great news that these skimmers are showing, Harry didn't stock very many and more and more seem to be showing each match so they must have bred and are doing well, I really hope they thrive and some quality roach are being caught as well, an intriguing venue,
1 – Aaron Drayton (Stoke AA) – 46lb 2oz
2 – Andy Burns (Stoke AA) – 33lb 15oz
3 – Jamie Rich (Stoke AA/Against Men and Fish) – 29lb 4oz
4 – Andy Saunders (Stoke AA/Sharp) – 18lb 9oz
Sections
A – Chris White (Stoke AA) – 14lb 7oz
B – Chris Norton (Stoke AA) – 18lb 8oz
Silvers
Harry Hebditch (Stoke AA) – 5lb 14oz
What an enjoyable day! Everything about today summed up what I love about match fishing, top notch banter (all meant in exactly the right way with no nastiness or bitchiness), a nice bunch of lads, a lovely little venue, plenty of bites but not daft weights and gorgeous weather always helps! All in complete contrast to the following days match (not one to be missed!).
I can't go without saying a massive thanks to the Hebditch family for letting us fish their pond, the Grand Wizard, Sam and Derek (on the weighboard) for another well run match and lastly to all the anglers for making these days an absolute joy to fish!
Next up – Summerhayes
Coming soon – Another great interview
Check Out – My last match (below)