For the Bank Holiday matches, Pete splits the pools equally between carp and silvers which I think is a great idea. Originally it was going to be on Sellicks which I was really looking forward to as it's my favourite lake but it was moved to Longs. The weather forecast for Monday was atrocious with 50mph winds predicted and heavy rain – lovely! Nick P very kindly offered to supply breakfast and very nice it was too, he wouldn't take any payment which meant another fiver each was bunged into the charity pot.
Arriving at the venue, the weather wasn't too bad and I was hoping they'd got it wrong, quite a few regulars were in attendance along with The Tart, Chris W and Geoff. Pete announced the draw starting with the golden peg which was number 34, as he started pulling pegs out I was fairly near the top of the list and 36 was my home for the day, I was fairly happy as it can be good for silvers but was expecting lots of carp trouble too. Birthday boy Rob was on the golden peg, The Toast was on 28 and Nick was on heli landing pad 15.
The Tart got drawn 26 and Glynn was on 17 which can be a decent silvers area and we had our usual £1 side bet, it could be an expensive day as I had £2 (one for silvers, one for carp) with The Tart, Rob and Nick! I set up a 14 x 11 MW F1 Slim for top two, top two plus two and at 8.5 metres down the middle plus a 0.3 gram NG Mini Gimp for the top two to my right where it was slightly shallower. The side tray contained the usual fare, of maggots (alive and deceased), 4mm Xpands, micros and Bait-Tech Special G Green and The Juice groundbait.
The wind was already increasing in strength although it was supposed to reach hurricane proportions around two 'o' clock (something to look forward to then!). Pete got us underway and I cupped in small balls of groundbait on all the lines apart from top two plus two which got some micros. I started on the short line to the right with an expander on the hook but it took a while to get my first bite which turned out to be a 2lb carp. No more indications so I had a quick look on the top two straight out but was soon going out on the longer line as I wanted to fish it before the wind got too bad.
No bites on expanders so I put two dead reds on but it was still slow going, I did hook two carp but both came off and we were now an hour in and my silvers net was still empty! Another fifteen minutes passed and then I've had my first skimbob, two more followed in the next two put ins and I was hoping I might get a few more. I should have known better as the next fish was a carp that went berserk before snapping me! After that I couldn't get a bite and the wind was steadily getting worse!
Rob had a couple of nice carp on the feeder and also added a nice skimmer and I could see The Tart landing fish regularly. Over the next hour or so, I bumped off a couple of skimmers and lost several more carp and my hooklength box was emptying at an alarming rate! I had one more skimmer from 8.5 metres along with a couple of small fish but I was really struggling. The wind was starting to be a real pain and I was having to hold onto my bait boxes at times so they wouldn't take off!
I came in on the top two plus two line and added a few inches to the depth to try and achieve some kind of presentation but every time the float sailed away, a carp tore off and I really wasn't enjoying myself! With two hours to go, The Toast walked past and said most of his pole was now in the lake! Basically he'd hooked the far bank and as he shipped back it came apart and now 13 metres was laid parallel floating against the far bank, it would probably make a nice fish holding feature although he now had no way of fishing against it!
In amongst the succession of lost carp (and hooklengths) I did manage one more skimmer but when I was trying to land a carp, a particularly violent gust of wind blew all my bait boxes in the pond and that was enough for me! Glynn walked by after packing up and said he'd chucked back 4lb, I knew I didn't have that but was going to stay and weigh in so I could claim his pound (I'm not proud!). As I packed my kit away I was just relieved my pole was still intact and I honestly think that was some of the worst conditions I've ever fished in!
Pete weighed me in first, my silvers went 3lb and the carp weighed 13lb 14oz, I knew I hadn't done any good but how many nuggets would I be handing over? As I followed the scales round, Mark Leahy had 36lb 3oz of carp on peg 7 then Roy Hughes weighed an excellent 15lb 3oz of silvers caught on the waggler from peg 11, a class act who's always there or thereabouts. Gary Thornton went into the carp lead with 54lb 15oz on peg 13 and then Nick had 33lb 3oz of carp and 9lb of silvers to take £2 off me.
Glynn and Geoff didn't weigh on 17 and 19, Rob Birch had 7lb 2oz of silvers from peg 23 before The Tart had 4lb 13oz of accidental silvers and 60lb 11oz of carp to take a double nugget off me and go into the lead. Terry had done well to weigh 25lb 9oz of carp despite losing his pole, Chris didn't weigh on 30 and then Rob Dodd had 28lb 11oz of carp and some quality skimmers for 14lb 10oz which put him second in the silvers. Rob Cox beat me on carp with 26lb 13oz but fell just short on silvers so I ended up 5-2 down in the side bets!
So a bad day all round for me but things were about to improve as Terry was going to provide the entertainment as he launched the boat to try and retrieve his pole. The wind was so strong it basically blew our very own Captain Pugwash past where his pole was and despite him rowing as fast as he could, he was making no headway against the wind. Of course we were there to make sure he was safe and not laughing (too much!). He got to the far bank and by grabbing the grass and reeds managed to to pull himself back along to where his pole was.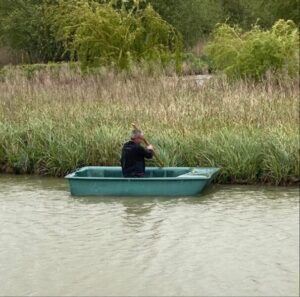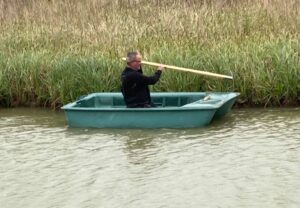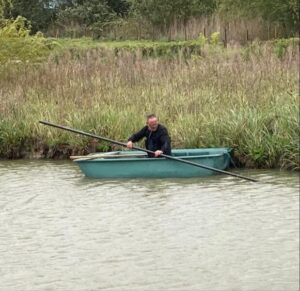 As he was trying to untangle the rig from the reeds, the wind basically blew him back down the pond but this time with the elastic streaming from his pole tip (biggest thing that's been on the end of there for a while!). By this stage I'd forgotten all about how bad my day had been and was laughing so much a little bit of wee came out! Rob got some of Skipper Morgan's maiden voyage on video which I'll see if I can put on here or the Facebook page with his permission. It's a shame they stopped making 'Carry On' films as I'm sure 'Carry On Fishing' would have been a box office hit!
All joking aside, he got all his pole back and made it to dry land safely and he saw the funny side, so fair play Captain Morgan you're a star!
Carp
1 – Brendon Ions (Tackle Trader) – 60lb 11oz
2 – Gary Thornton (Summerhayes) – 54lb 15oz
3 – Mark Leahy (Summerhayes) – 36lb 3oz
Silvers
1 – Roy Hughes (Summerhayes) – 15lb 3oz
2 – Rob Dodd (Summerhayes) – 14lb 10oz
3 – Nick Payne (Ilminster) – 9lb
So despite the absolutely awful weather, it's fished really well with excellent leading weights and although I've had a really disappointing day (after having a lovely match on Sunday), it's all part and parcel of what makes match fishing such an addictive sport, you just never know what each day will bring!
Next up – Dillington
Coming soon – Another great interview
Check Out – My last match (below)