Something a bit different this week, I'd joined the Angling Trust so I could enter my first ever Fisho qualifier at Todber and then Russ Hilton asked if I'd like to fish the AT Pairs Qualifier on the T & B canal and I thought 'Why not?'. I've known Russ for a fair few years now, he used to write an excellent blog and we've met up a number of times trying to catch various species. He loves his canal fishing and has some stunning captures of tench, rudd, bream, perch and pike from the Exeter, Tiverton and T & B canals.
He's also a very tidy match angler but thankfully for the rest of us, he doesn't fish that many! He's fished the last three Taunton matches on the canal to get his eye back in and won them all! Now I haven't fished the canal in a match since the Drennan Super League days (probably around 15 – 20 years ago!) and was thinking I'd just rock up and fish chopped worm and caster for tench and perch! With Russ's excellent form, I was relying on him to tell me what to do and although worm would play a part, so would whip fishing, liquidised bread, punch and pinkies, all things I haven't used in years!
After his latest victory and me asking him endless questions, I did start worrying about letting him down and suggested he might want to find a partner who knows what he's doing but he decided to do his bit for care in the community and remain lumbered with me! He even said he'd do my liquidised bread and tie a few hooklengths for the whip – what a star!
I was up bright and early and met Russ before we headed to Taunton, a quick pit stop at Maccy D's for a rubbery muffin (which sounds a bit rude) and I also had the misfortune of having the Torquay Tart behind me in the queue beeping his horn (he was headed to Summerhayes). The draw was at Creech and was already pretty busy when we arrived, it was nice to see lots of people I don't see often enough although several people asked if I was lost!
There were loads of canal experts in attendance including Richard Chave and Nick Trevitt who had qualified here last year and went on to win the final. Russ said I'd be better off at Charlton as it would probably be more big fish and wouldn't be so busy while he'd be in the Creech section. We paid our pools and Dan told me to draw for both of us, A8 was my home for the day and Russ was on B20, neither of us were on end pegs so my drawing hand hadn't improved unlike a certain Mr Chave who secured end pegs for him and his partner.
As I didn't have a clue where I was going I followed Simon Garbutt to my section and as I walked up the towpath I could see the canal was chocolate but there were quite a few small fish topping. Jon Martin was on the end peg A9 in our mini section with the other nine pegs on the other side of the bridge, Rob Birch was on my left with Monkey next to him. The weather forecast was awful for the day (just for a change) but as we were setting up it was actually quite nice!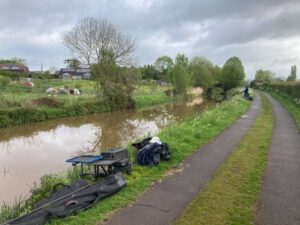 I set up three rigs, a 0.6 gram Drennan Glow Tip Antenna waggler for fishing the whip 4 metres to hand and then two chopped worm rigs, one for fishing across at 13 metres in 2 foot of water and the other for down track 11.5 metres to my right where it was at least twice that. On the side tray I had worms, casters, maggots, pinkies, liquidised bread plus some slices for punched hookbait.
On the whistle I fed the two worm lines before starting on the whip, Jon was into small fish straight away while it took me five minutes before I had my first bite from a small roach. Little rudd and silver bream/skimmer/hybrid things followed before I hooked a nice roach of around 4oz and tried swinging it rather than netting it and of course it dropped off! Although I wasn't bagging and Jon was catching a lot quicker than me, from what I could see Rob and Monkey were struggling so I stuck at it but I was basically just biding my time before I could get on the worm lines.
I was feeding a little nugget of bread every put in and catching some tiny rudd along with the odd bleak although I did net one slightly better rudd around 3oz. I did try a white pinkie but only had a small bleak on it. On around the hour mark, I noticed Rob carefully shipping back before he netted a small tench, I fed my worm lines again but wanted to leave them as long as possible before trying them. It had also started raining quite hard but despite the weather, there were already loads of walkers, joggers, dogs, bikes and several cars and vans going up the towpath and I was spending as much time looking behind me as I was at my float!
Also with the rain and trying to feed a nugget of liquidised bread every chuck with wet hands I was getting covered in the stuff, I looked like an explosion in a cocaine factory! I was just waiting for Rob to start singing 'White Christmas'! With around an hour and three quarters gone I had 33 fish for probably 1.5lb but was dying to try the worm lines so decided to have a quick look down the track first. I shipped out and toss potted in some worm and caster and was full of anticipation but after 15 minutes I hadn't had any indications.
Jon had a look on his worm line and lost a tench first put in, next chuck he's gone out and had one about 3lb to put him in a really good position. I fed the track line again and went across to 13 metres but no bites there either although I wasn't too worried yet as I felt there were a few better fish about. Jon has gone back on the whip catching bleak and then somebody said they were catching bream on the other side of the bridge so I thought I needed a big fish or two, both Rob and Monkey were sitting it out for a bonus as well.
I kept swapping between my two worm lines and keeping them topped up but I wasn't getting any indications at all and the longer it went on, the more I felt it was pointless going back on the whip. The bankside traffic continued to be busy with vans, cars and at one stage a big 4 x 4 with a trailer went up through, to be honest I was just finding it frustrating having to keep worrying about shipping in and out and Rob said it was doing his head in too!
With around an hour to go, I was fishing across when I had a little dink on the float before it moved along the top and submerged, 'Here we go I thought' and gave it a big whack only for the float to shoot out the water and tangle round the top of the pole! As I shipped back I could see the tangle getting worse and worse which did nothing to improve my mood as I sat there, in the rain, covered in liquidised bread, doing knit one, pearl one with a massive tangle!
I eventually sorted it out and did have another indication which I also missed resulted in another tangle but I think it was small fish nipping the end of the worm as Rob had the same problem, he did land a nice skimmer just before the end to insure I would be stopping for fish and chips on my way home. The all out was called and I can't say I was disappointed, Russ phoned to see how I'd got on and said he'd caught a nice tench (and lost two big fish) on the worm plus about 3 kilos on the whip and I was hoping I hadn't let him down too badly.
As the scales reached us, Ian 'Bagger' Burton was top from the other side of the bridge with three big bream for 6k 575g and Lee Trevitt was second from the end peg A10 with two big tench and bits for 5k 475g. Jon pulled his net out and he'd fished a really good match, catching loads of bleak and only having the odd look on his worm line, he weighed 4k 700g. My catch weighed a massive 725g and then Rob had 1k 200g, Monkey didn't weigh although he had lost a tench. *Photo credits – Taunton AA and Hurf.
Then there were a few weights around 1k 700g, Nicky Collins had some tench and bits for four kilos and then John on the far end peg had 2k 850g. I ended up only beating two in the section to give me 16 points.
As the other section started arriving back, Rich Chave had won the section with 4k 200g and Russ was second with 4k 175g (gutted, sorry mate!), he's really in tune with the venue catching loads of small fish and not spending too long on the worm lines. Steve Maynard also fished a blinder catching some nice tench and perch for 3k 975g and third in that section, he's a class act and never far away and certainly clocks the miles up to fish these matches.
After the points were totted up Rich and Lee won with 3 points and go on to try and defend their title (and you certainly wouldn't bet against them doing it), another class pairing of Steve Kedge and Nicky Collins were second with 8 points, Steve Maynard and Robert Fuller were third (11 points) and Jon Martin and Oly Nicholls took the final qualifying spot (13 points).
Pairs qualifiers
1 – Richard Chave and Lee Trevitt – 3 pts
2 – Nicky Collins and Steve Kedge – 8 pts
3 – Steve Maynard and Robert Fuller – 11 pts
4 – Jon Martin and Oly Nicholls  – 13 pts
We finished up with 18 points and I was gutted for Russ, I'd really let him down and drove home feeling really fed up. I'd fished a rubbish match and to be brutally honest you can't not fish a venue for twenty years and then just turn up and expect to take on class canal anglers on their home water and do well, which I think is why I'd convinced myself I needed to catch big fish to stand a chance. Looking at the results, most people who did well had a bonus or two but then again just two kilos from me would have seen us qualify and given I had 725g in an hour and three quarters, I think that was very possible but of course hindsight is a wonderful thing!
People who read the blog will know how important my fishing is to me and bad results do get to me but when you let someone else down it makes it even worse, it topped off a pretty awful few days for me, I had to have my dog put down on Thursday, Chelsea lost the FA Cup Final on Saturday and then Sunday I was looking forward to it and then was never at the races and being so far off the pace can be quite hard to take. On the drive home I kept an eye out for the nun I'd obviously run over at some point recently!
I have to say it was a superbly run match by Dan Baldwin with help from Andy Forward, Gappy, Steve Priddle and Kev Williams. There is certainly a buzz around these kinds of matches and even though I'm right out of my comfort zone, I like doing different things and would definitely give it another go although I might have to find a partner!
In other news, if you haven't seen it yet, check out the latest Guru Podcast with Will Raison, it's a long one over four hours but a cracking listen/watch.
Last but definitely not least, one of the blogs supporters, Somerset Angling have given me an exclusive discount code AgainstMenandFish10 that you can enter at the checkout online and it will give you 10% discount.
Next up – Dillington
Coming soon – Another great interview
Check Out – My last match (below)