I fished my first match at Avalon in December last year and had a really nice day catching two good bream, skimmers, roach, and a decent perch for 11lb 11oz plus two big carp which didn't count. This one wasn't a silvers only match but I really fancied fishing for the bream and skimmers again as good weights are often recorded.
Awake early, I was one of the first to arrive at the bowling club for breakfast and it was set to get busy with the guys from both the Avalon and Dillington matches and as always the food was superb and we were looked after brilliantly by Drew and Charlotte, they're going to be a hard act to follow! My mate Andy Langdon was fishing with us today and came for breakfast. It was his first match for a long, long time, if you've read the blog since the beginning you will know we used to fish every week and it was always a good laugh, so it was fantastic to see him again but would it be a victorious comeback?
Then it was off to to the fishery where Chris N relieved us of our pools money before Vic drew our pegs, I was on 37 on the opposite side and could park right behind my peg. There were loads of fish moving including the odd carp boshing over by the island and smaller silvers topping closer in, I was a bit disappointed not to have a gap in the island as they are normally the better pegs for the skimmers, Vic was on the other side and as he had open water he would be the man to beat today for silvers.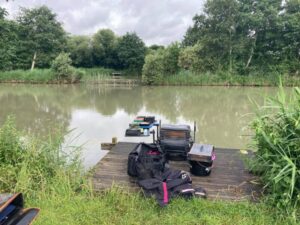 I had Mike Goad on my left and Clifford was the next angler on my right on 35. I set up a Drennan 0.4 gram Carp 1 to fish two lines at 13 metres and a Guru 0.45g F1 Carbon Slim for the top two plus two line. Both rigs had size 16 Guru F1 Pellet hooks to 0.12mm. On the side tray I had a pint of casters, red maggots (dead and alive), micros, expanders and groundbait was Bait-Tech Special G Dark and Pro Nat Bream Dark.
On the whistle I fed micros on the right hand 13 metre line, two balls of gb at same distance but angled to the left and finally a ball on the top two plus two line. I had intended to start with double dead reds on the hook but as I've gone to ship out, a small fish nailed the bait but then dropped off, treble maggot was no better and they were even having a go at 4mm expanders, after several attempts, I finally managed to ship out! A decent bite resulted in a 6oz skimmer but the tiny fish were still being problematic so I opened a tub of Bait-Tech Special G Green Soft Hookers which are a bit more resilient than expanders.
This seemed to work and first put in the float sailed away and the strike was met with solid resistance, this was no skimmer. After a few minutes, it was obvious I'd hooked a big fish but it wasn't giving me too many problems and after about ten minutes, I landed a big 10lb ghost carp. Things got even better when I shipped back out and the next bite resulted in a 3lb bream, what a start! A couple more 6-8oz skimmers followed and I probably had 14lb already. I could see Vic catching well but I thought if I could do a decent weight of silvers and add a few carp there was a chance of framing.
The second hour began with a couple more skimmers although I bumped one as well which saw things go a bit quiet. Trying the micros line for the first time I started getting indications before landing another skimmer and it felt like it was all going rather well. Mike had landed a couple of fish and I could see the odd landing net going out but it didn't look like anyone was bagging on our side. I was having to wait longer and longer for bites and also had a couple of skimmers come off shipping back so I decided to feed both the long lines again and have a look on the top two plus two line where I'd been feeding casters regularly.
To be honest it was an anti-climax and I couldn't get a bite on caster and maggot just resulted in some micro perch along with a couple of roach and 4oz skimmers. Back out long I had a nice skimmer but then went back to missing bites which I think were from small skimmers. Andy wandered down and said it was hard going and he'd only had a carp and a couple of skimmers and that nobody was bagging on our side with just odd carp being caught. It also started raining hard (just for a change!).
Vic was still catching regularly and it sounded like more fish were coming out on the opposite bank. There were quite a few carp cruising about and I really should have set up a shallow rig but plodded on fishing for silvers. I did hook and land another carp around 3lb and then had one come off. With about an hour to go, I've hit into what felt like a big fish, it wasn't doing much and I got down to the top kit when it tried going under the near bank, I stopped it several times and thought I was winning but then the hook pulled!
Back on the longer lines, bites were few and far between so I spent the last 15 minutes on the short line but it still wasn't happening there and I only added a couple of roach. I'd ended up with two carp, around a dozen skimmers and a few bits and bobs and knew it wouldn't be any good today. After packing up I went to catch up with the scales round the other side and on the way asked how the anglers on our bank had done, it had been quite hard going with most people admitting to a few carp. It sounded like The Grand Wizard was probably top with seven or eight and he'd lost a few as well. Emma Drysdale wouldn't be too far away either although a Harry Houdini carp of 5lb or so had leapt out of her keepnet which could prove costly.
I got to Andy and he had caught another carp but it had been a bit of a struggle, Andy Saunders was the end peg on our bank and it had been tough going for him as well. By the time I'd caught up with the scales, they'd weighed most of the other bank, top so far was Andy Downton who'd done considerably better than he had at the Sedges last week, with 100lb of carp on the pellet waggler. Terry The Toast was in second spot with 61lb 12oz of paste caught carp which included one lump of 13lb 4oz. Danny Mattock was leading the silvers with 17lb 6oz which including a lovely bream of 5lb 8oz. Photo credit – Andy Downton*
Vic was next and had a lovely net of skimmers to weigh 35lb 10oz he also added 16lb 8oz of carp which put him in third place overall. Nick P had a nice net of silvers weighing 11lb 4oz, Steve The Pole had suffered a bit of a nightmare losing a number four section in the pond and his day never really recovered, so a DNW for him. Dave Pope had 44lb 15oz of carp on peg 20 and then Jake Berkley on the end peg weighed 41lb 8oz.
First to weigh on our bank was Andy S who had 17lb 11oz, Kev Francis weighed 13lb 8oz and then Andy L had 10lb 1oz. Josh T weighed 11lb 13oz before Ian 'Bagger' Burton had a nice net of silvers weighing 14lb 14oz. Emma had some nice carp for 32lb 5oz including one of 12lb 12oz, Chris N weighed 26lb 11oz before The Grand Wizard plonked 35lb 6oz on the scales. Clifford had chucked back and then it was my turn, my two carp went 13lb 11oz and my silvers added another 7lb 14oz, Mike G was the last peg to weigh and he had 11lb 12oz.
1 – Andy Downton (Stoke AA/Tackleuk) – 100lb
2 – Terry Morgan (Stoke AA) – 61lb 12oz
3 – Vic Bush (Stoke AA/Mosella) – 52lb 2oz
4 – Dave Pope (Stoke AA) – 44lb 15oz
Sections
A – Jake Berkley (Stoke AA/Tackleuk) – 41lb 8oz
B – Chris White (Stoke AA) – 35lb 6oz
Silvers
Dan Mattock (Stoke AA) – 17lb 6oz
*Note – there was a slight mix up with the results at the time, these should be the correct placings.
Fishing, it's a funny old game, what was noticeable today was that virtually everybody that had done well at The Sedges last week, finished well down today and vice versa, with the exception of me of course, I did crap both weeks! The only highlight of today was having a double nugget off of Andy L (one on carp and silvers), plus pounds off Andy S and Steve P but I did lose one to The Toast. It was great to see Andy L again although he did say he now remembers why he packed in match fishing so it might be a while before we see him again!
To be fair, our side didn't fish that well today with the top five weights and the best two silvers weights coming from the other bank but I also got it horribly wrong, I knew most people were struggling on our bank so why I stuck at fishing for silvers I don't know! With the benefit of hindsight, I'm sure if I'd had set up a shallow rig and an edge rig, I'd have caught a couple more carp which was all I needed for the section and framing wasn't beyond the realms of possibility but that's all ifs, buts and maybes.
Elsewhere, it was great to see some decent weights out the pond as Baz's Dillington dominance continues, he weighed 13lb 4oz for his third win in four matches, Chris Haines was second with 11lb and Fieldy third with 7lb 2oz. Catches were mainly roach and perch although some smaller skimmers showed as well. Photo credits – Rob Cox*
Don't forget you can still use the exclusive discount code AgainstMenandFish10 to get 10% off when you shop online at Somerset Angling.
Next up – River Parrett
Coming soon – Some exciting news
Check Out – My latest review (below)