For the second Stoke AA river match we were at Kingsbury and I was really looking forward to it although with a 7:00 draw time, breakfast (the best bite of the day!) was looking off the menu (excuse the pun). Thankfully The Grand Wizard came to the rescue and spoke to Kirsty from The Ranch and she very kindly agreed to open at 6:00 for us. Although this would mean me having to get up at the ungodly hour of 4:45, it would be worth it to have my brekkie!
In no time at all there were 16 booked in for breakfast, proving how popular the most important meal of the day is, but logistically this meant it would be a real struggle to get everyone fed and to the draw by 7:00 so it was moved back half an hour which I think was sensible. I did a fair bit of prep on Saturday and was awake before my 5:30 alarm, like a kid at Xmas! After meeting the others at The Ranch, the banter was in full flow and at times was even educational. The Grand Wizard informed us that a place where maggots are bred isn't a farm but a 'maggotorium!', I wasn't sure whether he was winding us up but a google search confirmed it, a compendium of useless knowledge is our Chris!
We all then headed to Kingsbury where we were met for the rolling draw by Dave P and Bob N who said there were still several of the fancied pegs above the bridge left (1-4) and the first one below where I won this match last year (peg 5) was still in the bag. Bob stuck his hand in, rummaged around and pulled out…….number 13, to be honest it meant nothing to me. We could all park behind our pegs which is just brilliant and I have to say mine looked really nice with lots of cover across.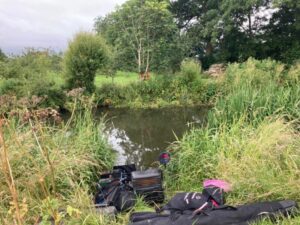 I would normally at this point talk about the rigs I set up but I am aware it can be a bit repetitive and I'm not sure how much value people get from it or indeed what level of detail people would like (especially when I don't catch much using them!). So briefly, I set up a 1 gram bodied rig for down the middle and a 0.6 gram DH16 for fishing across, the usual maggots, casters and hemp were on the side tray and I had some Bait-Tech Pro Nat Dark and Extra that I'd mixed up the previous evening.
After quite a bit of rain leading up to the match, the river actually had some flow and I fancied it might fish well, so on the whistle I cupped in three big balls of groundbait down the middle. Starting with single red maggot on the hook my first fish was a gudgeon followed by a small roach and I was getting a bite a chuck. I was catching mainly gonks which were a decent stamp plus the odd roach, a rudd and a small chublet. After an hour, I had 20 fish plus a few minnows for a pound of so and was really enjoying myself but then going into the second sixty minutes my bites just stopped!
I tried adding a section and going further over and down the peg, running the lighter rig down through, maggot, hemp and caster hookbaits but as the second hour came to a close, I'd only added five more gudgeon. I'd been feeding hemp and caster across so went over for the first time and no bites there either!
Now I could drag this out but for the remainder of the match I only added four more gudgeon and a few minnows, I tried cupping in another ball of groundbait and upped the loose feed in the last hour but I was grasping at straws if I'm honest. For the first time in a Stoke match on the river, I couldn't get a bite, not even from minnows and hadn't used my landing net all day.
I packed up and walked down to assist with the weigh in and get some photos, Chris Norton on the end peg had a nice net of fish including a chub for 4lb 12oz but had lost a couple of decent chub as well. Terry 'The Toast' next door was very close with some cracking roach for 4lb 11oz, Steve P weighed 1lb 13oz on peg 20 and then Jenny who was fishing her first match did well catching 11oz from peg 19.
Clifford had 2lb 1oz and then Danny Blunn weighed 3lb 8oz on peg 17, Dennis had 1lb 10oz and Dave Hilton weighed 1lb 8oz before Bob Newbury did brilliantly once again with 4lb 12oz to go jointly into the lead. I weighed a disappointing 1lb 8oz and David Simms had 1lb 15oz on my left.
In the other section, Russell Hilton had the top weight with 5lb 3oz from peg 8 to win on his first visit here, Dave Pope was next best with 3lb 12oz from peg 4 above the bridge, Julie had some nice fish for 3lb 2oz from peg 5 and Rob Cox weighed 2lb 11oz from peg 10. Derek G had 2lb 3oz, The Grand Wizard weighed 2lb 2oz and reckons his wand is broken (I know that feeling!), John Simms had 1lb 12oz, Mark Dibble had 1lb 4oz and Steve Joel weighed 1lb 3oz from peg 6. Thanks to Russell Hilton for the photo*
1 – Russell Hilton (Stoke AA) – 5lb 3oz
2 – Bob Newbury (Stoke AA) – 4lb 12oz
2 – Chris Norton (Stoke AA) – 4lb 12oz
4 – Terry Morgan (Stoke AA) – 4lb 11oz
Sections
A – Dave Pope (Stoke AA) – 3lb 12oz
B – Danny Blunn (Stoke AA) – 3lb 8oz
So really close weights again with just 8oz separating the top four but a really frustrating one for me. Fishing has a way a kicking you in the nuts every now and again, I've absolutely loved fishing the Parrett Works and Kingsbury stretches and after framing in six out of seven matches, I thought I was getting my head round it until today. I've always managed to catch some quality roach and I'm sure they were in my peg but I just wasn't good enough to catch them.
My day continued to get worse when I thought I'd treat myself to a Chinese for tea and it was rubbish and then of course there was the small matter of a football match and we all know how that turned out!
Don't forget you can still use the exclusive discount code AgainstMenandFish10 to get 10% off when you shop online at Somerset Angling
If you fancy a good read, I have copies of Billy Makin's fishing books along with all his novels so get in touch if you want more info.
Next up – Dillington
Coming soon – Some exciting news
Check Out – My last match (below)