I missed the previous two matches but the last one fished a lot better with Baz weighing 13lb and Chris H in second place with 11lb, some smaller skimmers were also featuring in catches which is good to see. The breakfast club assembled at the bowling club and the food was as fantastic as always, along with the banter, it just gets the day off to such a good start. I have to say Steve 'The Pole' was in excellent form. I have to also issue an apology at this stage as I forgot to mention in last weeks post that I'd lost nuggets to The Toast and The Pole (there you go Terry!).
Then it was off to the pond and along with the regulars it was lovely to see Bruce Hunt again who has a brilliant record when fishing Dillington. Jenny was drawing the pegs today and would decide our fate for us, with it set to be a scorching hot day, lots of people wanted the pegs with tree cover like 2, 17 or 18.  When it was my turn, she pulled out 23 and it wouldn't have been my first choice, don't get me wrong it's a great peg and Karl won off it with 19lb of chub fishing shallow by the bush a few matches back. Therein lies the problem though, you feel obliged to have a look for a bonus fish and if you don't get one (or several) you are constantly falling behind the anglers who have gone for small fish from the start.
I set up a 0.4 gram Perfect Gloucester with a 0.10mm bottom to a size 18 Guru F1 Pellet hook for 11.5 metres, a Preston Chianti for fishing through the water with spread shot on the bottom third of the rig and lastly a little Guru 0.3 gram AR for fishing shallow by the bush. It was already bloody hot so I made sure I had plenty of sun cream on and I had lots of water in a cool bag with some ice blocks. I also split my maggots into two bait tubs and kept one on my side tray covered with a towel and put the other in with my bottles of water.
I was ready with ten minutes to go so popped up to see The Toast on peg 18 which was nicely in the shade before heading back to my swim, I did stop and get a nice photo of this beautiful peacock butterfly which I'm sure any lepidopterists would appreciate!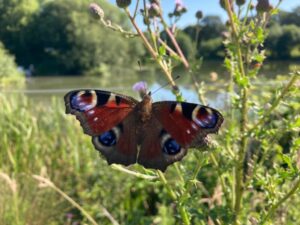 On the whistle I cupped in three balls of groundbait (Bait-Tech Pro Nat Dark and Extra) on the 11.5 metre line before starting with single red maggot on the hook. I was feeding hemp and caster over the top and also by the bush 13 metres to my left. I had a couple of small roach quite quickly but also had a little perch so tried double maggot and had a 3oz hybrid but had two or three tiny roach drop off so stuck a caster on.
Next put in, a positive bite resulted in a fair bit of Dura Slip number five exiting the pole tip, I shipped back carefully and netted a nice 12oz skimmer. I was getting regular bites and had a net roach plus some smaller ones, a rudd, a couple of chunky perch and was enjoying myself. After an hour I only had 16 fish but they were a decent stamp and I probably had 2lb already. Going into hour two, bites on caster slowed up so back to double red maggot and I carried on catching quite well including two 6-8oz skimmers and was up to 4lb or so and if I could keep this up I'd be there or thereabouts.
Typically my bites then just stopped and from the chatter around the pond it sounded like it was the same for everyone. A topless Russ Hilton turned up and although I can't scientifically prove this coincided with the downturn in sport, it was a scary sight and there was a blinding white glow emanating from his lily white body! While he was with me, I tried by the bush for the first time but no bites and Russ went to see how the others were doing.
A young cormorant also paid us a visit and caught a couple of fish before brazenly sitting on the yellow buoy in front of me to dry its wings without a care in the world! By the time Russ got back to me, I'd only added one tiny rudd, so small that I didn't even click it. I tried the lighter through the water rig and had two roach but then couldn't catch again and didn't know what to do next. Russ reported that nobody was really catching apart from Baz over on peg 5.
I plumbed up by the bush and it was practically the same depth as my 11.5 metre line so tried the lighter rig there, knowing I had no chance if I hooked a chub but thinking I might get some smaller fish. After ten minutes with no indications at all, I shallowed up the other rig and tried flicking it close to the lilies on my right. I started getting bites but only from miniscule perch and rudd, I did have one slightly better roach so at least I was still putting something in the net.
John D on his favourite peg 20 was getting odd fish on the whip but Gordy on the other side of the bush said he'd had a skimmer early but was now struggling and Steve P on 2 was saying the same. A few people were walking about which made me think it was fishing rock hard so I kept plugging away. I potted in another small ball of groundbait on my long line and left it to settle while I kept trying by the bush (no bites at all) and the lilies which just resulted in a few more tiny fish.
With around twenty minutes left, I went back out with the depth rig and missed a couple of bites but it wasn't really happening and then, with literally five minutes to go, the float buried and the strike was met with solid resistance before a big fish moved off, heading towards the middle. Mindful of the 0.10mm bottom, I didn't think I had a hope but it stopped and I gradually shipped the pole back, there were reeds and lilies both sides and the fish tried going in both. I managed to get down to the top kit and was able to use the side puller to get some control and I could see it was a chub around a pound or so but hooked in the wing! Thankfully I landed it without too much more fuss and didn't have time to ship back out.
My final tally was only 38 fish (plus a dozen or so tiny ones I hadn't counted). I glugged back a whole bottle of water before packing up and going to get some photos of the weigh in. Leighton on 17 had 3lb 6oz, Danny B next door on 16 weighed 2lb 15oz before Nick P had 3lb 8oz on 14 and it was looking like there were going to be lots of close weights with everybody saying they'd caught alright for two hours before it died.
Bruce on 13 showed once again why he's so good as he went into the lead with 7lb 4oz, Neil P weighed 1lb 15oz and then Karl had 1lb 8oz from peg 10. Rob had done well to weigh 3lb 1oz on peg 9 before Fieldy just pipped him with 3lb 4oz. Baz then blitzed it again with 10lb 14oz which included several skimmers and his Dillington dominance continues.
Steve P weighed 1lb 15oz and then Gordy had 1lb 13oz from peg 1, my fish went 5lb 14oz and my last gasp chub was handy as John D had 4lb 15oz from 20, last but not least was Terry 'The Toast' who'd also done well to weigh 4lb 6oz.
1 – Baz Morgan (Somerset Angling) – 10lb 14oz
2 – Bruce Hunt (Tiverton) – 7lb 4oz
3 – Jamie Rich (Against Men and Fish) – 5lb 14oz
Sections
A – Graham Field (Taunton) – 3lb 4oz
B – John Dursley (Enterprise Angling) – 4lb 15oz
So after a few disappointing matches for me, it was nice to pick up again and I got my nuggets back from Terry and Steve. After Baz's weight it was actually quite a close match with lots of weights between 3-5lb with most people only catching for a couple of hours, I don't think the heat has done us any favours and then we had the cormorant and a topless Russ to contend with as well!
What was quite interesting was that most the anglers had skimmers of varying sizes which is a great sign if they can survive to adulthood and also at times the surface was alive with fry, so the fish are spawning successfully. As we walked round the pond there were also good numbers of big fish out in the middle basking which looked like bream, chub and possibly the odd carp.
In the Enterprise Angling Summer League, we've reached the halfway point and Baz already looks unstoppable with five section wins, you can drop your two worst results so here's the top six as it stands,
Baz – 3 pts
Chris H – 4 pts
Neil P – 6 pts
Fieldy – 6 pts
Jamie  – 6 pts
John D – 7 pts
Don't forget you can still bag yourself a bargain by using the exclusive discount code AgainstMenandFish10 to get 10% off when you shop online at Somerset Angling
Next up – Hebditch's pond
Coming soon – Some exciting news
Check Out – My last match (below)