I was recently contacted by a very nice chap from Leon Boots Co after he was given the blog details from a mate of his, to ask if I wanted to review a pair of their Ultralight wellies. Of course I said yes and to be honest the offer came at quite an opportune time, I own a pair of Skee-Tex moon boots which are lovely and warm, perfect for all my winter fishing but definitely too toastie for the summer. When I'm fishing commercials throughout the warmer months, wellies aren't really needed but I do fish places like the River Parrett and Dillington and boots are definitely required as you're walking through long grass fairly early in the mornings or having to sit in the water. Up until now I've made do with my thermal boots and getting hot, sweaty feet!
My new boots arrived and I have to say they looked very smart, with a nice comfy liner and a non-slip sole. The first thing I noticed was literally how light they are and they certainly live up to their Ultalight tag, weighing in at a average 940 grams per pair! The wellies are green and made of EVA polymer (100% waterproof), the liner is removable, machine washable and breathable. Available in sizes 3 UK to 14 UK, the RRP is £54.95.
Reading through the little booklet that came with the boots,
LBC boots are lighter than most other wellies by up to 65%
the liner is removeable and machine-washable so you can wear the boots with or without it
the boots are softer and much more comfortable than any other boots on the market
they are made by a direct injection moulding process without gluing or vulcanising which makes them resistant to splits and cracks
the soles give great cushion effect especially in the heel area which makes them much more comfortable even during long hours of work
can be used in temperatures as low as -30°C (-22°F)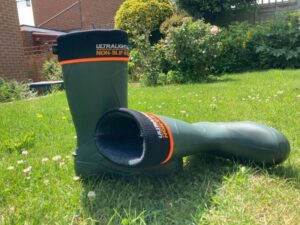 I wore them for the first time at a Stoke AA match as the forecast was for heavy rain (typical English summer!) but in the end we were lucky and only had light showers (standard rubbish weather forecast). I have to say the boots were super comfy and it made for a refreshing (literally!) change to take my boots off at the end of the match and not have sweaty feet. Several club members were impressed with how light they were and it was a weight off my feet not having to clump round in big heavy moon boots.
Looking at their website (which can be found here), they do a wide range of wellies from safety boots to some really cute little pink ones which I'm thinking of getting for Parker 'The Pole'!
*Leon Boots Co. sent me this product for free in exchange for an honest review. All opinions contained in this post are my own.