Another early start and I must admit it was a struggle to get out of my pit (never realised catching 11oz could be so tiring!), I got to the bowling club just at Steve 'The Pole' turned up, he let me have my bait and there was a little present in there as well. I opened the box and it was a fishing mug that his wife saw and bought for me, what a lovely thought – thank you.
Quite a few of the Stoke lads joined us for breakfast as they were headed to Bird's Quarry for another charity match and the banter and the food was spot on. I've said it loads of times but Drew and his crew are going to be a hard act to follow and I'm not actually sure they'll find someone else as accommodating.
Fuelled up and ready to go, we headed to the pond for the draw. Another good turnout of 13 and Leighton pulled out peg 18 for me, it's really good peg that's nice and comfy and gets pleasure fished a lot. Bagger Bruce was on 17 with Steve 'The Pole' next door on the peg I wanted, number 16. Jenny, fishing only her second ever match was on peg 20 which meant John D had managed to avoid his favourite peg and did a little dance and league leader Baz was over on peg 4. Leighton was on 23 and had a nightmare start when he tried setting up his box in the water but it shelved off steeply and he slid in.
I set up a 0.4 gram Perfect Gloucester with a 0.10mm bottom to a size 18 Guru F1 Pellet hook for 11.5 metres, and a Preston Chianti for fishing through the water with spread shot on the bottom third of the rig. With it being overcast and a lot cooler than the previous match, there were lots of fish topping and the general consensus was that the pond would fish well today. On the whistle I cupped in two balls of Bait-Tech Pro Nat Dark and Extra containing a few freebies and started with single red maggot on the hook.
The rig settled and went straight under only for me to miss it, which is standard practice for me. Next chuck I had a small roach followed by a tiny perch so I put two maggots on and had a slightly better roach. A couple more followed before I hooked into what felt like a better fish, as I shipped back, I could see a flash of silver but I just couldn't get it's head up and I was sure I'd foulhooked a skimmer. I took my time as I wanted to make sure I landed it and then a 8oz ghost carp came to the top!
It was a bite a chuck with more small fish and a net roach but then I've struck at a bite and it was solid, the fish moved off and I really thought I had a chance with 0.10mm bottom and it heading towards open water but then the hook pulled out and I was gutted. I was still getting regular bites and just as the first hour was coming to a close, I hooked another good fish which turned out to be a nice skimmer around 12oz and it felt like there were some better fish in the swim.
With sixty minutes gone, I had 21 fish for probably 2lb and if I could maintain that sort of catch rate, 12lb would be there or thereabouts. Neil Dopson came round to get some shots of the anglers and typically it absolutely lashed it down. While he was with me I hooked into another better fish and blow me if it wasn't another little ghost carp. Bruce shouted up, he'd caught one as well. Photo credits – ND Photography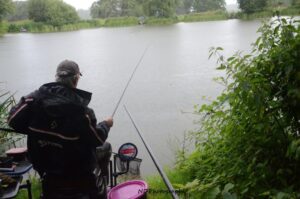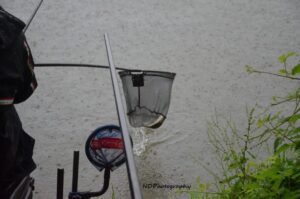 A few had mysteriously appeared last year but hadn't really shown since and I was hoping we'd seen the last of them. I sincerely hope it is the same ones and somebody hasn't been playing silly buggers again as it's irresponsible to say the least. Aside from the health risks an illegal stocking of carp could represent (especially as we've just had a fish kill), it could mean the end of the pond as a silvers fishery and with carp present, any chances of free crucian carp from the EA again are also out the window. If it was a club member, they should be banned for life.
Anyway, rant over and back to the action, well I say action but the torrential rain seemed to have slowed sport right down and I struggled up to 38 fish after two hours. It seemed to be the same for everyone and I even heard Baz say the pond wasn't fishing as well as he thought it would. I'd seen John on peg 6 land a couple of small skimmers on the feeder but nobody seemed to be bagging. Leighton's day didn't get any better when he received a phone call and had to pack up and head home.
Approaching the half way point, I was really struggling, Bruce appeared behind me and said the same. Just then, my float slid away and a fair bit of elastic came out on the strike, alas it wasn't the skimmer I was hoping for (or a poxy carp thankfully) but a little 3oz eel which was welcome all the same. Bites were now at a premium and I tried the lighter rig, going to 13 metres, potting in a small ball of gb to illicit a response but nothing seemed to work.
Single maggot resulted in the odd waspy perch and small roach but even then bites were few and far between and I ended up with 64 fish (38 in the first two hours, 26 in the remaining four!). I packed up and started the weigh in with Jenny, she'd done well again and had 2lb 12oz which included some nice roach, she'd also lost a big fish in the lilies. Leighton had left his net in and had caught several skimmers for 2lb 11oz before his match was cut short. Rob on peg 1 didn't weigh but had lost some big chub.
Tony C was on peg 2 and went into the lead with some skimmers and roach for 4lb 12oz but had lost two big bream which would be costly. Baz was on peg 4 and had 160 fish for 7lb 7oz to go top of the leader board but only briefly as John D on 6 had a lovely net of skimmers for 11lb 7oz, he'd caught on the feeder and the pole plus he'd also lost several fish.
Ian 'Bagger' Burton weighed 4lb 7oz on peg 8, Danny B had 4lb 4oz on 10 and then Fieldy weighed 2lb 2oz on 12. Neil P fished the feeder for most the day on peg 14 and despite fish blowing over his groundbait, he only had one decent skimmer plus bits for 2lb 10oz. Steve 'The Pole' on 16 had 2lb 8oz but was awarded the Purple Heart medal for being injured in battle when he was bitten by an eel!
Bruce was next and he'd done well again to weigh 6lb 6oz which put him in third spot, then last but certainly not least was yours truly, my fish went 5lb 11oz which was enough to take the section money by default.
1 – John Dursley (Enterprise Angling) – 11lb 7oz
2 – Baz Morgan (Somerset Angling) – 7lb 7oz
3 – Bruce Hunt (Tiverton) – 6lb 6oz
Sections
A – Tony Coubrough (Ilminster) – 4lb 12oz
B – Jamie Rich (Against Men and Fish) – 5lb 11oz
So although it didn't fish as well as expected, it was still an interesting day as several big fish were hooked and lost which could have seen the results look a lot different. There have been six matches in the league so far with Baz winning four on the whip and John winning two on the feeder. Is the pond changing again, are big fish a viable target or will the whip continue to dominate?
In the Enterprise Angling Summer League, Baz already looks unstoppable with five section wins and a second, you can drop your two worst results so here's the top six as it stands,
Baz – 4 pts
John D – 8 pts
Jamie  – 8 pts
Chris H – 8 pts
Neil P – 10 pts
Fieldy – 11 pts
Don't forget you can still bag yourself a bargain by using the exclusive discount code AgainstMenandFish10 to get 10% off when you shop online at Somerset Angling
Next up – River Parrett
Coming soon – Some exciting news
Check Out – My last match (below)