After John D won the last match from peg 6 with skimmers on the feeder, I decided to give my rod an airing for this one. I would still start on the pole but in previous rounds, I'd caught well for the first couple of hours before it slowed up, so this week I'd have the feeder line primed and ready. Well that was the plan anyway!
Another fantastic bowling club breakfast set us up for the day before we headed out the pond for the draw. Leighton drew for everyone and I was quite near the top of the list receiving peg 10 which I was happy with. Runaway league leader Baz was on peg 2 and was odds on to win his fifth match of the series. Chris Haines was on 23 which he didn't really fancy and John D was back in his favourite area, peg 19, but he said the platform was a bit wobbly so with the agreement of the match organiser sat on 20 instead. He wasn't happy as he said the bream and skimmers don't live on that side.
I set up a 0.4 gram Perfect Gloucester with a 0.10mm bottom to a size 18 Guru F1 Pellet hook for 11.5 metres, a 4 x 16 Preston Chianti with 0.12mm and a size 16 B911 to fish corn at the same distance but angled to my left and then my 11ft Guru N-Gauge Feeder with a little cage and a twizzled boom to 0.14mm and size 14 barbless B611. On the side tray I had casters, maggots, dead reds, hemp, corn plus Bait-Tech Pro Nat Bream Dark and the new Envy Dark.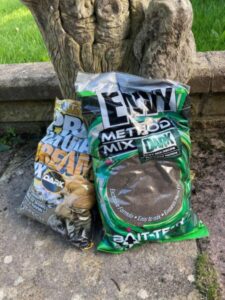 The peg looked nice although as I was setting up my box in the margins, I noticed a lot of wasp activity just behind me and there was obviously a nest in the bank which wasn't ideal. I was hoping if I left them in peace, they would return the favour.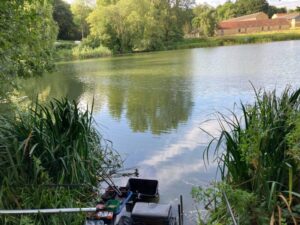 On the whistle I put in two balls of groundbait at 11.5 metres before having ten casts to get some bait in on the feeder line. I started with single red maggot on the hook and had a decent roach first chuck before the rig even settled. After a couple more small fish, I tried double maggot and then caster which resulted in a nice little run of fish including a quality roach and a 6oz perch. After an hour I had 21 fish for 2lb or so.
John D had landed a couple of skimmers (which must have been lost) but then hooked a decent bream which kited into the lilies and came off and did nothing to improve his mood. Jenny on peg 18 had a monster Dillington barbel (gudgeon) and I could see Parker 'The Pole' catching small fish on peg 17. Going into hour two, I was still getting regular bites from roach and perch and even had a gudgeon of my own.
Then a positive bite resulted in a substantial amount or elastic exiting the pole tip, initially I was thinking chub but it was soon apparent I'd hooked another poxy ghost carp, this one around 12oz and although a bonus fish on the day, it's a really worrying development. As the second hour came to a close, I was up to 41 fish and still doing alright but bites were beginning to slow and I only added another 14 as we reached the halfway point.
I topped up the feeder line with a couple more casts before putting in two balls and a big pot of corn, casters and hemp by the lilies at 11.5 metres to the left. First chuck on the feeder with three dead reds on the hook, I was expecting to wait for the first bite but I had a positive pull quite quickly which I missed. Next cast I had a skimmer of 6-8oz and was getting regular indications, adding a little 2oz hybrid and several more skimbobs between 4-6oz but then bumped one resulting in a quiet spell.
Over the next hour or so I did manage a couple more but felt I needed a bream or some bigger skimmers so with sixty minutes remaining, I decided to try corn on the pole line but only gave it ten minutes without any bites before going back out on the feeder. The rest had obviously done it some good, as the tip flew round resulting in my best skimmer of about a pound. A slightly smaller one followed and I was getting quite a few indications again, another 6oz skimmer with 15 minutes to go and then I hooked one next chuck but it came off at the net and that was the last of the action.
I ended up with 65 fish which I thought might go between 6-8lb but wasn't sure if that would be any good as I knew Baz, Bruce and Hainsey would have got their heads down catching small fish and John had caught quite a few skimmers. Thankfully the wasps had been well behaved as well. Leighton had packed up early and walked round to start the weigh in with Bagger Burton on peg 1, he had 6lb 11oz which included several skimmers. Baz had done well again, catching 180 fish for 11lb 9oz although apparently Bruce over on peg 21 was admitting to over 270 fish so would probably win it.
Fieldy on peg 4 had 6lb and then Rob weighed 2lb 12oz of skimmers, Tony C on peg 8 had 7lb 15oz of mainly perch and then my fish went 9lb 3oz which was a bit more than I thought. Danny had 3lb 14oz which included several skimmers of various sizes which is great to see. Leighton didn't weigh and then Steve 'The Pole' Parker had also caught a carp, his was getting on for 2lb and he weighed 6lb 8oz in total.
Jenny did well again, catching 4lb 10oz which included several big gobies, John had a nice net of (non-existent) skimmers for 8lb 5oz but had lost that big bream plus several skimmers so could have won it. Then we got to Bruce and he loads of small fish but they only went 9lb 9oz and last but not least was Chris H on 23 who weighed 6lb 1oz.
1 – Baz Morgan (Somerset Angling) – 11lb 9oz
2 – Bruce Hunt (Tiverton) – 9lb 9oz
3 – Jamie Rich (Against Men and Fish) – 9lb 3oz
Sections
A – Tony Coubrough (Ilminster) – 7lb 15oz
B – John Dursley (Enterprise Angling) – 8lb 5oz
So another close match and although you'd have to say the whip is still edging it, the feeder is beginning to look like a viable method once again.
In the Enterprise Angling Summer League, Baz already looks unstoppable with six section wins and a second, you can drop your two worst results so here's the top six as it stands. Basically Baz just needs to turn up and catch a fish in the next match to secure the league but second and third spots are still wide open.
Baz – 5 pts (dropping 1 + 2)
John D – 10 pts (dropping 4 + 5)
Jamie  – 10 pts (dropping 20 + 20)
Chris H – 12 pts (dropping 20 + 20)
Neil P – 14 pts (dropping 5 + 20)
Fieldy – 16 pts (dropping 5 + 6)
In other news Ilminster AA's very own Captain Pugwash (aka Terry 'The Toast') was at it again, this time down the canal but at least he had some proper oars this time. Photo credit – Robin Cox*
In all seriousness though, members of the committee have been doing some fantastic work out the pond and down the canal, it's very much appreciated  so well done all involved.
Don't forget you can still bag yourself a bargain by using the exclusive discount code AgainstMenandFish10 to get 10% off when you shop online at Somerset Angling
Next up – River Parrett
Coming soon – Some exciting news
Check Out – My last match (below)