I always look forward to Bob's match, to remember a lovely guy and as it's rod only, it's nice to do something a little different and of course we raise some money for a worthwhile cause. There was a great turnout once again, although last years winner, Baz, couldn't defend his title as he was still out of action with his bad back. We had quite a few new faces this year and it was great to see Taunton's Steve Priddle and Monkey plus Steve Bishop and Les Braunton from Chard along with Stephen Wylds who was fishing his first match for years.
After another cracking bowling club breakfast it was off to the pond, my name was first on the list so I got someone to draw for me and I ended up with peg 5 on the opposite bank. For company I had Tony C next door on peg 6 and my two regular side bets were Andy S on 13 and Steve P over on 18.
I had intended to set up both the feeder and the waggler but as I was putting my box in the water, the sun came out and I could see there was a big bank of underwater cabbages in front of me that would make fishing the feeder problematic so it would be a day on the waggler! My kit for the day was a 13ft Preston Carbon Active Sentient rod, Daiwa TDR reel and a Drennan 2 gram Visi Wag and a size 18 B611 barbless to 0.10mm.
On the side tray I had a pint and a half of red maggots (some left over from yesterday), casters and Bait-Tech Super Seed hemp. I got us underway and cast out with single red maggot on the hook before feeding some casters and hemp. It was a bite a chuck from small roach and perch, if I missed a bite, I'd reel in a few turns and feed again, meaning I'd get several bites of the cherry every cast. I also started getting some nice perch by the cabbages so began feeding there as well.
After an hour I had around 20 fish for 2lb, Dan Baldwin over on 19 was also catching small fish on the waggler, Monkey on 21 had landed a couple of small skimmers on the feeder and Tony said he was getting a few as well. The second hour was similar but I was missing loads of bites, I had a text from Andy who was fishing the feeder and said he'd only caught a few small fish and was really struggling.
I thought 8-10lb would be a good weight today, in the last match I'd had 78 fish for 7lb 5oz so if I could get to 100 today, I didn't think I'd be far off. As we approached the halfway point, I was still getting a bite a chuck (sometimes two or three!) but missing far too many. I was mainly catching small roach, rudd and perch with the odd better one among them.
The only anglers I could see were Steve P on 18 who was swapping between waggler and feeder so I guessed he was struggling, Dan who was still catching small fish in spells, Steve W on 20 who was getting odd fish and Monkey who was on the feeder but after getting a few early had now gone quiet. The bankside banter was suggesting that Ian 'Bagger' Burton on peg 9 was catching well on the waggler to hand.
I tried caster a few times but the bite to fish ratio was even worse so I stuck to single red maggot for most of the match. Along with the crazy number of missed bites I also pulled out of three or four better roach which didn't help matters either. Nearing the end of the match, I knew I wasn't going to hit my 100 fish target and when I shouted the all out my clicker was reading 82 which I still thought would go between 7-8lb.
I packed up and as I took my kit back to the car I passed Big Frank on peg 2, he said he'd had a chub and a couple of decent skimmers and Bish on peg 1 was admitting to 8-9lb with two chub and skimmers although he'd lost two big fish as well.
Steve P didn't weigh on 18, Dan said he'd struggled for 4lb but weighed 7lb 3oz, Steve W had chucked back and then Monkey had 2lb of mainly skimmers. We got to Bish and he had a cracking net of fish, two chub, some decent skimmers plus a couple of stonking roach that had to be getting on for a pound apiece, the needle went round to 12lb 12oz and I couldn't see anyone beating that today.
Big Frank had 4lb 7oz and then my fish went 6lb 3oz and for the second time in two days, I had less than I thought. Tony C also weighed 4lb 7oz and then Bagger Burton had loads of small fish and one of those poxy carp for 9lb 4oz which put him in second place. Steve Priddle and Andy S had chucked back and then Les B on peg 14 had 4lb 13oz of mainly skimmers.
Back at the results and Bob's wife Carol and daughter Eve arrived to present the trophy and had brought along some lovely home made sausage rolls. The section winners were me and Les, Dan was third, Ian second and then this years winner of the Bob Hammond Memorial Shield was Steve Bishop – well done mate.
There was one more little presentation, Les had bought a copy of my book (did I mention I had a book out at all!) and got all the anglers to sign it before letting Eve have it as a little memento of the day. If nothing else, I'm sure Eve will have a wobbly table she can sort out!
1 – Steve Bishop (Chard) – 12lb 12oz
2 – Ian Burton (Taunton) – 9lb 4oz
3 – Dan Baldwin (Colmic Somerset) – 7lb 3oz
Sections
A – Jamie Rich (Against Men and Fish) – 6lb 3oz
B – Les Braunton (Chard) – 4lb 13oz
Bob's family always choose the charity and this year, they suggested Dementia UK as I lost my Dad to that horrible condition last November. Thank you, what a lovely thought. The anglers raised £65 on the day and with kind donations of £20 from John Dursley at Enterprise Angling and £5 from Dan Baldwin, a brilliant £90 went to Dementia UK so a massive thank you to everyone for supporting this match.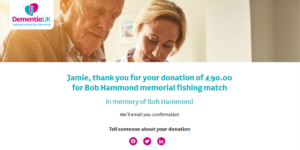 Don't forget you can still bag yourself a bargain by using the exclusive discount code AgainstMenandFish10 to get 10% off when you shop online at Somerset Angling
Before I go, another quick plug for the book, I've had some great feedback so far but if you have bought a copy please can you leave a little (hopefully positive!) review on Amazon, it would really help. If you would like to support me and the blog, I can bring on a copy to a match or you can buy from eBay here or Amazon here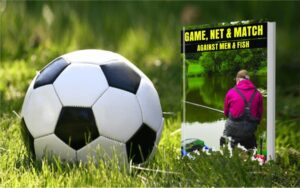 Next up – Revels
Coming soon – Lots more match reports
Check Out – My last match (below)