After my first visit a few weeks back when I had a lovely day, I'd been itching to get back so booked a day off work to fish the Tuesday open. Up bright and early, I stopped for breakfast at the Airfield Tavern in Yeovil which was very nice before heading to the fishery. I arrived in good time and the first person I saw was John Barker who I'm sure now thinks I'm stalking him! We had a walk along Dead Tree lake which looked nice and stopped at the last peg, number 53, which John had in a recent match and finished second in the silvers with 9lb odd.
As we waited for the draw he told me the two pegs on Main lake to avoid were 12 and 16 as they were good carp pegs. With everybody assembled at 9:30, the draw began and John was one of the first names on the list and peg 12 was pulled out for him! I was next and peg 53 was my home for the day, spooky that we should both end up on pegs we'd talked about earlier with mine definitely the better silvers peg.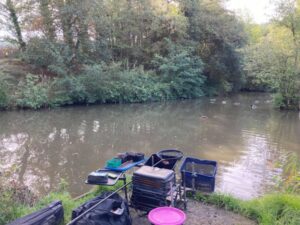 Bob Crisp was on 52 next door, apparently also a very good silvers peg and he would be fishing for them as well. I'd been warned it was a shallow lake and plumbing up, they weren't wrong! There was a decent depth on the inside to my right going out to about six metres in front of me but then it was only around two foot going out to 10 metres level with the little island between me and Bob.
I set up a 0.3 gram Guru F1 Wire for the top two plus two line, a Guru 0.3 gram AR for the longer line and a 0.3 gram NG Mini Gimp to fish down the edge to my right. After the last match I ordered some size 18 Guru Match Specials to 0.08mm from the lovely Steve Chant at the Somerset Rig Company and they arrived in plenty of time, excellent service as always. On the side tray I had a pint of casters, plenty of red maggots (dead and alive) plus Bait-Tech Special G Green and The Juice groundbait.
On the whistle I cupped in a single ball of groundbait at 10 metres and two on the shorter line before starting on the top kit down the edge to my right for the perch. I was feeding a few maggots with single red on the hook but no early bites and Bob was into some quality silvers straight away fishing an elasticated whip. After ten minutes I hadn't had any indications and with my neighbour now on three or four fish I didn't want to fall too far behind so went out on the longer line.
First put in, I toss potted in some maggots, the rig settled and went straight under with a chunky perch the result. More perch and roach followed and I also had my first skimmer, albeit a small one of 2-3oz. After the first hour I had around 18 fish for 2lb or so and was really enjoying myself although Bob was ahead with some quality roach and a couple of decent skimmers.
Every time I shipped out I was dripping in a few casters on the shorter line but wanted to leave it as long as possible before trying it. I was still catching roach and perch and even had a couple of gudgeon, I tried caster and had a nice skimmer but was waiting too long for bites, I also briefly hooked a carp but thankfully the hook pulled out. Bites started to slow towards the end of the second hour and I'd only added another 10 fish for around a pound.
Bob said he was struggling now as well and a couple anglers wandered up from Main lake and said the same. I did have a couple of nice skimmers (and pulled out of one) right over the groundbait by being patient and thought perhaps that was the answer, so cupped in two more small balls and came in on the short line to let it settle. After feeding it for two hours I really thought I'd catch quite quickly but hadn't seen any bubbles or anything, the float eventually sailed away and on the strike, yellow hydro streamed from the pole tip and before I knew it, the fish had gone under the far bank and snagged me solid!
I had to pull for a break and lost the lot, after getting another rig out, I gave it another ten minutes but no bites and that was enough of that. Back on the longer line, I was getting odd fish but it wasn't really happening and by my reckoning, Bob was still ahead of me. I also hooked my third carp and landed this one, a fish of around 2lb. With it being so shallow, I did wonder if the fish were sat off the bait so stuck on another section. I laid the rig in and the float went straight under, the strike saw a fish bolt towards the far bank and I chucked the pole back thinking it was a carp but then could see it was a decent skimmer. Shipping back gently I netted a nice pound plus fish.
By laying the rig in to the left or right past my feed, I had a really good spell, landing several more nice skimmers and a couple of smaller fish plus a little carp which didn't give me too many problems. I hooked another carp which snapped me and bites slowed up again so I decided to rest it and came back in on the 10 metre line. Over the next half an hour, I had a couple of roach, a perch and a small skimmer to keep my catch rate ticking over.
There wasn't much between Bob and me although he'd pulled out of a couple of better fish and hooked several carp which hadn't helped his cause. For the last thirty minutes I went back to 11.5 metres and did manage another good skimmer along with another pesky carp and with five minutes left, I missed several bites in quick succession. Bob hooked into a carp which was giving him the run around and I was praying for one more skimmer, the float went and as soon as I struck I knew it was a carp. I was still playing it when the whistle went, landing it five minutes after the all out.
I ended up with 48 silvers which included around a dozen decent skimmers between 8oz-1lb, some smaller ones plus roach, perch and gudgeon but didn't really know what weight I had. In the last match I had 100 fish for 14lb but that included two chub and a barbel so I thought I must have 7-8lb. When the scales got to us, Andy M was leading the silvers with 10lb 14oz from peg 42, Bob had a nice net of silvers that went 8lb 14oz and I thought it might be close. My four carp weighed 7lb 2oz and then my silvers registered 10lb 1oz but with the rest of Main lake still to weigh in I wasn't sure it would be enough to frame today.
As I was loading the car, John turned up and had weighed 10lb 5oz to do me by ounces yet again, to be fair he'd done brilliantly off a not very good silvers peg and he'd missed the net with a decent skimmer which he asked me not to put on the blog (sorry John!). I still sneaked into third place and picked up £15.
Overall
1 – Rich Butler (Revels) – 60lb 10oz
2 – Alan Winsper (Revels) – 50lb 5oz
3 – Steve Nadin (Revels) – 43lb 14oz
Silvers
1 – Andy Miller (Revels) – 10lb 14oz
2 – John Barker (Revels) – 10lb 5oz
3 – Jamie Rich (Against Men and Fish) – 10lb 1oz
So another really close match with just 11oz separating the top three and we all lost fish too, in fact Bob in fourth place could have won it as well. I'm really enjoying the fishing here although drawing two great silvers pegs obviously helps! I did hook a few more carp this time, seven in total I think, but I can live with that and I can't wait to get back. It's a shame they don't do more opens on Saturdays or Sundays as I'd definitely fish even though it's a bit a trek to get there.
Three very different matches in four days and although lots of miles driven and long days, I absolutely love it, fishing new venues and doing different things. Out of the three days, I felt my best match was on the Stour, the other two days I probably should have done better.
Don't forget you can still bag yourself a bargain by using the exclusive discount code AgainstMenandFish10 to get 10% off when you shop online at Somerset Angling
Lastly if you haven't checked out my book yet, I still have copies available or you can get them from eBay here or Amazon here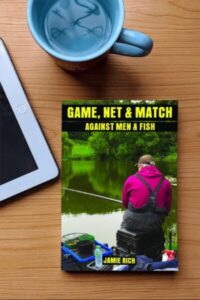 I've had some great feedback so far but if you have bought a copy please can you leave a little (hopefully positive!) review on Amazon, it would really help. If I've fished with you over the last forty years, there's a very good chance, you get a mention!
Next up – Trinity Waters
Coming soon – Lots more match reports
Check Out – My last match (below)