The next Stoke match saw us back at Trinity and looking at the blog the last time we were here was over two years ago, where does the time go? In that match I won the silvers by default with 13lb 12oz but got distracted from my plan and tried fishing for carp when I should have stuck to fishing for silvers.
There was a good turnout of The Breakfast Club with eight in attendance and I have to say, good food, lots of laughs and a great bunch of people is how a days fishing should start, just brilliant! Then we all headed to Bridgy in convoy, the car park was already busy as there were twenty anglers booked in for today. We could draw our own pegs and I pulled out number 17 on the far side which was roughly in the middle with Parker 'The Pole' on my right and Dave Hilton my neighbour on the other side.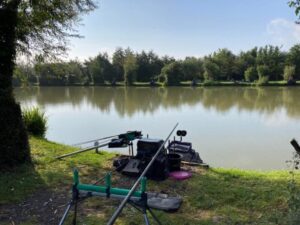 I set up a 0.6 gram Guru Carbon Pinger for 11.5 metres and a 0.5 gram Drennan Pencil for top two plus two. On the side tray I had maggots, casters, micros, expanders and Bait-Tech Special G Green and The Juice groundbait. On the whistle I cupped in two balls on the long line and one short.
Starting long with double dead red maggot I was soon off the mark with a tiny little roach that held the rig up on the drop whereas Steve got off to a rather better start with a couple of decent skimmers. I switched to an expander and had a 12oz skimbob straight away but 'The Pole' replied with one of 3lb plus to go even further ahead.
Terry had flown out of the blocks catching carp on paste and from what I could see, nobody else was bagging so he was doing well at this early stage. Going into the second hour both me and Steve were catching some decent skimmers but he was still a couple of fish ahead of me courtesy of his good start. During hour three, Mr Parker slowed up but my swim was getting stronger and I had a great spell including a three pounder to go in front of him and really thought I was on for a big weight.
Andy Saunders opposite was also catching some nice skimmers and there were more carp being caught now with Chanter on peg 4 starting to get some lumps from his margins. Then from doing really well, I was struggling for bites and only added one more skimmer. I tried the top two plus two line for the first time but never had a bite there and it was the same story back out long so I started feeding casters short to see if I could catch some roach.
Shallowing up my lighter rig and fishing the top kit to hand, it was a bite a chuck from roach on caster, mostly small fish with the odd better one and I felt I was probably still doing just about enough to stay ahead of Steve. Andy was now fishing in the edge and landed a big perch, Scott Cousins over on peg 9 had also been sneaking in some decent silvers and then when Steve added another big skimmer it was all getting a bit too close to call.
I was catching roach in spells and probably had about 40 for 2.5lb but 'The Pole' added another skimmer to go back in front forcing me to have another look long but I still couldn't get a bite there. Steve was fishing a bit shorter than I was so with an hour to go I fed another line at 10 metres but never had a bite on it while Mr P added a couple more and I knew he'd beaten me today.
Dave P was weighing in our side so I went up to get some photos, Matt Adams was first on peg 13 with some decent carp for 44lb 4oz, then Terry 'The Toast' had done well to weigh 81lb 15oz which should see him frame. Kevin Reynolds on 15 had 48lb 15oz which included some nice carp and then Dave Hilton weighed 12lb 10oz.
My silvers went 17lb 9oz which was made up of a dozen skimmers for 15lb and the rest roach, Steve 'The Pole' had 20lb 12oz and I thought he'd win with that. Then Dave S and Dan M didn't weigh before Derek G had 29lb 6oz and Dave P weighed 23lb 8oz.
Back at the results and the other side had fished a bit better, Steve Chant had caught really well down the edges to win with 114lb and Andy S weighed 66lb 6oz which put him third overall. Then there were several really close weights, Andy Downton had 56lb 14oz to sneak the section just ounces ahead of Josh Tucker with 56lb 11oz and Emma Drysdale with 56lb 9oz. Photo credit – Steve Chant*
Nick P had 28lb 6oz which included the best carp of the day, a beauty of 15lb 5oz that he did well to land after his top kit snapped. Scott Cousins just pipped Steve to the silvers pool with 21lb 3oz, Aaron D weighed 11lb 2oz and Jenny had 2lb 7oz of silvers from peg 8.
1 – Steve Chant (Somerset Rig Company) – 114lb
2 – Terry Morgan (Risov Floats) – 81lb 15oz
3 – Andy Saunders (Sharp) – 66lb 6oz
Sections
A – Andy Downton (Tackleuk) – 56lb 14oz
B – Kevin Reynolds (Stoke) – 48lb 15oz
Silvers
Scott Cousins (Stoke) – 21lb 3oz
So a pretty close match and with that wonderful word, hindsight, if I'd have stayed catching roach for the last hour, I don't think I'd have been far away.
Don't forget you can still bag yourself a bargain by using the exclusive discount code AgainstMenandFish10 to get 10% off when you shop online at Somerset Angling
Lastly if you haven't checked out my book yet, I still have copies available or you can get them from eBay here or Amazon here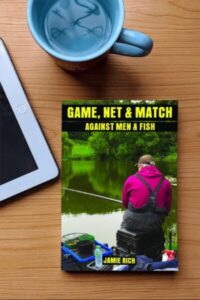 Lastly if you've bought a copy, then thank you very much but could you spare five minutes to leave a nice review on Amazon, pretty please! And if you haven't got your copy yet, surely you must have a wobbly table that needs sorting!!
Next up – River Isle
Coming soon – Lots more match reports
Check Out – My last match (below)