With Leighton away, I was running this one and although we had a slightly reduced turnout of ten it was nice to see the clubs vice chairman, Phil H, fishing his first match and also Taunton's Dan Baldwin who was joining us today.
After everybody had arrived, I got Chris H to draw for me and he pulled out number 18, not my first choice but a consistent peg and then I drew for everyone else. Baz got 17 and just required a half decent section result to secure the league with two rounds to spare. Bagger Burton was on 19 with Dan on his left. Peg 1 was Neil P's home for the day and John D was happy to be away from 20 over on peg 2. On the far bank, Phil was on 6, Bruce on 8 and Chris on 9 and then Danny B was on 14 again.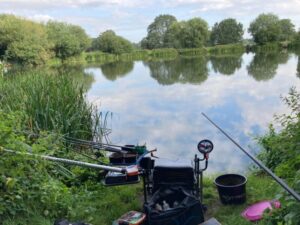 I set up the usual 0.4 gram Perfect Gloucester with a 0.10mm bottom to a size 18 Guru F1 Pellet hook for 13 metres, a little Preston Chianti to fish through the water and then my 11ft Guru N-Gauge Feeder with a little cage and a twizzled boom to 0.14mm and size 14 barbless B611. On the side tray I had casters, maggots, dead reds, hemp plus Bait-Tech Pro Nat Bream Dark and the new Envy Dark.
After shouting the all in, I cupped in two balls of groundbait on the pole line and then had ten casts to put some bait down on the feeder line. I shipped out with single red maggot and started catching small roach along with the odd chunky perch, with sixty minutes gone I had 23 fish for probably 2lb. In the last match, I'd caught well on the pole for half the match before switching to the feeder for some decent skimmers and I was hoping for similar today.
Going into the second hour, my bites just stopped, this wasn't in the script! I could see Hainsey was still catching roach over on peg 9 but Bruce next door was swapping between the whip and the feeder so I guessed he was struggling as well. Bagger Burton on 19 was getting odd fish but had lost a big perch.
Neil P was up talking to John D so it looked like he hadn't had much either. With two hours gone, I'd added very little to my net and it was time to try the feeder already, I put three dead reds on and was expecting to get indications quite quickly but after 45 minutes, I've not had any pulls, rattles or anything remotely bite like!
So approaching the half way point, Chris was still doing well from what I could see and then Neil caught his first decent chub to put him right back in the mix. I was now at a bit of a loss, back on the pole I tried the lighter rig for no bites, next I chucked the feeder out and still nothing. Unclipping and going further out had the same result and I didn't know what to do next.
I had a decent last hour catching some roach on caster through the water to probably add another 2lb which doubled my weight and I have to admit I was glad when the match was over as I didn't enjoy that one bit. After packing up, I started the weigh in with Bagger next door and he had 5lb 1oz but had lost a couple of big fish. Dan Baldwin had a nice net of fish including a clonking roach he'd had on the waggler, plus a feeder caught skimmer and he'd caught on the whip as well to weigh 8lb 15oz. He said Neil had bagged up with seven chub although he was only admitting to five!
When I got round to peg 1, Neil said he'd actually had eight plus a decent skimmer and weighed a brilliant 17lb 14oz, then John D, who I also thought had struggled, pulled his net out and he'd caught some lovely skimmers on both the pole and feeder for 10lb 13oz. Phil had 2lb 13oz of roach and perch from peg 6 and then Bruce had 3lb 13oz.
Chris had caught well all day to finish with 170+ fish for 11lb 7oz to go into second spot, Danny Blunn had 3lb 4oz of skimmers on the feeder from peg 14 and then Baz had 8lb 15oz on peg 17 which would be enough to see him confirmed as the Summer League champion. I was last and least this week with a disappointing 4lb 1oz.
1 – Neil Purchase (Ilminster) – 17lb 14oz
2 – Chris Haines (Haines Angling) – 11lb 7oz
3 – John Dursley (Enterprise Angling) – 10lb 13oz
Sections
A – Bruce Hunt (Tiverton) – 3lb 13oz
B – Dan Baldwin (Colmic Somerset) & Baz Morgan (Somerset Angling) – 8lb 15oz
In the Enterprise Angling Summer League, Baz has secured the title with two matches to go although it's now very tight in the chasing pack.
Baz – 6 pts (dropping 1 + 2)
John D – 13 pts (dropping 4 + 5)
Jamie  – 14 pts (dropping 20 + 20)
Chris H – 14 pts (dropping 20 + 20)
Neil P – 15 pts (dropping 5 + 20)
Fieldy – 21 pts (dropping 20 + 6)
Don't forget you can still bag yourself a bargain by using the exclusive discount code AgainstMenandFish10 to get 10% off when you shop online at Somerset Angling
It was the first episode of the new Mortimer and Whitehouse on Sunday night and it certainly didn't disappoint, just a joy to watch and the best thing on telly by a mile.
Lastly I just wanted to say a massive thank you to everyone that has bought a copy of my book so far, if you would like to support me and the blog, the link is here.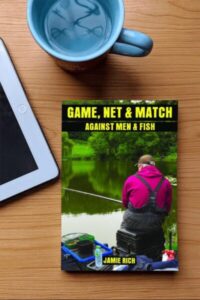 Next up – Summerhayes
Coming soon – Lots more match reports
Check Out – My exciting news (below)