For my second of three matches in as many days I'd booked into Summerhayes on Bank Holiday Monday. After a disappointing result yesterday, I didn't have high hopes for today as I've been struggling for any kind of form for a long time and have rather lost my way with catching silvers. I met Terry and Steve for breakfast at the Brewers Fayre in Taunton before we headed to Bridgy. The Tart had phoned me in the morning to say he was on his way too, he'd broken his collarbone a few weeks ago when he was knocked off his bike by a car but such is his desire to make my life miserable, he's willing to fish through the pain barrier!
All the usual suspects were there including Jeff Sparkes who was rubbing his hands at the prospect of another pound pocket money. Pete commenced the draw, starting with the golden pegs which were 17 and 25. I was quite near the top of the list and got peg 19 on the bottom bank which I was happy with as it can be a great silvers peg. Steve P got peg 30, The Toast was on number 7, The Tart was drawn 37 and Jeff ended up on 39 which he didn't look too impressed with.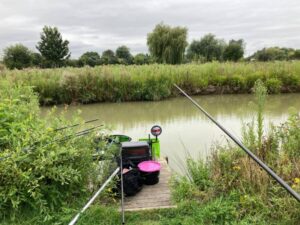 Rob Birch who had done well off my peg recently said not to ignore the top two lines and even offered to let me have some paste, cheers mate but I wouldn't know what to do with it! Rigs for today were 0.3 gram NG Mini Gimps, both had size 18 Guru F1 Pellet hooks to 0.10mm. I plumbed up top two left and right, top two plus one straight out, then 8.5 metres and 10 metres respectively at 12 and 2 'o' clock. On the side tray I had maggots (dead and alive), casters, 4mm Xpands and Bait-Tech Special G Green and The Juice groundbait which I'd mixed 50:50 the night before.
I had a load of casters left over from yesterday so decided to change my approach slightly for today, I didn't bring any micros for the first time ever and would just feed gb and casters with maggot, caster or expanders on the hook.
I was ready with ten minutes to spare so wandered up to have a chat with a few of the others, along with my normal silvers bets with Jeff and Glynn, Zooner Jess on peg 13 wanted a nugget on it, The Tart and The Toast also wanted in on the action but as they were fishing for carp it would be decided on our respective positions, this could get expensive!
On the whistle I cupped in small balls of groundbait on all of the lines with the exception on the long right hand line which received two big jaffas and I would leave it alone. I started on the top two to my right with single red maggot on the hook and it took five minutes to get my first bite which was from a small roach. A couple of blades followed before I hooked and lost a carp which wasn't what I hoped for this early in the match.
My next bite resulted in more elastic coming out but I knew it wasn't a carp and a nice 12oz crucian was very welcome. I was getting regular bites and a leaping pound skimmer just before the first hour came to a close put me on 2lb plus, so a steady sixty minutes as 12-13lb framed the day before. Rich S on my left and Paddy and Toby on 17 and 15 were all fishing for carp and it was a slow start for all of them.
I added a few more small silvers in the second hour but I was just starting to worry about the lack of better skimmers when I had two in two chucks from the left hand side and things were still ticking along nicely. Jess was getting some decent skimmers as well. Bites slowed up on the inside lines so I went out to 8.5 metres but it was an anti-climax with just a few small fish and of course I hooked a couple of carp, the 10 metre line was a complete waste of time and I never had a bite there.
Top two plus one was my next stop but it wasn't happening there either so once again, after a decent start, my match felt like it was fading away. I tried expander and had a hand size skimmer from the 8.5 metre line but it was a one off. Dropping in on the short line, the float buried and I struck expecting a carp but a big skimmer came flying out the water, I safely netted it and was interested again.
Then I had a really good spell rotating the three shorter lines and added several more decent skimmers and was probably up to around 10lb with an hour and a half left. On the top two plus one line I had my best fish yet, a good skimmer of around 2lb and there was still nearly an hour left. Any thoughts of a strong finish soon disappeared when every bite seemed to result in a carp tearing off.
I did briefly hook a fish on the inside to the left that didn't feel like a carp but that might have been wishful thinking and it came off anyway. Just before the end I bumped a fish and right at the death I missed a good bite. I finished up with 38 silvers which I thought might go 12lb, hopefully a bit more. After packing up, I walked up to watch the weigh in, as I passed waggler maestro Roy Hughes on 27 he said he'd really struggled for about 7lb but I'm not sure even he believed that!
Glynn was admitting to 12-14lb so would be there or thereabouts, The Tart said he might have 100lb and asked if I'd pull his nets out for him, after three weighs, his total was 109lb 10oz, not bad for a man with one arm! Jeff was next and admitting to 6-7lb which went up to 8lb and then he actually weighed 10lb 4oz which was a good weight from that peg.
Bill 'The Paste' on peg 4 had a brilliant 104lb 11oz of carp to into second place, The Toast weighed 69lb 11oz from 7 and then Adie Bishop went very close on peg 11 with 109lb 5oz. Jess had some nice skimmers to weigh 10lb 12oz and go into the silvers lead. Toby B on helipad peg 15 had a big eel and a nice perch for 3lb 10oz along with 76lb 4oz of carp, Paddy had chucked back.
I didn't weigh my half a dozen carp but my silvers went 12lb 12oz, Rich S didn't weigh and then we got to Mark Leahy on golden peg 25, apparently he'd bagged right up with well over 100lb but one of his nets had gone in! The two he had left went 78lb 11oz and he said he'd clicked over 50lb for the other net – gutting! Roy was next and when he pulled his net out, he had loads of small fish plus some decent skimmers and his weight was called at 12lb 14oz – bugger, two poxy ounces!
Steve P didn't weigh, then Rob B on 32 had 7lb 9oz of silvers, Jim Jenner weighed 43lb of carp and that just left Glynn who was actually the only angler there that estimated close to his silvers weight with 14lb 12oz.
Carp
1 – Brendon Ions (Tackle Trader) – 109lb 10oz
2 – Adie Bishop (Summerhayes) – 109lb 5oz
3 – Bill Hopping (Summerhayes) – 104lb 11oz
Silvers
1 – Glynn Wickham (Summerhayes) – 14lb 12oz
2 – Roy Hughes (Summerhayes) – 12lb 14oz
3 – Jamie Rich (Against Men and Fish) – 12lb 12oz
So a really close match with just one fish separating the top three carp and silvers weights, I picked up £20 to end a long barren run at Summerhayes but the icing on the cake was receiving a pound from Jeff, I actually ended up 3-2 to the good with nuggets from Jess, Terry and Jeff (did I mention that one yet!) and losing to The Tart and Glynn.
Don't forget you can still bag yourself a bargain by using the exclusive discount code AgainstMenandFish10 to get 10% off when you shop online at Somerset Angling
Lastly I just wanted to say a massive thank you to everyone that has bought a copy of my book so far, if you would like to support me and the blog, the link is here.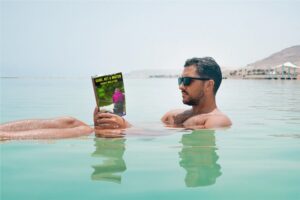 Next up – Revels Fishery
Coming soon – Lots more match reports
Check Out – My last match (below)