Baz has been telling me for ages I ought to try Revels for a nice days silvers fishing, so with a week off work, I arranged to go. After two early starts I must admit when my alarm went off at 5:45, I was flagging a bit! We met at the Airfield Tavern in Yeovil for breakfast which was really good before we headed off with Baz leading the way. Due to a road closure we ended up taking a scenic route but still arrived in plenty of time. I have to say a big thanks to Baz for sorting me out with some top quality bait and info as well.
The car park soon started filling up and there was a good turnout of 21 anglers including a few familiar faces like John Barker, Nigel Bartlett, Wayne Cooper and Alan Winsper. There were two lakes being used today, the Main Lake and Dead Tree, talking to Baz and John they said Dead Tree is the place to draw for silvers but there are some great pegs on Main too.
The draw was announced but I didn't have a clue what the good peg numbers were or even which numbers were on each lake. John got peg 20 which he said is probably the best silvers peg on Main, Baz was on Dead Tree 46 and then peg 2 was my home for the day, a really good peg on Main apparently and one with a decent depth as a lot of the lake is quite shallow.
It was only a short walk to my peg which looked gorgeous and there were lots of fish moving all over the lake. I set up a Drennan 0.4 gram Carp 1 to fish two lines at 10 metres straight out and angled to the right plus a 0.3 gram NG Mini Gimp to fish down the edge, both had size 18 Guru F1 Pellet hooks to 0.10mm. On the side tray I had a pint of casters, red maggots (dead and alive), some expanders and Bait-Tech Special G Green and The Juice groundbait.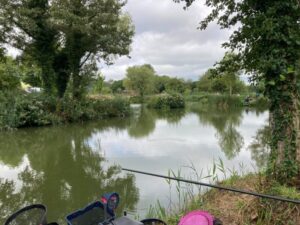 When I'd been asking Baz about the venue, he said it was worth starting down the edge as you can catch a few pounds of perch quite quickly. When the all in was shouted, I cupped in some groundbait on the longer lines before going down the left margin on the top two and flicking in a few maggots. It took five minutes to get my first bite but I started catching perch from half an ounce to 6oz, it was steady and I was getting little runs of fish, three or four before it would go quiet for five minutes.
After about half an hour, the float buried and the strike resulted in solid resistance before a decent fish tried getting under the near bank. I got it out only for it to go again and this time it went round some vegetation, there were swirls and I saw a dark tail, I'm sure it wasn't a carp and was thinking tench or big perch. Using the pulla kit, I gave it some welly and it came free and was in open water, only for the hook to pull out – gutted!
All the disturbance killed the inside line and I was just thinking I might have to go out longer earlier than I'd have liked but after ten minutes the float started going under again. I was catching perch along with the odd roach and then hooked another decent fish which snagged me a couple of times before a nice barbel around a pound came to the top which made me think the other fish may have been a bertie as well.
After two hours I had 35 fish for around 2lb 8oz but I'd probably spent thirty minutes too long down the edge. Going out to 10 metres with single red maggot on the hook, I was expecting to catch straight away but the float just sat there! Eventually it slid away and I bumped what felt like a small fish, I missed a couple of bites but this wasn't the response I was expecting. I was just thinking what my next move should be when a positive bite resulted in a pleasing amount of yellow hydro coming out.
Shipping back carefully, I slid the net under a lovely roach around 6-8oz, then another next chuck followed by a chunky perch and I'd had well over a pound in three put ins. I was toss potting in maggots but also loose feeding casters over the top and catching really well. In amongst the roach and perch, I started getting some nice skimmers from 4-12oz and was really enjoying myself.
I tried caster a few times but was waiting ages for bites, I also tried the other 10 metre line but that was slow and I didn't want to wait too long not catching. Back on the main line, I've hooked another fish that tore off before it stopped and I knew it wouldn't be a carp, this time it was a chub of about a pound and I thought I must be doing alright although the only anglers I could see were fishing for carp so it was difficult to gauge.
I hooked another lump which didn't give me too many problems and as it started to come up I saw a flash of silver and thought it could be another chub but then it went again and the hook pulled so not sure and it may well have been a small carp. It was still a bite a chuck from roach, skimmers and perch but I did have a few skimbobs come off shipping back. The next decent fish I hooked was another chub, this time a nice bonus of 1.5lb and there were still two and half hours to go.
Of course, the inevitable had to happen and I hooked a carp that took me on a tour all round the peg, at one point I thought I had a chance of landing it and it looked to be 6-8lb before it went through some snags and snapped me, the rig came back in a bit of a mess with even the tip of the float bent! After getting it sorted I've gone back out but bites had slowed up and the other line was no better so I cupped in a little ball of groundbait on each line.
This seemed to do the trick and I began catching again, there were lots of carpy looking blows coming up and I when I hooked another pond pig that snapped me, I had visions of it being carnage for the remainder of the match but I only hooked one more. With about an hour to go, I had 80 fish which I thought would probably go 10lb if they averaged 2oz apiece. Going into the final sixty minutes, I couldn't get the rig in fast enough and it was a bite a chuck from mainly small roach with the odd better one. I also dropped one off which I knew I should have netted rather than try swinging it.
When the all out was shouted I was unhooking fish number 100 and thought I must have 12lb, maybe a little more with those chub, that barbel and some nice skimmers. I was enjoying myself that much, I didn't want the match to end, just a lovely day. As I wasn't sure where the weigh in would start I just stayed on my peg, hence the lack of photos. When the scales reached me, they'd weighed in Dead Tree and Alan Winsper was leading the silvers with 19lb odd from the same peg he'd won the last match and there were also several 12lb weights including Baz.
My fish went 14lb 4oz but I wasn't sure it would be enough to frame with the rest of Main Lake still to weigh in. I took my gear back to the car and saw John Barker who was waiting for the scales, he said he had around 12-14lb but didn't think he had more than me. Of course he weighed 14lb 10oz which pushed me down into third, so for second time in two days, ounces had cost me the runner up spot! Still I picked up £20 to round off one of the most enjoyable days I've had for a long time.
Silvers
1 – Alan Winsper (Revels) – 19lb 7oz
2 – John Barker (Revels) – 14lb 10oz
3 – Jamie Rich (Against Men and Fish) – 14lb 4oz
Overall
1 – Andy Miller (Revels) – 91lb 8oz
2 – Rich Butler (Revels) – 59lb 14oz
3 – Paul Wyatt (Revels) – 39lb 12oz
What a lovely venue and I can't wait to go again, drawing a great peg always helps and really I should have been a lot closer to Alan's weight, along with those two big fish I lost, I had four or five skimmers come off and bumped/dropped off quite a few. There were several things I could have done better, using a micro barbed hook (which are allowed) instead of barbless, my elastic was a bit too pingy, spending too long on the inside line and towards the end I probably should have tried caster more often.
Don't forget you can still bag yourself a bargain by using the exclusive discount code AgainstMenandFish10 to get 10% off when you shop online at Somerset Angling
Lastly I just wanted to say a massive thank you to everyone that has bought a copy of my book so far, if you would like to support me and the blog, the link is here.
Next up – River Parrett
Coming soon – Lots more match reports
Check Out – My last match (below)