For round two of the Haines Angling and Allen & Woodard Building Contractors sponsored winter league we were on the Isle which was looking unlikely earlier in the week when the river was in the fields! Twenty anglers were booked in and would be spread over the Coxes, Redbridge and Isle Brewers sections. As always we were well looked after at the bowling club and then it was time for the draw using the 'Wheel of Fortune' (well, two actually, one on Rob's phone had the names and Terry's had the peg numbers).
When my name came up I didn't fancy Coxes (with the exception of 14 and 15) or Redbridge and there were a few I wanted to avoid at Isle Brewers too. The wheel spun and 125 was my home for the day, it can be a brilliant peg but in the last two matches it had done 7-8lb and when I saw I was up against 120, 126 and 128 for the league points, I felt there was a very real chance I could be last in my section!
On arriving at the river, it looked perfect, nice colour, not too high and I thought it would fish really well, my only slight concern was that I hadn't seen any fish topping. I set up a 1 gram bodied float to fish three sections to hand and a 0.6 gram DH16 for a little bay on the far side where there was some steadier water. Both had size 18 Guru Match Specials to 0.10mm. On the side tray I had red maggots, casters and Bait-Tech Super Seed hemp.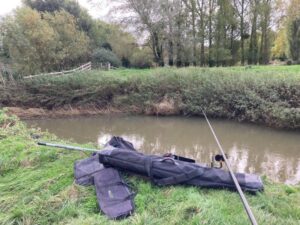 I was ready with 45 mins to go so went up to have a chat with Clifford on 125a and we were joined by Neil who was on 124 and Nick (124a) and Jen (126a). With a few minutes to go we all wandered back to our pegs, I shouted the all in and started at three sections to hand with double red maggot on the hook. First put in, the float didn't travel far before disappearing and a small roach was swung to hand. There were obviously a lot of fish there as I had eight in the first six minutes and with fifteen minutes on the clock, I had seventeen including some net roach.
At this point, I thought a huge weight was possibly on the cards but then I've hooked a big roach only for a sizeable pike to snaffle it. I had it on for ages before it eventually broke me with all the commotion wrecking the shallow swim and it took a while to start catching again. With an hour gone I was up to 29 fish for 3-4lb and still catching well although I was having to chase them round a bit.
Cliff said he was struggling and it sounded like Nick and Neil were only getting the odd small fish. I had a little run of fish from the top of the swim but then Mr Pike put in another appearance and I was reaching for the hooklength box again. The weather was pretty grim with some heavy showers and a nasty downstream wind.
During the second hour I was still putting odd fish in the net but it had slowed right up and I only added around a dozen to my tally. I picked up the lighter rig and went across in the steadier water but didn't get the response I'd hoped for with just one 4oz roach, a few smaller samples along with a couple of gudgeon. With over half the match gone I probably had 6lb but bites were now hard to come by and I was going nowhere fast.
Back down the middle, running the heavier rig through, the float buried and a big fish tried getting under the far bank, I could see it was a decent chub and managed to net it without too much fuss, at 2lb+ it was a handy bonus. Neil and Nick had both been down and said they were really struggling and also that Bagger Burton on 123 was walking about so it sounded like it was fishing hard.
The next excitement came with around an hour to go, the float dragged under and when I struck, a sizeable pike swirled, it gave me the run-around but then it surfaced and I could see it was foulhooked in the side of its head. I got it in the net and it was probably around 8lb. Over the remainder of the match, I only had a couple more fish and even briefly had another pike on (same fish?). I finished up with 71 fish for around 8-10lb but didn't think that would be any good today.
After I loaded the car, I got the scales and went up to weigh in, starting with Digger on 122, he had two decent chub and a few bits for 6lb 1oz but had lost five chub! Bagger Burton had loads of minnows and a chub for 4lb 1oz from 123 and then Neil P had 1lb 9oz from 124. Nick had struggled in 124a for 15oz, Clifford had caught a few small fish and a lot of minnows for 1lb 5oz and then my fish went 10lb 6oz.
Below the bridge, Rob was top from 126 with 13lb followed by Steve 'The Pole' Parker with 9lb 10oz from 129 although he lost a couple of big chub. Danny B had 7lb 15oz from 128 and Jake W weighed 7lb 3oz although he had a 'Harry Houdini' chub jump out of his landing net! Bish weighed 4lb 9oz from 127 and Jenny had 1lb from 126a. Thanks to Jake Woodard for the photos*
We were back at bowling club for the results and Terry 'The Toast' had a fantastic weight of 26lb 5oz from peg 14 to win on the day. Leighton Cox was second from peg 15 with another cracking net of fish weighing 14lb 13oz. Les Braunton and Big Frank both weighed 5lb 1oz from pegs 17 and 19 with Dave Phillips close behind them with 4lb 13oz from peg 21. Thanks to Leighton for the photos**
It was tough at Redbridge where Russell 'The Hitman' Hilton was top with 3lb 12oz followed by Dave Pope who had a nice chub of 2lb 13oz from peg 110 and Tony C on 120 who weighed 2lb 8oz but had suffered some pike trouble. Thanks to Russ for the photos***
1 – Terry Morgan (Risov Floats) – 26lb 5oz
2 – Leighton Cox (Ilminster) – 14lb 13oz
3 – Rob Cox (Ilminster) – 13lb
4 – Jamie Rich (Against Men and Fish) – 10lb 6oz
Sections
A – Les Braunton (Sharp) and Frank Woodard (Ilminster) – Both with 5lb 1oz
B – Phil Denslow (Taunton) – 6lb 1oz
C – Neil Purchase (Ilminster) – 1lb 9oz
D – Steve Parker (Ilminster) – 9lb 10oz
So another fantastic winning weight along with several anglers breaking double figures, it was nice to see a fair few chub featuring in catches although just as many were lost! I sneaked into the last frame place and picked up £40 plus a nugget off The Pole. In the league I had two points so although not the disaster I feared, I'm going to need some one pointers if I'm going to challenge as I think you'll need six or seven points to win it.
It's early days but after two matches there are three anglers with a perfect two point score (obviously the list is without the worst result dropped),
Terry Morgan – 2 pts
Steve Parker  – 2 pts
Phil Denslow – 2 pts
Rob Cox – 3 pts
Les Braunton – 4 pts
Jamie Rich – 4 pts
Frank Woodard – 5 pts
Neil Purchase – 5 pts
Steve Bishop – 5 pts
Ian Burton – 5 pts
As in previous years, here's a list of the framing pegs (top three) from all the river matches so far,
126 – 2 times (won 1)
14 – 2 times (won 1)
15 – 2 times
M4 – 1 time (won 1)
128 – 1 time
H2 – 1 time
H3 – 1 time
*Note, the pegs at Mideleny/Hambridge aren't permanently pegged so numbers can vary.
Don't forget you can still bag yourself a bargain by using the exclusive discount code AgainstMenandFish10 to get 10% off when you shop online at Somerset Angling
Lastly if you haven't checked out my book yet, I still have copies available or you can get them from eBay here or Amazon here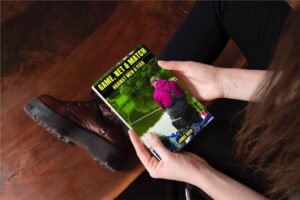 And if you could spare five minutes to leave a review on Amazon, it would be very much appreciated.
Next up – River Parrett
Coming soon – Lots more match reports
Check Out – My last match (below)