We were supposed to be on the Parrett for this one but once again Mother Nature decided to intervene so the match was moved to Thorney Lakes and would be silvers only. With the clocks going back, an extra hour in bed was welcome but the weather looked pretty grim outside. After breakfast we headed to the venue and I have to say it was a bit hairy with the lanes flooding and loads of water about. As we unloaded the cars and got our waterproofs on, it stopped raining and even brightened up a little bit.
My partner was Terry 'The Toast' and one angler from each pairing would draw for both, I delved into the bag and my little wooden peg had the numbers 1 and 8 on it. We could decide between us who went where so I chose the latter which was on the island and Terry was actually opposite me on peg 1 in the corner. For company I had The Grand Wizard on peg 7 although he was in the other section and Danny B was on my right.
The last time we fished it, I was up the other end and it was very shallow although apparently it was a little bit deeper where I was today. That match I won the silvers with 5lb 14oz although a 4lb bream on the method helped a bit! I said to Terry that I thought if we could do 4-5lb apiece we would be there or thereabouts today.
I set up two 0.3 gram Guru AR floats, one with spread shot and the other with a bulk and two droppers, both had size 18 Guru F1 Pellet hooks to 0.08mm. Plumbing up two lines at 11.5 metres, it was a few inches deeper on the one angled to the left. On the side tray I had red maggots, some deceased ones, casters and disco pinkies along with Bait-Tech Special G Dark and the Juice groundbait.
The Grand Wizard got us underway with a very musical toot on his whistle and I cupped in a single ball of gb on the left hand line and then fed the right one more positively with two before feeding a few casters at top two plus two. I started out in front with double pinkie on the hook to just try and get a bite. With all the cold rain that had gone in, I wasn't sure how it would fish and thought it might be hard going but Terry missed a couple of bites before catching a tiny roach to get him off the mark. He followed that up with a nice roach and was getting regular indications whereas I still hadn't had a bite!
I kept lifting the rig out and laying it in again and eventually the float went under, only for me to miss it! A bite next put in and finally after twenty minutes, I opened my account with a 2oz roach which I netted to be sure. I had a couple more roach but then hooked a carp that tore off and snapped me. With a new hooklength on, I tried single pinkie and had a lovely roach of 6oz or so and was feeling quite pleased with myself until I looked to the right and saw Danny netting a nice skimmer.
My next fish was a 3-4lb carp which I landed as the first hour came to a close, Terry was still catching some nice roach and The Grand Wizard was getting odd fish including some nice carp that he kept telling me were big perch! It was difficult to gauge how we were doing as I could only really see Terry, Chris and Danny although apparently Chris Norton next to Terry had lost a big bream.
I did hook a fish that I was convinced was a bream, only for it to wake up when I got down to the top kit and turn into a carp. Next chuck I hooked a fish and this was definitely a skimmer, I very carefully shipped back and slid the net under a nice one of 8oz or so. Although I wasn't bagging, I was getting a few bites and on course for my 5lb target. Danny had a second skimmer and then was into a lumpy carp that gave him a good workout before he netted a 9lb fish.
Quite a few carp were being hooked and I had one on that wasn't giving me too much bother and I was stripping elastic out of the pulla kit when all of a sudden there was a twang and the elastic snapped! With my gazelle like reflexes (yeah right!) I managed to grab the elastic before it all exited the pole tip and tried to handline the fish in, of course it went through some vegetation under my feet and snapped me! After that comedy of errors, I got another top kit out, and was soon back in action.
The next bite resulted in a fair bit of elastic coming out, the fish wasn't charging about and I was praying it wasn't a lethargic carp, a lovely big 4lb bream came to the top and slid into the net. A slightly smaller one followed quite quickly and it felt like there were a few there but typically, the next couple of fish I hooked were carp.
Then I had my third bream and Chris started catching some nice skimmers so it was fishing better than I expected. I was toss potting in maggots every put in and small amounts of loose groundbait quite regularly. Bream number four put me on 12lb+ and there was still two hours to go. Bites slowed up so I tried caster and double dead reds but never had an indication, everything coming to single or double pinkie.
Terry was still catching the odd roach and added a couple of nice skimmers but he was in the same section as Chris who was still catching well. The last period of the match was a bit of an anti-climax for me, I had a few more roach along with the inevitable carp (landing eight and losing five in total). I finished up with four bream, one skimmer and eighteen roach.
After loading the car, the weigh in started with Clifford on peg 14, he had some quality roach and a lovely golden orfe for 7lb 4oz, Steve P had 2lb 13oz from peg 13 but had a few carp troubles and then Nick P on 12 weighed a nice net of skimmers for 7lb 14oz and Digger had a nice bream and a couple of skimmers for 3lb 2oz from peg 11.
We crossed the bridge onto the island and Wayne C on 10 had 3lb 4oz, Danny B weighed 2lb 2oz and then I was the last one in that section and my fish went 15lb 6oz. Chris W had a lovely bag of skimmers for 11lb 5oz and then the rest of the pegs in that section were on the other bank. Bagger Burton on peg 6 had 11oz, Neil P weighed 4oz, Rob had 1lb 1oz and Derek G weighed 1lb 9oz on peg 3 so it had been hard going.
Chris N had 4lb 10oz which included a lovely bream and last but not least was Terry, he had two skimmers and some quality roach for 4lb 8oz.
We headed back to the car park where Clifford and Chris worked out the results. There was actually a tie, they'd scored 4 points (Chris 1/Clifford 3) and so had we (me 1/Terry 3) which meant it would come down to weight and we just edged it 19lb 14oz to 18lb 9oz – well chuffed. Wayne and Derek took third spot with 8 points.
1 – Jamie Rich and Terry Morgan  – 4 points (19lb 14oz)
2 – Chris White and Clifford Gaylard – 4 points (18lb 9oz)
3 – Wayne Cooper and Derek Goad – 8 points
Don't forget you can still bag yourself a bargain by using the exclusive discount code AgainstMenandFish10 to get 10% off when you shop online at Somerset Angling
Lastly if you haven't checked out my book yet, I still have copies available or you can get them from eBay here or Amazon here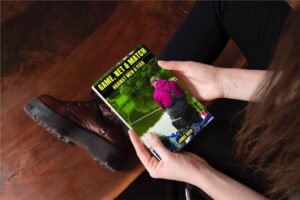 And if you could spare five minutes to leave a review on Amazon, it would be very much appreciated.
Next up – Revels
Coming soon – Lots more match reports
Check Out – My last match (below)