I've been trying to get to Revels as much as possible for the Tuesday opens but I'm fast running out of leave at work (lottery win required please). The fishing is right up my street, quality silvers without too much carp trouble and I've had some good results (drawing decent silvers pegs obviously helps). I even managed an overall win with some accidental carp from a not so good silvers area. On my first visit, I was quizzing John Barker about pegs etc and he said the ones not to draw are 12 and 16 on Main Lake as they are out and out carp pegs. So far I've managed to avoid them (although I came perilously close with peg 14) and Steve P drew 16 last time we went and struggled.
With the clocks going back, the draw time is now 9:00 which meant setting the alarm for a rather rude 5:45. Loading the car in the morning, I was in for another shock as we'd had a frost, the first since last winter. I met the Parker 'The Pole' for another cracking breakfast at the Airfield Tavern and we then headed to the fishery. We arrived in good time and collected some bait from the shop, despite the chilly feel, there was still a good turn out of 16 although John B was missing this week.
Draw time arrived and Canal Lake was also in today and the talk was that would be the place to be. Peg 16 went quite early so that was one out the way and then my name was called and I was hoping Dean would draw me peg 2 or 20 on Main or it would be nice to fish Canal for the first time, he pulled out a ball and it had the number 12 on it – bugger! Parker got 64 on Canal and I'm getting him to pick my lottery numbers for the weekend.
Nigel Bartlett didn't offer me any crumbs of comfort and although I'd still have a go for silvers, I knew my good run of results had come to an end. The peg was narrow which never bodes well for silvers so I would feed a line towards the open water on the left as well as one down the middle. The usual two 0.3 gram Guru AR floats were set up, one with spread shot and the other with a bulk and two droppers, both had size 18 Guru Match Specials to 0.10mm at the business end.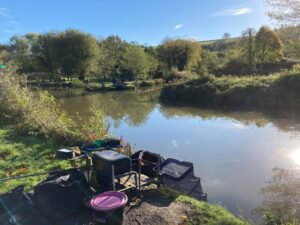 I plumbed up two swims at 8.5 metres down the middle and then another two areas at 11.5 metres to the left where it was a little bit deeper. On the side tray I had casters, live and dead reds plus some disco pinkies and Bait-Tech Special G Dark and the Juice groundbait.
The whistle went and I cupped in some loose groundbait on the two shorter lines and the two swims to the left each received a ball of groundbait. I started with single red maggot and was expecting to wait a little while for my first bite. Andy Chatterley was over on peg 8, which had won the silvers the last time I fished, and was into roach and small skimmers from the off. After ten minutes I hadn't had any indications and even a single pinkie didn't elicit any interest.
An hour and a quarter passed and I'd tried all four lines without so much as a sniff and I honestly started to think a blank was on the cards. I was back at 8.5 metres and had just laid the rig in when it went under on the drop and the result was a tiny gudgeon. Next put in I had an equally small perch but then had one that pulled some elastic out and I netted a three ouncer, I wasn't setting the world alight but at least I was getting a few bites now.
I did lift the rig up to find there was a carp on (foulhooked I think) that tore off and snapped me. The lack of quality silvers was a worry and I was going nowhere fast, I kept having a look on the left hand lines but was only getting the odd small fish from there as well. With a couple of hours to go, I've finally had a decent fish from the left, a net roach and then next put in had my first skimmer before it was back to just the odd small fish. Resting that line definitely worked and I had two more skimmers plus more roach but as we approached the witching hour, carp began to be problematic and I hooked eight, landing six of them.
On the whistle, my final tally was 40 silvers (skimmers, roach, perch and gudgeon) plus those carp. Taking my kit back to the car, I asked Neil Saxby on 16 how he'd done and he said he'd struggled catching four carp. With most people on Main Lake fishing for silvers, I started to think my 'accidentals' had got me out of jail again and I might sneak in the frame.
When the scales reached me, my carp went 20lb 1oz and the silvers added another 4lb 6oz to give me a total of 24lb 7oz. Back at the results and the top three weights all came from Canal Lake led by Dave Stanbridge with 35lb 5oz from peg 68. I needed one more carp to frame so not too far away. The silvers was incredibly close once again with just 4oz separating the top four! Jon Bass came out top with 8lb 6oz from peg 2, followed by Andy Chatterley with 8lb 5oz, Alan Winsper had 8lb 3oz and Nigel Bartlett was just out the money with 8lb 2oz. Steve took a nugget off me as he weighed 5lb 9oz.
Overall
1 – Dave Stanbridge (Revels) – 35lb 5oz
2 – Rich Butler (Revels) – 29lb 13oz
3 – Terry Dell (Revels) – 28lb 2oz
Silvers
1 – Jon Bass (Revels) – 8lb 6oz
2 – Andrew Chatterley (Revels) – 8lb 5oz
3 – Alan Winsper (Revels) – 8lb 3oz
Another incredibly close match and I'm looking forward to my next visit already, although I'm not sure if it'll be for a few weeks as I've nearly run out of leave! I'll have to see if I can get down on a Sunday and if the weather doesn't get too bad, hopefully I'll be able to fish a few over the Xmas period.
Don't forget you can still bag yourself a bargain by using the exclusive discount code AgainstMenandFish10 to get 10% off when you shop online at Somerset Angling
Lastly if you haven't checked out my book yet, I still have copies available or you can get them from eBay here or Amazon here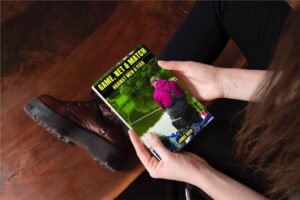 And if you could spare five minutes to leave a review on Amazon, it would be very much appreciated.
Next up – Hebditch's Pond
Coming soon – Lots more match reports
Check Out – My last match (below)