Another day off work and another match (I could get used to this!). I hadn't fished the pond since July when it fished it's head off, the last match here fished quite hard and with the second frost in two days, I thought it might be similar today with 30lb a good weight. Massive thanks to Jake Berkley and The Grand Wizard for giving up their time the day before to get the swims ready. Most of us met for breakfast at The Airfield Tavern and I'm thinking of applying for a loyalty card! As always the food was great and we had a right laugh and I can think of no better way to start the day.
We also did the draw there and I said to Terry 'The Toast' and Parker 'The Pole' that I really fancied peg 3, it perhaps hasn't got the pedigree of peg 4 (which has won more matches there than any other peg) but it's just a lovely swim to fish and is always there or thereabouts. I stuck my hand in the cloth bag and rummaged around before pulling out a little wooden marker, I had a look and it had the very number I wanted on it, I showed Terry and he just called me a 'T**t!' Elsewhere Chanter drew the famous peg 4, Grand Wiz got 5 which he knows like the back of his hand, Burnsey drew 7, Norts was on 1, Jake on 2, Terry got 12, Steve was on 11 and magician Bob pulled peg 6 (and not a rabbit) out of the bag!
The pond looked gorgeous, it was flat calm but there were plenty of carp showing themselves and I thought it might fish better than I'd first anticipated. I set up a 0.6 gram Drennan AS5 Pencil float to fish two lines at 11.5 metres, one with micros and corn and the other with groundbait and maggots. On the side tray I had a couple of pints of reds plus some deads, corn, micros, and Bait-Tech Special G Dark and The Juice groundbait.
Chris got us underway and I potted in micros and corn straight out at 11.5 metres and then a ball of groundbait at the same distance, angled to the left. Starting with a grain of corn on the hook over the micros line, I was getting the odd indication straight away and after a few minutes the float slid away and a decent amount of elastic came out on the strike before I safely netted a 12oz carp to get off the mark.
Next put in, a bite just as the rig settled and this time a nice 4lb carp was landed and it was already looking like it was going to fish well. Jake was into fish as were Andy B and Bob opposite and I could hear splashing coming from Chanter's direction. After an hour I had 8 carp from 12oz to 4lb and the second hour was similar with another 7 carp including a couple more of the better 3-4lb fish.
Quite a few of the fish were coming after I lifted and dropped the rig, as well as toss potting in micros and corn every put in, I was also feeding maggots regularly on the other line but hadn't tried it yet. I had a decent third hour as well with some more carp plus a couple of skimmers and quality roach on corn. Then is started to slow up and this seems to happen most matches, everybody catches well for 2-3 hours before sport tails off.
Trying the maggot line for the first time with three dead reds on the hook, I had a few small roach and rudd but the more I fed it, the better it got. I started to get some small carp from 12oz-1lb and also had a couple of decent 12oz skimmers. Every time it slowed, I'd feed a little more groundbait and go back over the other line which I was also now feeding maggots on. Swapping between the two lines, I've had a lovely day, catching carp, skimmers and some nice roach.
When Chris blew for the all out, I'd finished up with 40 carp, 7 skimmers plus some roach, I also pulled out of two or three skimmers and I reckon there's a lot in there. Sport could be fantastic over the next couple of years as the small carp and skimmers are packing on weight and all the fish are in immaculate condition.
I went round with Chris to assist with the weigh in and get some photos starting with Andy, after three weighs his total was 51lb 1oz, a great weight from there. Bob was next and he had loads of little carp plus some silvers for 29lb 6oz and had really enjoyed his first match on the pond. The Grand Wiz weighed 40lb 15oz although I am beginning to worry about his sanity (see photo below).
Chanter was next and he had three carp nets in and was admitting to 80lb which I was sure would win today, his first two nets went 34lb 6oz and then he pulled out his big net which added another 43lb 11oz to give him a total of 88lb 1oz, well done mate. My silvers went 4lb 15oz and then my carp added 52lb 7oz to give me a total of 57lb 6oz.
Jake had some nice carp for 36lb 6oz, Chris N on peg 1 weighed 29lb 11oz, Terry 'The Toast' had 24lb 12oz and last but not least, Parker 'The Pole' had concentrated on the silvers and caught over 100 roach and rudd for 4lb 15oz plus a few small carp which went 5lb 11oz.
1 – Steve Chant (Stoke AA/Somerset Rig Company) – 88lb 1oz
2 – Jamie Rich (Stoke AA/Against Men and Fish) – 57lb 6oz
3 – Andy Burns (Stoke AA) – 51lb 1oz
Sections
A – Chris White (Stoke AA) – 40lb 15oz
B – Bob Pamplin (Stoke AA) – 29lb 6oz
Silvers
Steve Parker (Stoke AA) – 4lb 15oz
As it's a charity match and just a bit of fun, Chris likes to spread the money about with six prizes paid out and I picked up £30 which helped pay for the day.
I'd just like to say a massive thanks to the Hebditch family for letting us fish their lovely pond and to all the anglers for making it such a great day, it really is a joy to fish with this lot, days like this are what fishing should be all about, a great laugh, plenty of banter, lots a fish, a stunning location and of course another tidy sum was raised for charity. We added another £90 to the pot which now stands at £1452 and will go to the Oncology Unit at Yeovil Hospital, a brilliant cause.
Don't forget, Xmas is coming and you can bag yourself a bargain and buy yourself or your loved ones a present by using the exclusive discount code AgainstMenandFish10 to get 10% off when you shop online at Somerset Angling
Talking of stocking fillers, I still have copies of my book available or you can get them from eBay here or Amazon here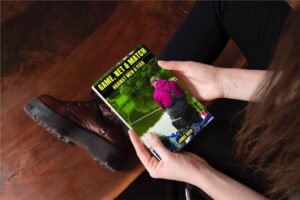 And if you could spare five minutes to leave a nice review on Amazon, it would be very much appreciated.
Next up – River Isle
Coming soon – Lots more match reports
Check Out – My last match (below)