I was really looking forward to round three of the Haines Angling and Allen & Woodard Building Contractors winter league on the river. Terry had once again put in loads of time and effort to try and put everyone on some fish. Midelney was in again and downstream of Hambridge was being used for the first time. There was another good turnout with eighteen anglers booked in. After another cracking breakfast is was time for the draw and the 'Wheels of Doom' spun into action. By the time my name came out, lots of the pegs I fancied had gone and I ended up on H1 at Hambridge and knew I was in trouble. It's normally worth a few fish but the poor relation compared to the other swims there, especially the two below the bridge.
Terry was below me on H2 which can be very hit and miss and Parker 'The Pole' was the first one above the bridge. Bagger Burton was the first one below with Bish next door and both those pegs are normally really good. Elsewhere, Russ 'The Hitman' Hilton had drawn the first one above the bridge at Midelney which was close to where he did 26lb in the inter-club match, Les was on Barney's Bend and Andy S was in the Tank Traps.
The river looked nice, a little tinge of colour although there was a nasty downstream wind and it was a bit concerning that while I was setting up, I didn't see a single fish top and Terry and Steve said the same. I set up a 1 gram bodied float to fish three sections to hand and a 0.6 gram DH16 to fish shallow and run through. Both had size 18 Guru Match Specials to 0.10mm. On the side tray I had red maggots, casters and Bait-Tech Super Seed hemp.
If you're going to do a decent weight and there are lots of small fish present, you normally catch within the first two or three run throughs. That didn't happen and there were obviously quite a few stick ups about as I snagged up a few times and lost a couple of hooklengths. Terry said he hadn't had a bite yet either and I knew we were in for a struggle. I tried shallowing up or holding the rig back hard but just kept snagging up and it was a good job I'd tied some hooks up the day before as I was getting through them at a rather worrying rate!
Steve was getting a few small fish but Terry was in the same boat as me although he then went and spoilt things by catching a roach which he reckoned was lost! After an hour or so, I still hadn't caught and thought there was a really good chance I was going to blank. I grabbed my flask and went for a walk, I didn't stop long with Terry as he'd only had two bites, Parker 'The Pole' was catching quite well and I could see Bagger Burton below the bridge, catching one a bung! For the first time in a very long while, I contemplated packing up and going home.
Sitting back on my box, I went through the motions for a bit and then Russ phoned and I was overjoyed to hear they were all catching well down there although things had slowed up a bit and he might only do 15lb! That's it, I'm not answering my phone anymore!
I'd been feeding down the edge as sometimes there are good perch around but no bites and several more lost hooklengths. I won't drag this out anymore and the rest of the match was equally as exciting. With around an hour to go and the light starting to fade, a couple of tiny fish topped and I still thought I might get a few, even though it wouldn't do me any good now. I did actually miss a couple of very quick bites and then hooked a small fish but it came off as I shipped back and that was that.
After packing up, I went down to see how they'd got on below the bridge, Bish had a lovely net of roach for 17lb 13oz and then Bagger Burton weighed a brilliant 20lb 11oz from H4. Terry's three roach weighed 5oz and Steve had 4lb 1oz so I lost nuggets to them both. Thanks to Ian Burton for the photo*.
Back at the results and Midelney had fished it's nuts off, Russ's 15lb had turned into a brilliant 27lb 2oz, Leighton had 17lb of quality roach, Tony C weighed 13lb 4oz and Derek G had 9lb 12oz. Dave P was the unlucky angler off the roach epicentre and just had a single perch of 1lb 3oz. Thanks to Russell Hilton** and Leighton Cox*** for the photos.
It had been tough going at Isle Brewers for most, Les was top with 12lb 14oz from 126, Jake had 10lb 6oz from 126a but after that the weights dropped right off, Frank had a pound from 125, Rob weighed 10oz on 128, Neil P on 129a had 3oz of minnows and Digger on 129 had an early bath. There were only two pegs at Coxes where Andy S had 5lb 4oz from 14 and Dave Phillips had 3lb 4oz from 15. Photo credits – Jake Woodard****
1 – Russell Hilton (Ilminster) – 27lb 2oz
2 – Ian Burton (Taunton) – 20lb 11oz
3 – Steve Bishop (Sharp MG) – 17lb 13oz
4 – Leighton Cox (Ilminster) – 17lb
Sections
A – Jake Woodard (Ilminster) – 10lb 6oz
B – Les Braunton (Sharp MG) – 12lb 14oz
C – Steve Parker (Ilminster) – 4lb 1oz
D – Tony Coubrough (Ilminster) – 13lb 4oz
So another brilliant winning weight with 17lb only good enough for fourth place and double figures required to win three of the sections but it was a real struggle in several areas with only ounces (or less!) being caught. In other words, a typical winter small river match with seven double figure weights at one end of the spectrum and seven weights of 1lb 3oz or less at the other.
In the league, five points has done my chances no good whatsoever and one more bad result will effectively end any chance of a top three finish. It's all quite tight at the moment and I'm sure there will be lots of twists and turns to come in the remaining four rounds.
After three matches (and dropping the worst result) there are now five anglers on two points with six anglers in the chasing pack, one or two points behind,
Steve Parker – 2 pts (dropping 3)
Les Braunton – 2 pts (dropping 3)
Terry Morgan  – 2 pts (dropping 4)
Phil Denslow – 2 pts (dropping 4)
Jake Woodard – 2 pts (dropping 20)
Rob Cox – 3 pts (dropping 2)
Ian Burton – 3 pts (dropping 3)
Russell Hilton – 4 pts (dropping 3)
Steve Bishop – 4 pts (dropping 3)
Jamie Rich – 4 pts (dropping 5)
Leighton Cox – 4 pts (dropping 5)
As in previous years, here's a list of the framing pegs (top three) from all the river matches so far,
126 – 2 times (won 1)
14 – 2 times (won 1)
15 – 2 times
M4 – 1 time (won 1)
M5 – 1 time (won 1)
128 – 1 time
H2 – 1 time
H3 – 1 time
H4 – 1 time
H5 – 1 time
*Note, the pegs at Midelney/Hambridge aren't permanently pegged so numbers can vary.
Don't forget, Xmas is coming and you can bag yourself a bargain and buy yourself or your loved ones a present by using the exclusive discount code AgainstMenandFish10 to get 10% off when you shop online at Somerset Angling
Talking of stocking fillers, I still have copies of my book available or you can get them from eBay here or Amazon here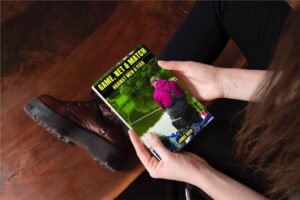 And if you could spare five minutes to leave a nice review on Amazon, it would be very much appreciated.
Next up – Summerhayes
Coming soon – Lots more match reports
Check Out – My last match (below)