Now in it's third year, I always look forward to Charlie's match as it's silvers only and one I'd love to win. I met Steve P for brekkie in Taunton before heading to Bridgwater. There was a good turnout and it was great to see Nigel Coram and Harry Muir plus the usual crew.
After a coffee and a natter, Jeff got us together for a photo and then it was time for Pete to do the draw. Peg 31 on the track was my home for the day and it's normally a good area for silvers, every other peg was in today so my neighbours were Adie on 29 and Nigel on 33.
I set up a 0.3 gram Guru AR for two lines at 10 metres (angled left and right) plus the top two line and a 0.3 gram NG Mini Gimp for top two plus two, both had size 18 Guru F1 Pellet hooks to 0.10mm. On the side tray I had red maggots (dead and alive), disco pinkies, 4mm Xpands and Bait-Tech Special G Dark and The Juice groundbait.
On the whistle I fed a ball of groundbait on each of the four lines before starting on the top two with double pinkie on the hook. Adie was off the mark quickly with a hand sized skimbob, my float sailed away and I swung in a perfectly formed carp about a inch long! I opened my silvers account a few minutes later with a small blade followed by a roach but with Adie catching little skimmers regularly from his longer line I was soon going out to 10 metres.
It wasn't fast and furious but I started getting some small skimbobs and roach on pinkie so tried double dead red maggots but it didn't improve the stamp and you'd need some decent skimmers to do well today. After an hour I probably had a pound or so and I thought Adie was a few fish in front of me. I put on a 4mm expander and after a little wait, a positive bite resulted in my first decent skimmer of 8oz or so. By swapping between the two longer lines I added two more decent ones and few hand size skimmers over the next hour.
Nigel was fishing the waggler and landed a nice tench to go with some small fish and I'd seen Paul Purchase land a couple of fish up on peg 35 but couldn't tell if they were carp or skimmers. As we passed the halfway point (we were only fishing five hours today), Roger Russell turned up to see how we were doing and reported that John Barker on peg 21 was catching well and had 8lb already.
I did manage two more decent fish on expanders but bites were slowing up so I went back to double dead reds and had a few more small fish and then landed a 2lb carp from the right hand swim, next put in, the float slid away and a decent skimmer leapt out the water on the strike, I netted a nice fish of a pound plus and things got even better when I had another straight after. Adie was getting the odd better fish too but I felt I was just ahead.
As we approached the last hour, I was expecting carp to be their usual pain in the bum but I actually only hooked five in total during the match, landing two (plus the micro carp right at the start). I had two more decent skimmers plus a few smaller fish on dead reds and then with five minutes to go I hooked into my best fish yet, a nice skimmer of 2.5lb which had the butterflies going until it was in the landing net. There was still time to go back out and I had a 3oz skimbob on the whistle to finish a thoroughly enjoyable match.
I ended up with 47 fish which included 10 decent skimmers plus roach and smaller skimbobs. After packing up I took my kit back to the car and then went to get some photos of the weigh in which was starting with Bill 'The Paste' on peg 37, he had some nice skimmers for 10lb 9oz. Paul Purchase on 35 had 5lb 10oz, Nigel weighed 2lb 8oz on 33, I was next and my fish went 14lb 12oz which was a bit more than I thought. Adie was the last peg in our section of five and weighed 10lb 14oz.
John Barker on 21 was next and when he pulled his net out, it was going to be close, his weight was called at 13lb 2oz – phew! Rob B didn't weigh on 19, Jess 'Zooner' Jordan had 7lb 11oz from peg 17 and Rod weighed 7lb 1oz on peg 15.
Roger C on peg 12 had 3lb 10oz and then Harry M on 10 weighed 7lb 10oz just pipping Steve P on 8 who had 7lb 6oz but both had been carped out. Mark Leahy on 2 weighed 4lb 14oz but had lost a big perch, last to weigh was Jeff Sparkes on 39 who is normally there or thereabouts and was admitting to 10lb, he pulled his net out and the needle settled on 12lb 6oz.
So I'd won it and was well chuffed, it was very close and that decent fish at the end was crucial. Jeff was paying the winner plus three sections and I picked up £70 plus nuggets off Steve, Jess and Jeff (three on the trot now!) to round off a brilliant day.
The lovely Steve Chant (Somerset Rig Company) very generously sponsored the match with a hooklength box to the winners specifications and I was really pleased for Steve P when his peg number was pulled out of the bucket.
So a massive thanks to Jeff Sparkes for organising the match, Steve Chant for his sponsorship, Pete and Sally for looking after us and all the anglers for supporting it. The pond has fished well with five double figure weights and it was another great match to remember Charlie.
1 – Jamie Rich (Against Men and Fish) – 14lb 12oz
Sections
A – Jeff Sparkes (Summerhayes) – 12lb 6oz
B – John Barker (Summerhayes) – 13lb 2oz
C – Adie Bishop (Summerhayes) – 10lb 14oz
Don't forget, Xmas is coming and you can bag yourself a bargain and buy yourself or your loved ones a present by using the exclusive discount code AgainstMenandFish10 to get 10% off when you shop online at Somerset Angling
Talking of stocking fillers, I still have copies of my book available or you can get them from eBay here or Amazon here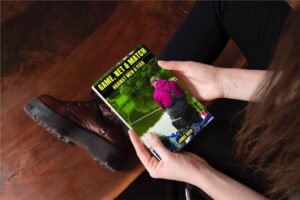 And if you could spare five minutes to leave a nice review on Amazon, it would be very much appreciated.
Next up – Summerhayes
Coming soon – Lots more match reports
Check Out – My last match (below)