I was back at Summerhayes again on the Sunday and after a lovely day yesterday, I was hoping for more of the same. Steve P was fishing again and Rob C said he fancied it as well so we all met for breakfast in Taunton and Dave H, who was fishing the Viaduct, also joined us. After eating we headed to Bridgwater and although a nice day, it was a little chillier than the day before and the pond was flat calm which made me think it might be harder and 8lb would be a good silvers weight.
As per usual Pete started the draw with the golden peg which today was number 30, a good silvers area. As the names got called out, Glynn W was on 7 which is carpy corner, Exeter Mike got 2 on Cyanide Straight and Rob B was on the bonus peg. When my name came out, I was on 17 and with Adie on 19, we were neighbours for the second day running, they're normally really good pegs for silvers but had struggled the previous day. Steve Collins was on 15 and as it was his birthday, he was hoping the fish might help him celebrate!
I saw no reason to change my approach after Saturday and set up a 0.3 gram Guru AR for two lines at 10 metres (angled left and right) plus the top two line and a 0.3 gram NG Mini Gimp for top two plus two, both had size 18 Guru F1 Pellet hooks to 0.10mm. On the side tray I had red maggots (dead and alive), disco pinkies, 4mm Xpands and Bait-Tech Special G Dark and The Juice groundbait.
We were fishing six hours today and when Pete got us underway, I fed all my lines before starting on the top two to the left but no bites there at all today. Adie had a couple of small fish and Steve landed a decent skimmer from his longer line so I didn't waste anymore time short but it was also a bit of a struggle at 10 metres!
I was getting odd small fish but going nowhere fast although I wasn't too worried at this early stage as Steve had caught a couple more decent fish so they were in the area. Adie lost a leaper fishing down the middle and I felt sure I'd get some better fish. Swapping to expander didn't work and after two hours I probably didn't have a pound yet!
It was obviously fishing hard as Rob B wandered down to see Jess on peg 24 and said he was struggling and apparently Glynn only had a pound or so. Adie started fishing across to the island and was landing some nice skimmers, Steve was now catching quite a few carp and I was getting battered both sides and suffering a severe case of neckache!
Another hour or so passed and I was just going through the motions, hoping some big skimmers would show up but not really believing it would happen. I'd only caught a few more small fish and had probably reached the dizzying heights of 2lb. With Adie now catching well across, I had nothing to lose so got off my box, set up another little rig and got three more sections out of the rod holdall. It was a long way across and even 14.5 metres was still a little way short of the island, plumbing up, it was around two foot deep. I cupped in some feed, shipped across, the float sailed away and I netted a small skimmer.
Nothing for ten minutes and I was just thinking about coming back on the 10 metre lines when the float went under and this time a better fish moved off, I shipped back expecting a carp but it wasn't doing a lot and a lovely big skimmer about 2.5lb came to the top. More smaller skimmers followed and it was starting to get interesting. Normally fishing across, it's only a matter of time before carp become a real problem but despite hooking a few and landing two, I was catching 3-4oz skimmers really well, along with the odd 8-10oz fish.
With about an hour to go, Exeter Mike turned up and conceded his nugget, I had a couple of small skimbobs while he was with me and then he headed off home. I had another decent 2lb skimmer and with five minutes to go, hooked a leaper that went round some crap on the far bank, I got it away from that but it jumped several more times, came off and transferred the hook to some vegetation! There was still time to go back over and lose another carp before the end.
I ended up with 37 fish (mainly skimmers with a few small roach) plus three carp and after really struggling for most of the match, I'd had a brilliant last two hours but if I hadn't basically copied what Adie was doing I wouldn't have had much at all. When I caught up with the scales, I checked the weigh board and Mark Leahy had 6lb 11oz of silvers on peg 4 and Glynn weighed a pound of silvers plus 41lb 3oz of carp (so that was another nugget). His boy McKenzie was next and had done well with 6lb 10oz of silvers and 19lb 13oz of carp from peg 9.
Dan P on peg 11 went into the overall lead with 48lb 6oz, Kevin O didn't weigh and then birthday boy Steve on 15 had a nice bag of silvers for 9lb and two nets of carp added 52lb to give him a total of 61lb. I was next and my carp weighed 10lb 12oz and then my silvers went 12lb 2oz, Adie had 38lb 9oz of carp and a lovely bag of skimmers for 16lb 6oz which put him into the silvers lead and his total of 54lb 15oz was second overall so far.
Jess on 24 had 6lb 6oz of silvers, Rob C weighed 13lb 15oz from 26 and Martin Heard on 28 had 35lb 15oz. Rob B weighed 7lb 11oz of silvers from peg 30 and Steve 'The Pole' had 23lb 2oz which included 3lb 10oz of skimmers on 32. Pete W chucked back before Jim Jenner had 49lb 8oz on peg 36, Rich S didn't weigh on 37 and Bill 'The Paste' had 4lb 1oz of silvers from 39.
Overall
1 – Steve Collins (Summerhayes) – 61lb
2 – Jim Jenner (Summerhayes) – 49lb 8oz
3 – Dan Pither (Summerhayes) – 48lb 6oz
Silvers
1 – Adie Bishop (Summerhayes) – 16lb 6oz
2 – Jamie Rich (Against Men and Fish) – 12lb 2oz
3 – Rob Birch (Summerhayes) – 7lb 11oz
I picked up £28 for second in the silvers plus five nuggets but if I'm honest, although I'd had another really nice day's fishing, I felt a little flat about it. If I hadn't been sat next to Adie and seen what he was doing, I'd have carried on trying to catch like I had the day before and probably ended up with a 3-4lb. That's what makes fishing so interesting and frustrating in equal measure, I felt I'd had a tidy match on the Saturday and went into Sunday rather blinkered and fished like a clampit!
I was really disappointed with myself Sunday evening but a few days on, I feel a bit better about it and with fishing, you never stop learning and no two days are the same.
Don't forget, Xmas is coming and you can bag yourself a bargain and buy yourself or your loved ones a present by using the exclusive discount code AgainstMenandFish10 to get 10% off when you shop online at Somerset Angling
Talking of stocking fillers, I still have copies of my book available or you can get them from eBay here or Amazon here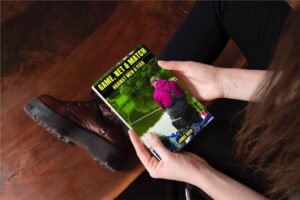 And if you could spare five minutes to leave a nice review on Amazon, it would be very much appreciated.
Next up – River Isle
Coming soon – Lots more match reports
Check Out – My last match (below)