After blanking in the last round, another bad result and my league would be over, with the river low and clear, it was going to be feast or famine so a good draw would be essential. As per usual we met at the bowling club and it seems to be getting busier every week with some Stoke and Chard members joining us before heading off to fish their matches. Jake turned up looking very worse for wear but it never seems to affect his fishing ability.
With everyone assembled, the 'Wheels of Doom' spun into action with most people hoping for a peg at Midelney. Once again, I managed to avoid the pegs with 'M' on them but was more than happy when H5 was my home for the day. In the last match it had done over 17lb and although the peg above is normally the better of the two, I should still have plenty of bites. Danny B was on H4 with Tony C above him and Parker 'The Pole' was the first peg below the bridge.
Elsewhere, Les had drawn 126 for the second match running and Rob C was back on 128 for another go. Derek G and John D had drawn the pegs either side of the bridge at Midelney and Russell was on 14 (The Tank Traps) but as he was in with the Midelney section for points he didn't really fancy it despite it framing in two of the previous three rounds!
I got to the river and it looked nice although very low and clear. Once again there weren't any fish topping which was a little concerning but I still thought a nice days fishing was on the cards. I set up a 1 gram bodied float to fish three sections to hand but an overhead branch would be a pain and a 0.6 gram DH16 to fish down the middle and across. Both had size 18 Guru Match Specials to 0.10mm. On the side tray I had red maggots, casters and Bait-Tech Super Seed hemp.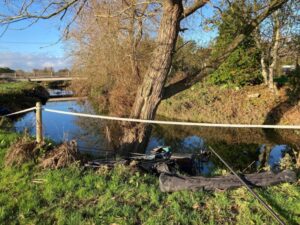 On the whistle I started with the heavier rig but a combination of not very much flow and a wicked, cold upstream wind, the float just sat there! I gave that up as a bad job after five minutes and picked up the lighter rig, that was better although an even bigger problem was now presenting itself – no bites! It wasn't just me though, Danny and Tony above weren't catching either although Parker 'The Pole' by the bridge was apparently getting one a bung.
I started to get that horrible deja vu feeling and given that mine and Danny's pegs in the last match had done 37lb between them, where were all those fish now? When Tony landed a chunky chublet followed by Danny catching a couple of tiny little chubbers, I renewed my efforts and tried across and going 14.5 metres down the peg but nothing and I just couldn't see me catching for the second river match on the trot.
An hour in and my keepnet contained nothing but water and my landing net was still dry (I'm starting to question whether I actually need to bring them anymore!) so I downed tools, picked up my flask and went for a walk. I didn't stop long at Danny or Tony who hadn't had anything else and plonked myself down behind Steve, he was bagging and couldn't get his rig in fast enough, there were fish topping and pike striking under the bridge on his left and there were obviously a lot of fish there. He was catching roach of all different sizes, some nice perch around 6-8oz along with the odd dace.
After two cups of coffee I headed back to my peg and received a call from Terry at Midelney, it was hard going there too although the pegs around the bridge were getting a few fish. The halfway point arrived with no change in my blanking status and my phone rang again, this time it was Russ and he said he was catching and probably had 6lb or so (I'm definitely not answering my phone whilst fishing anymore, it only depresses me).
I kept at it, thinking a few fish might feed as the light faded and it wouldn't take a lot for decent points or even some default section money (poor deluded fool!). Going into the last hour, Danny had a perch and Tony caught two roach and dropped one off but I sadly remained completely and utterly fishless. Andy Saunders turned up from Isle Brewers where it had also been dire as he said he wanted to see some fish caught, thankfully Steve could oblige him.
It didn't take me long to weigh in, Parker 'The Pole' had a lovely net of fish for 14lb 10oz and I really thought he'd win with that, Tony's three fish weighed 9oz, Danny had 8oz and I recorded my second blank of the series and my league is now done, finished, kaput. Back at the results it soon became apparent the river had fished generally pretty poorly.
The top weight at Isle Brewers was Les with just 1lb 9oz from 126, Rob had 7oz from 128 and nobody else there weighed in. Midelney had been a bit better with John D having 11lb 13oz from the first one below the bridge and Derek weighing 6lb 15oz the other side. Neil P had some quality roach for 5lb 2oz, Bish weighed 4lb 14oz but the weights dropped right off as you got further away from the bridge, Terry had 1lb 12oz, Jake 1oz and Frank didn't weigh. Thanks to Neil Purchase for the photos*
Russell was the last one back and had recorded another great weight from the Tank Traps with 17lb 2oz despite missing the keepnet with a pound chub, Dave P was on 15 but only had a few minnows and a gudgeon for 1oz. So it was a real case of feast or famine with six weights over 4lb 14oz and twelve anglers recording 1lb 12oz or less with ten of those having only ounces or not bothering the scales. Photo credit – Russell Hilton**
1 – Russell Hilton (Ilminster) – 17lb 2oz
2 – Steve Parker (Taunton) – 14lb 10oz
3 – John Dursley (Enterprise Angling) – 11lb 13oz
4 – Derek Goad (Stoke) – 6lb 15oz
Sections
A – Steve Bishop (Sharp MG) – 4lb 14oz
B – Les Braunton (Sharp MG) – 1lb 9oz
C – Rob Cox (Ilminster) – 7oz
D – Neil Purchase (Ilminster) – 5lb 2oz
After four matches (and dropping the worst result) there are now only two anglers left on a perfect score although with the river now starting to fish hard, unless we get some rain or milder weather, a couple of bad results could see the top ten change dramatically,
Steve Parker – 3 pts (dropping 3)
Les Braunton – 3 pts (dropping 3)
Rob Cox  – 4 pts (dropping 2)
Jake Woodard – 4 pts (dropping 20)
Russell Hilton – 5 pts (dropping 3)
Terry Morgan – 6 pts (dropping 5)
Phil Denslow – 6 pts (dropping 20)
Ian Burton – 6 pts (dropping 20)
Neil Purchase – 7 pts (dropping 3)
Steve Bishop – 7 pts (dropping 4)
As in previous years, here's a list of the framing pegs (top three) from all the river matches so far,
14 – 3 times (won 2)
126 – 2 times (won 1)
15 – 2 times
M4 – 1 time (won 1)
M5 – 1 time (won 1)
MS1 – 1 time
128 – 1 time
H2 – 1 time
H3 – 1 time
H3a – 1 time
H4 – 1 time
H5 – 1 time
*Note, the pegs at Midelney/Hambridge aren't permanently pegged so numbers can vary.
Looking at the pegs that have scored the all important one point, 126 has won the section every round so far, closely followed by 14 which has done the business three out of four (including two overall wins and a second) and 129a has got two one pointers.
Don't forget, Xmas is coming and you can bag yourself a bargain and buy yourself or your loved ones a present by using the exclusive discount code AgainstMenandFish10 to get 10% off when you shop online at Somerset Angling
Talking of stocking fillers, I still have copies of my book available or you can get them from eBay here or Amazon here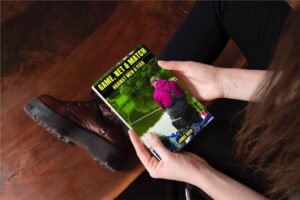 And if you could spare five minutes to leave a nice review on Amazon, it would be very much appreciated.
Next up – Revels
Coming soon – Lots more match reports
Check Out – My last match (below)