After blanking on the river I was hoping for a few bites today but with another wicked frost, I knew it would probably be tough going. Hopefully I'd get an idea of what to expect in the Xmas match on Sunday. I met Steve 'The Pole' for breakfast and then we made our way to the fishery. Despite the cold weather, there was still a decent turnout of 13 anglers including John B who hadn't fished it since the match where he'd got carped out on peg 10 and had an early bath.
Main and Canal lakes were in today and as per usual I was hoping to avoid the carpy pegs on Main (12-16) and draw a nice silvers peg like 2 or 20, failing that I wouldn't mind a go on Canal for the first time. John was first on the list and got peg 21 which he was happy with, then it was my turn and peg 10 was called out which wouldn't have been my first choice, Steve was on peg 6 behind me. Talking to John we reckoned on 5lb being a good silvers weight today.
My swim actually looked really good, it was wide with quite a few roach topping towards the far side and I really fancied it. I set up two 0.3 gram Guru AR floats, one with a size 18 Guru Match Special to 0.10mm and the other a 20 to 0.08mm. On the side tray I had casters, live and dead reds plus some disco pinkies and Bait-Tech Special G Dark and the Juice groundbait.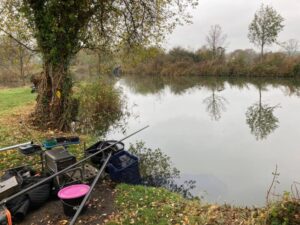 Plumbing up it was only around two foot deep and didn't really vary much from the end of my nets out to 11.5 metres. I was ready with ten minutes to spare to had a quick chat with Steve while drinking a cup of his coffee – cheers mate. We decided to have a pound on silvers and one on carp today.
On the whistle I cupped in a little nugget of groundbait on a 10 metre line angled to the left and then a bigger ball at the same distance but to the right. I'd also plumbed up at 11.5 metres to give me somewhere else to go if they backed off. I started with single pinkie over the negatively fed line but no indications which didn't surprise me as in my last match here, it took an hour and a quarter to get my first bite.
After half an hour I was still fishless but I'd noticed Steve swing in a couple of small perch from his inside line, I had some reeds on my left and kept trying it but no bites there either. Finally after 45 mins I had a bite from the left hand 10 metre line but of course missed it. Next chuck I had a small perch to get off the mark and when I had a gudgeon straight after, I thought I might start to catch a few but it was short lived. Trying the positive line resulted in a missed bite but that was it.
I could see Bob Crisp over on peg 12 and he hadn't caught yet so it was fishing hard as expected. There were still some decent fish topping across and with Steve still catching odd perch, I needed to do something else. Going to 14.5 metres I had a bite first put in from a 2oz perch and then started getting regular indications from waspy perch and gudgeon. It was hard work though as I was having to break down twice with the pond behind me and the fish were tiny.
I did catch a bonus half ounce rudd and also hooked and landed my first carp of around 4lb but it wasn't really happening. In a bid to try and improve the stamp I tried caster but no bites and double maggot just resulted in more small fish. With about 90 mins to go, Bob had a couple of roach and then hooked and landed a nice chub. I kept trying the shorter lines without much success and struggled my way to 32 fish (mostly perch and gudgeon with one rudd and a tiny roach) plus that single carp and knew I hadn't done any good again.
Steve had finished up with 22 fish but crucially no carp so at least I was a pound up. When the scales arrived, Alan Winsper was leading with 15lb 13oz from peg 68 on Canal and the top silvers so far was Terry Dell with 4lb 15oz from peg 70. Steve Crowford on peg 2 had 14lb 1oz of carp and then Neil Saxby on 4 weighed 3lb 5oz of silvers which included a nice perch and a chub. Steve P was next and weighed 13oz of silvers so it was going to be close for the silvers nugget.
Terry Lenny on peg 8 went into the lead with 20lb 12oz and then it was my turn, my lone carp was 4lb 4oz and my silvers added a massive 1lb 3oz which was enough to take the double nugget from Steve. Bob had landed a big carp on the whip along with a smaller one plus his chub assisted 1lb 10oz of silvers to give him a total of 14lb 15oz. Dave Stanbridge also had 1lb 10oz of silvers and then Adrian Hayes on 20 had some decent skimmers for 4lb 10oz and John had a chub and some smaller fish for 2lb 4oz from 21.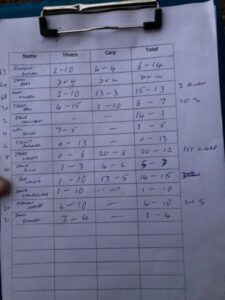 Overall
1 – Terry Lenny (Revels) – 20lb 12oz
2 – Alan Winsper (Revels) – 15lb 13oz
Silvers
1 – Terry Dell (Revels) – 4lb 15oz
2 – Adrian Hayes (Revels) – 4lb 10oz
So even though it had been hard going, it was still a really close match with just ounces between the top two silvers weights and one more carp would have made the difference overall as there were several 14-15lb weights.
Don't forget, Xmas is coming and you can bag yourself a bargain and buy yourself or your loved ones a present by using the exclusive discount code AgainstMenandFish10 to get 10% off when you shop online at Somerset Angling
Talking of stocking fillers, I still have copies of my book available or you can get them from eBay here or Amazon here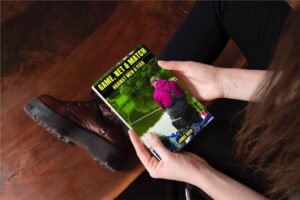 And if you could spare five minutes to leave a nice review on Amazon, it would be very much appreciated.
Next up – Revels
Coming soon – Lots more match reports
Check Out – My last match (below)