Some more sad news this week when I heard Adrian Green had passed away after a long battle with cancer. I hadn't seen Adrian for a long time, in fact the last time I saw him was at the first memorial match for his great friend Barney Crockett. The pair of them were massive influences on me when I started fishing, Adrian worked with my dad at Clarks factory and when dad said I was interested in fishing, he took me under his wing. On Sundays he would pick me up and I would sit behind him as he fished matches on the River Isle.
Later I worked in their fishing shop, A & R Tackle in Ilminster and they took me all over the place fishing, great times and I learnt so much. Rest in peace mate.
Onto this weeks match, we were well beaten by Stoke in the away leg but could we get our revenge with the home advantage? The two clubs have been discussing some different ways of trying to make it a fairer match, obviously if it's done on the combined weights of each team, it normally comes down to the team with the better pegs or a single angler could win it for his team, which isn't ideal. The suggestion of a match play style scoring system is interesting and one I think would work really well although we're still discussing the finer details. It would make for some great banter between the teams and the individual match ups with possible side bets on the outcome. We could also use this scoring system over the two legs so the victorious team keeps the shield for a year.
So for this one, it would be decided on weight but we would also trial the match play system alongside to see how it worked. Terry tried to make it as fair as possible by pairing up similar pegs and then we would draw to see who was fishing against who. There was a fantastic turnout with both clubs fielding eleven anglers. We were well looked after by Charlotte and Drew at the bowling club and once everyone had arrived it was time for the draw.
Terry spun his 'Wheel of Fortune' and the first pairing of pegs was 128 v M4, the first name out the hat was me (on 128) and I was up against Russ 'The Hitman' Hilton. I wasn't overjoyed with my peg, it had only done 3lb 1oz in the last match and although it can be a match winner, it can also be hit or miss in the early matches. Elsewhere Bish (fishing for Ilminster) had drawn 126 and he was up against Rob Wylde on M5, Parker 'The Pole' was well happy with 120 which was paired with Andy Saunders on H3 and 'The Toast' was on M2 against Chris Norton on M3.
After all the pegs and pairs had been allocated, we headed to our respective sections, the river looked lovely but was back to being low and clear. I got to my peg and as I began setting up there were quite a few fish topping right at the back of the swim and I just knew I was going to catch today.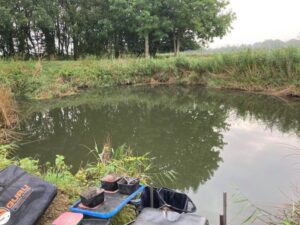 Rigs for today were a 1 gram bodied float for the deep water in front and for what little flow was coming into the bend on the right and a 0.6 gram DH16 for fishing shallow (but I never picked this rig up all day). Both had size 18 Guru Match Specials to 0.10mm. On the side tray I had red maggots, casters and Bait-Tech Super Seed hemp.
I was ready in plenty of time so walked down to see Dave Phillips (with his new Peaky Blinders haircut) and Dave Pope on pegs 129a and 129, both swims looked really nice but there weren't any fish moving. With a couple of minutes to go I went back to my peg and there were still loads of fish topping. The start time arrived and I baited up with single red maggot, shipped out to six metres, fed some casters and hemp, the rig settled and the float went straight under and a chunky roach was swung to hand.
Next put in saw a repeat performance and it was a bite a chuck, mainly from roach along with the odd gudgeon. I tried fishing three sections to hand and had a few fish but it wasn't as prolific so I went back to six metres. After an hour I had 35 fish for 4lb plus, the second sixty minutes was even better and I added another 41 fish including some net roach and I probably already had 10lb. I did snag up on something several times and lost a few hooklengths so shallowed up six inches and started catching some nice chublets in amongst the roach.
Going into hour three I was still catching well with some lovely roach up to 12oz but it had slowed up a little bit. Dave Pope walked up from 129 and said both him and the other Dave P were really struggling and had less than a pound each. I had a couple of small roach while he was there but bites were starting to dwindle although as I was still catching in spells I stuck at it for now.
No phone calls from Russ so I knew he must be catching, I was still getting regular bites but had bumped a few and dropped off a couple of roach and a chublet. I thought if I could get to 160 fish, it would give me 20lb (averaging 2oz apiece) but my catch rate had slowed up after the first two hours and I thought I was going to fall short. Then Peaky Blinders Dave turned up and said things hadn't improved for him but Dave P (too many Daves!) was now getting odd fish.
With around an hour to go and bites slowing right up I added another section but that didn't help so I went to 11.5 metres on the right in the flow and started getting odd fish (dace, chublets and roach). I tried caster and had a nice run of quality roach but was missing a few bites, double maggot was good and I stayed on that to the end of the match and caught really well to finish with 161 fish (not including some minnows and tiny fish I hadn't counted).
After packing up, I took my kit back to the car and gave Neil P a hand to weigh in, he'd caught some quality fish on 126a to weigh 10lb 3oz. Bish below him on Barney's Bend caught all day and had a lovely net of fish for 13lb 13oz, both were fishing for Ilminster so we had two brilliant weights on the board already. Jenny fishing for Stoke had done well on 127 to weigh 3lb 2oz.
I was next and the scales bottomed out so had to do two weighs, the first went 15lb 1oz and the rest added another 8lb 1oz to give me 23lb 2oz, a fantastic days fishing. Dave P (Ilminster) had really struggled for 5oz and then Dave P (Stoke) had fared a bit better with 2lb 4oz although he'd lost a chub right at the end.
Back at the cars and the pegs upstream hadn't fished as well with several anglers suffering pike trouble. Bagger Burton (Ilminster) was top there with 7lb 10oz from 125 followed by Nick Payne (Ilminster) with 4lb 4oz from 124a, The Grand Wizard (Stoke) on 124 with 3lb 12oz, Digger (Ilminster) had 3lb on 122, Clifford (Stoke) on 125a weighed 2lb 13oz and Derek G (Stoke) had 1lb 14oz on 123. There were two pegs at Redbridge, Parker 'The Pole' (Ilminster) weighed 8lb 7oz from 120 and Danny B (Stoke) had 1lb 4oz from 112.
We all met at Coxes for the results and as the other two sections got back from Midelney and Hambridge, they'd fished brilliantly, Russ 'The Hitman' Hilton (Stoke) had a fantastic 26lb 11oz from M4 which was top on the day. Les Braunton (Ilminster) and Andy Saunders (Stoke) had both weighed 14lb 10oz from H2 and H3 respectively, Chris Norton (Stoke) had 13lb 7oz from M3 and Rob Wylde (Stoke) weighed 11lb 10oz from M5. Thank to Terry Morgan*, Andy Saunders** and Chris Norton*** for the photos.
Terry 'The Toast' (Ilminster) had 11lb 8oz from M2, Hurf (Ilminster) weighed 9lb 15oz on M1 and Dave Hilton (Stoke) had 8lb 11oz from H1.
With all the weights added up over the two legs, we came out victorious by just 6lb 1oz which is really close. Using the match play scoring, Ilminster would have won 7-4 so that could be interesting next year.
1 – Russell Hilton (Stoke AA) – 26lb 11oz
2 – Jamie Rich (Ilminster AA/Against Men and Fish) – 23lb 2oz
3 – Andy Saunders (Stoke AA/Sharp) – 14lb 10oz
3 – Les Braunton (Ilminster AA/Sharp) – 14lb 10oz
Sections
A – Steve Parker (Ilminster AA) – 8lb 7oz
B – Steve Bishop (Ilminster AA/Sharp) – 13lb 13oz
C – Dave Hilton (Stoke AA) – 8lb 11oz
D – Chris Norton (Stoke AA) – 13lb 7oz
Team result (after two legs)
Ilminster AA (136lb 7oz) – Stoke AA (130lb 6oz)
What a fantastic match! Over half the field weighed more than 8lb and there were nine double figure weights with two exceeding 20lb, brilliant fishing. Of course there were some tougher pegs and areas which is always to be expected on natural venues but with 22 anglers weighing in nearly 200lb, that's pretty impressive.
A massive thanks must go to Terry who has put in an awful lot of work to try and make this match as good as it can be. A big shout out to anyone who has been down helping to get the swims ready and thanks also to Charlotte and Drew at the bowling club who ensure we get the day off to a great start. Last and definitely not least, a huge round of applause to Stoke AA who it's always an absolute pleasure to fish with and against, I think it's brilliant that our two clubs get on so well and long may it last.
Don't forget you can still bag yourself a bargain by using the exclusive discount code AgainstMenandFish10 to get 10% off when you shop online at Somerset Angling
Lastly if you haven't checked out my book yet, I still have copies available or you can get them from eBay here or Amazon here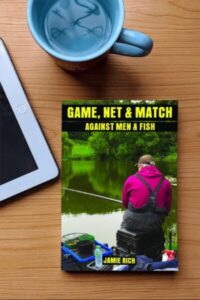 And if you could spare five minutes to leave a review on Amazon, it would be very much appreciated.
Next up – Revels
Coming soon – Lots more match reports
Check Out – My last match (below)