January/February 2021

Another lockdown meant no match fishing yet again and 2021 carried on where 2020 left off!
Highlights – None
Lowlights – Covid 19
March 2021

I popped out to Dillington with Steve P for a pleasure session hoping to catch some skimmers on the feeder, a 3lb chub after twenty minutes gave me hope we might get a few but after six hours, I'd only added a few roach.
April 2021
Match fishing finally resumed and my first match was at Summerhayes on Good Friday, Pete drew me peg 4 on 'Cyanide Straight' (thanks mate!) and I've really struggled for 6lb 4oz of skimmers. Jamie Parkhouse had the top weight with 95lb from peg 35 and Roy Hughes topped the silvers with 13lb from peg 28. Rob Birch landed a 23lb 7oz carp on his silvers rig with yellow hydro!
Things didn't improve over the next two matches either, Sunday at Dillington I was on peg 13 which is a decent peg and got off to a good start catching 43 roach in two hours (although I did have loads come off!) but only ended up with 84 fish for 5lb 8oz and nowhere. Karl Aplin won with a brilliant 19lb 9oz of chub from peg 23.
On the Monday I was at Summerhayes on Sellicks which is my favourite lake but Pete drew me peg 15 at the top and I've struggled for 5lb 8oz again and also had several decent fish come off!
The following Sunday I fished another charity match at Hebditch's Pond with Stoke AA, I was drawn a decent peg and had an enjoyable day catching five decent carp, pasties, skimmers, roach and rudd for 25lb 15oz which was the top weight on the day.
Another charity match but this time on a new venue for me, Bird's Quarry near Somerton, it looked gorgeous but was hard going for most, Chris Norton had the top weight with 10lb 7oz, he caught a lovely carp of 8lb 6oz early and then added some small fish. I had a few roach and perch (and lost a big fish on my light rig) to weigh 15oz and win the silvers by triple default!
Then it was back on Longs at Summerhayes for a Stoke match where I was drawn peg 20 and really struggled, after nearly four hours, I only had a few tiny skimmers for 4oz and limped home with 17lb odd which was no good. Dave White won from peg 39 with 76lb of carp.
Highlights – Winning at Harry's
Lowlights – Struggling everywhere else!
May 2021
The first match of May was another charity match at Hebditch's pond, I was hoping for a draw on the near bank but Sam let me down again when he pulled out peg 11 for me. I had a few pasties early on corn before switching to maggot and having a lovely day catching 4 carp, 26 pasties, 9 skimmers plus roach and rudd for 29lb 4oz and third place. Aaron Drayton had the top weight with 46lb from peg 4 and Andy Burns was second from peg 8 with 33lb. We raised another £120 for the charity pot too.
The next day we were at Summerhayes and the weather was absolutely awful, peg 36 was my home for the day but I got carped out, lost loads of hooklengths and had to stop fishing an hour before the end when all my bait boxes blew in the pond. I weighed 16lb 14oz for nowhere and lost 5-2 on the side bets. The Toast had a worse day than me when most of his pole went in the lake, he did manage to get it back after the match and provided the entertainment using the boat!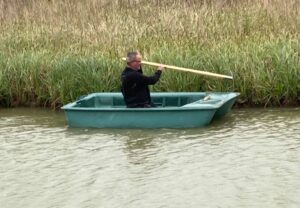 The following weekend it was my birthday on the Sunday (35 again!) and we were at Dillington for round 1 of the Enterprise Angling Summer League. Although it's fished quite hard, the leading weights were quite good with a fair few chub showing although the skimmers were still very conspicuous by their absence. I was on peg 14 and had 104 fish, mainly roach, for 7lb 4oz and third place behind Chris Haines with 8lb and Baz Morgan who won with 9lb 12oz from peg 10.
Something a bit different for the next match as I'd entered the Angling Trust Pairs Qualifier on the Taunton and Bridgy canal with Russ Hilton as my partner, I was at Charlton and caught a few fish on punch before trying to catch a tench on worm and it hasn't happened, Russ was second in his section but my lowly 725g only beat two in my section and I'd let him down badly. Richard Chave and Lee Trivett who won the final last year, qualified with a brilliant 3 point score and will get to defend their title again.
Round two of the summer league was next and I was happy with peg 17, until I got there and it was there was that horrible white fluff everywhere, I still had plenty of bites catching 117 fish for 7lb 15oz which was joint third with Ian Burton behind Neil Purchase with 8lb 6oz and Baz who made it two wins out of two with 11lb 2oz from peg 4.
A rare midweek match at Todber for the Club Angler of the Year qualifier saw me on a decent peg, number 45 on Hill View but my inexperience at this style of fishing showed and I weighed 91lb 14oz which was a long way off the 188lb needed to qualify by Stu White on the next peg!
Then a blast from the past when I fished a match on Campbell at the Viaduct which I haven't fished for years, I was drawn peg 126 and had a lovely day catching skimmers to weigh 33lb 13oz plus two carp for 21lb 3oz. Lee Tucker had the best silvers weight with 41lb and Andy Downton was top on the day with 196lb from peg 135.
Highlights – Fishing lots of different venues
Lowlights – Letting Russ down
June 2021
First match of the month was at Thorney Lakes, a venue I'd only ever pleasure fished a long time ago, I started getting bites on the feeder from the off but had several small carp come off, I landed a couple and had a nice 4lb bream. Bites slowed up so I fished for silvers and had a few small skimmers and roach to add to my bream and my 5lb 14oz was enough to win the silvers pool. Matt Adams had the top weight with some nice carp for 27lb.
Then for something completely out of my comfort zone, my first Fish'O'Mania qualifier at Todber Manor, there were big names everywhere and I was wondering what I'd let myself in for, I was on peg 52 on Hill View and had a steady day to weigh 100lb 14oz but was an awfully long way behind John Harvey who qualified from peg 90 on Homeground with a staggering 322lb!
An impromptu charity match at Hebditch's pond, saw some great weights caught in lovely weather and great company, Terry The Toast had the top weight on the day with a brilliant 69lb 10oz of carp from peg, I managed second with 55lb 13oz, mainly caught shallow and Chris White was third with 52lb 13oz from peg 5.
The following Saturday I fished the Stoke evening match on the Parrett, the weather was atrocious but I had a good first and last hour catching some nice roach plus rudd, dace, gudgeon and minnows for 3lb 11oz for second spot behind Terry who had the top weight with 3lb 15oz.
With no matches on Sunday, I hastily arranged one at Covey and it was a cracking day, I drew peg 8 and tried fishing for silvers but it was a bite a chuck from F1's and I ended up weighing 50lb 8oz including 5lb 14oz of silvers (roach, rudd, chub, skimmers and a barbel) which was second in the silvers by default. Allan Oram had the top weight with a brilliant 92lb 11oz.
The last match of the month was at The Sedges on the canal lake, I've drawn halfway up the far side and really struggled for 12lb 5oz, the end by the car park dominated with Andy Saunders winning with an impressive 54lb 15oz.
Highlights – Getting back on the Parrett
Lowlights – A malfunctioning drawing arm!
July 2021
I was really looking forward to fishing Avalon again and drew peg 37 on the other bank, I got off to a great start with a 10lb ghost carp and a 3lb bream but then struggled and limped home with 21lb 9oz. Andy Downton won with 100lb of carp and Vic Bush had a lovely net of skimmers for 35lb 10oz.
The next Stoke match on the Parrett was on the Kingsbury stretch and I was really looking forward to it, awake before my alarm, I was like a kid at Xmas! I drew a nice looking swim and got off to a great start catching 20 fish (gudgeon, roach, rudd and small chublets) for around a pound or so in the first hour but then the bites just stopped. Over the next four hours I only added another 9 small fish plus a few minnows and my 1lb 8oz was well down on the day. Russell Hilton won on the day with a nice net of roach and gudgeon for 5lb 3oz.
Back at Dillington and it was a scorching hot day but weights were reasonable, I got off to a decent start with three skimmers plus roach and perch in the first couple of hours for 4lb or so but then couldn't buy a bite. A foulhooked pound plus chub at the death was handy and I weighed 5lb 14oz for third place behind Bruce Hunt with 7lb 4oz and Baz Morgan who continues to dominate with 10lb 14oz from peg 5.
With a week off work, a few of us had another charity match at Harry's and I got drawn the flier peg 4 for only the second time ever, I had a lovely days fishing catching over a 100 carp of all sizes for 95lb 8oz but only finished third behind Chris Norton with a brilliant 124lb and Chris White with an impressive 104lb.
Then it was back on the Parrett at Kingsbury and I had a really enjoyable match catching 95 fish (roach, gudgeon, rudd, chublets and ruffe) for 4lb 13oz and third spot behind Russ Hilton with 5lb 6oz and Terry 'The Toast' who had a lovely net of quality fish to win with 7lb 5oz.
For the last match of the month, I fished the Clive Cunningham memorial match at Summerhayes which was on a Saturday. We were all on Sellicks and it was silvers only, I've really struggled for two skimmers and a roach for 11oz (and I hooked 22 carp!). Rob Birch won with a nice net of skimmers weighing 10lb 2oz from peg 2.
Highlights – A lovely day on the Parrett
Lowlights – A nightmare on the Parrett
August 2021
Following on from my disappointing match at Summerhayes the day before, I was at Dillington on the Sunday and on a good peg when Leighton drew me 18. I had a great start catching a decent skimmer and two little carp but then struggled and losing a big fish didn't help. My 5lb 11oz was only good enough for a section win, John Dursley won with a nice net of skimmers weighing 11lb 7oz from peg 6.
As always I was really looking forward to the next Stoke match on the Parrett and was over the moon when I pulled out peg 32 which I've always wanted to fish. The river has fished quite hard and two 'get out of jail' chub helped me to 3lb 9oz and second place behind Cliff Gaylard who had 4lb 7oz and just in front of Russell 'The Hitman' Hilton who weighed 3lb 8oz.
Round seven of the Enterprise Angling Summer League saw me on peg 10 at Dillington and I've had a really enjoyable match catching roach and perch on the pole before switching to the feeder and getting some nice skimmers. I weighed 9lb 3oz behind Bruce Hunt with 9lb 9oz and Baz who further cemented his lead at the summit of the league.
For the penultimate Stoke river match, I needed a good result to keep me in with a shout of the Memorial Shield but I didn't get it. Drawing peg 23 in the second field was a good start but after catching a few gudgeon and a solitary little chublet in the first hour, that was where my match ended and my 8oz was last in the match.
With a long weekend, I booked into three matches in as many days, first up was Dillington, I drew peg 18 which I was really happy with but struggled for 4lb 1oz. Neil Purchase won on the day with a brilliant 17lb 14oz of chub from peg 1 and Baz Morgan secured the league title. Day two was at Summerhayes and I finally ended my long barren run with 12lb 12oz of decent skimmers from peg 19 for third place and £20. Roy Hughes beat me by 2oz for second place and Glynn Wickham had the top weight with 14lb 12oz.
For day three I went to Revels after Baz had been telling me how much I'd love it and he was right! I drew a great peg, number 2 on Main Lake and had just a lovely day catching 14lb 4oz which consisted of a barbel, two chub along with lots of quality skimmers, roach and perch. I was third and picked up £20 but this time missed out on second by 6oz behind John Barker with Alan Winsper winning with over 19lb.
Highlights – Revels, just a lovely day
Lowlights – Finishing last on the Parrett
September 2021
The Stoke v Ilminster inter-club match on the Parrett saw me drawn at Kingsbury and after a steady start I struggled for 2lb 7oz. Russell Hilton (Stoke) had the top weight with an excellent 10lb 5oz of chub and the host club comfortably beat us on the day.
The next match saw a rather depleted turnout at Dillington for the final round of the Enterprise Angling Summer League. I got drawn peg 21 and caught well for the first two hours including some chunky 8-10oz perch to finish with 78 fish for 7lb 5oz which was enough to win on the day. It was a very close match with Steve 'The Pole' in second place with 6lb 10oz and Rob Cox third with 6lb 4oz.
I actually ended up second in the league just ahead of John Dursley but miles behind Baz Morgan who had the league sown up with a couple of matches to go.
Then something a little different as I headed down to the River Stour for a match in aid of the air ambulance, a brilliantly organised match and a lovely looking river. I had a really nice swim and caught well for two hours, including some cracking roach before it died. I ended up with 4lb 13oz which won the section and £50, well chuffed with that for my first visit.
It was Bob Hammond's Memorial Match at Dillington the following day and it's a match I'd love to win. Being rod only, it's makes a nice change too, I fished the waggler all day and caught 82 roach, rudd and perch for 6lb 3oz and a section win. Steve Bishop won with a lovely net of quality fish (chub, skimmers and big roach) weighing 12lb 12oz from peg 1. We raised a tidy sum for charity too.
After really enjoying my visit to Revels, I booked into the Tuesday open and was on Dead Tree lake this time, another really enjoyable day saw me finish third again, this time with 10lb 1oz of mainly skimmers but I was just 4oz off second and 11oz off winning, a close match!
The next Stoke match was at Trinity Waters and I drew on the far bank and had a good first half of the match catching some nice skimmers but then I've struggled and only added a a couple of pounds of roach for 17lb 9oz. Steve Chant won with an excellent 114lb of carp.
Highlights – The silvers fishing at Revels
Lowlights – Missing out by ounces several times
October 2021
First match of the month saw the start of our winter league on the Isle, the river was up and coloured and I got drawn 124 at Isle Brewers. I've had a nice day with lots of bites without ever really bagging to weigh 7lb 1oz for a default section win. Digger Denslow was top weight on the day with 12lb 6oz from Barney's Bend.
Then it was another visit to Revels and I was back on Main Lake, I've struggled to catch silvers but had some lumpy accidental carp with one around 15lb (on 0.08mm bottom) to win the match with 33lb 5oz!
The next match saw Ilminster host Stoke and we got our revenge beating them on the day and reclaiming the shield. I had a lovely day on peg 128 catching loads of roach, chublets, dace and gudgeon for 23lb 2oz and second place behind Russ with a brilliant 26lb 11oz from Midelney. The river fished it's socks off with lots of double figure weights from different sections.
I couldn't resist having another go at Revels so booked a day off work, the weather was rubbish but I had another really enjoyable day catching 10lb 8oz of silvers for second place just 9oz behind Nigel Bartlett. Four carp added 22lb 11oz and my total of 33lb 3oz was actually third overall.
Round two of the winter league and I drew a great peg in the shape of 125 but it hasn't really hit top form yet and after a great start I struggled but a bonus 2lb chub helped me sneak into the last frame place with 10lb 6oz. Terry won with a fantastic 26lb 5oz from peg 14.
The last match of the month was a Stoke pairs match, with the river flooded it was switched to Thorney Lakes and although expected to be a hard match, I was quite looking forward to it. I drew peg 8 on the island for me and my partner Terry 'The Toast' was opposite me on peg 1. I've had a lovely day catching four big bream, a skimmer plus some roach (and eight carp which didn't count) for 15lb 6oz which won the section and was top weight on the day. Terry was third in his section and we tied with Chris W and Clifford G on points but beat them on weight.
Highlights – Picking up every match and winning the pairs
Lowlights – None
November 2021
Back to Revels for one of the Tuesday opens but I drew one of the noted carp pegs on Main Lake and struggled, I did have some accidental carp and my 24lb 7oz was actually the best weight on the lake but the top three all came from Canal Lake.
The following day I fished another charity match at Hebditch's and had a lovely day catching carp, skimmers and roach for 57lb 6oz and second place behind Chanter with 88lb 1oz from peg 4.
Round three of the winter league and I got drawn the third peg upstream at Hambridge and it was a bit of a shocker, basically I blanked although I did lose a small fish late on but it wouldn't have done me any good. The river fished brilliantly in some areas with 27lb winning and nearly 18lb required to frame.
I had a double header at Summerhayes the following weekend, it was Charlie Barnes Memorial Match on Saturday and I drew a nice silvers peg, 31 on the track side and had a lovely day to win with 14lb 12oz. Sunday I was on peg 17 and after a disastrous first half of the match where I only had a couple of pounds and was getting battered by Adie Bishop on peg 19, he put me right and I caught really well for two hours and finished second in the silvers with 12lb 2oz behind Adie with a brilliant 16lb 6oz.
Back on the Isle and H5 below Hambridge, it had done 17lb+ in the previous match and I was hoping for a nice day. Well I blanked again and that was my league over, Danny Blunn was above me (which had weighed 20lb in the last round) and had 8oz! Russell Hilton won again, this time with over 17lb from the Tank Traps.
I had another Tuesday trip to Revels and was on peg 10 but it was really cold and I struggled for a carp of 4lb 4oz and 1lb 3oz of silvers.
On the Sunday, I was back for the Revels Xmas Match and with some of the lakes partially frozen, it was always going to be hard for most. I got drawn a flier in the shape of peg 8 on Main lake and caught four carp (and a tiny rudd) dobbing bread for 24lb 3oz which was the top weight on the day.
Highlights – Winning the Charlie Barnes memorial and the Xmas Match at Revels
Lowlights – Blanking (twice!) on the Isle
December 2021
First match of the month was the Chris Patten Xmas Fayre, a match I always enjoy and really wanted to do well in but any chance was over when I ended up on peg 128. Five and half hours later, my 42 minnows and 2 gudgeon weighed a massive 5oz! Jake Woodard was a worthy and popular winner with 11lb 12oz from the Tank Traps.
My third Xmas Match was with Stoke at Ash Ponds, a new venue for me and I had a lovely day catching 11 carp, a tench plus skimmers and roach for 62lb 9oz which was second on the lake behind Chanter with 81lb. The anglers all enjoyed a lovely buffet back at the Bell in Ash followed by the prize giving. A very well organised match and I loved every minute of it.
The last outing before Xmas was a pairs match in memory of Pete Lonton, peg 18 on the pond for me was alright but M4 for Terry was a disaster as it blanked in the last match. I had 5lb 9oz of roach and perch for a lowly third in section and Mr Toast was last in his with 3oz, needless to say we didn't win!
Chris Parr won his section on the river with 7lb 11oz of roach, gudgeon and minnows from peg 125 and Ian 'Bagger' Burton was second with 6lb 11oz on the pond and they took the title with three points.
Then I fished a couple of matches at Revels to end the year, I drew on Canal Lake for the first time and struggled for 8lb 12oz. I tried catching silvers and failed miserably and should have dobbed bread across.
My last match of 2021 was the silvers open and I drew peg 46 on Dead Tree lake, the weather was awful but I really enjoyed the day catching perch, skimmers, roach and gudgeon for 6lb 3oz which was just out of the frame in a really close match. John Barker just pipped me yet again with 6lb 4oz and then 6lb 7oz was third, Marco Smith won with 8lb 9oz from Middle lake.
Highlights – The silvers fishing at Revels
Lowlights – Struggling on the Isle
Summary
2021 got underway and we were in lockdown again. When we could finally get back to fishing matches, I struggled in the first few before winning at Hebditch's. I loved the Stoke matches at Kingsbury and Parrett Works again although I did struggle in a couple and didn't manage to win one last year. There were still some really nice wins at Thorney Lakes, Summerhayes, Dillington and Revels.
Our Winter League got underway on the Isle and I had a couple of decent results before two blanks ended any chance of winning the league.
My yearly winnings total was £1218 which was still pretty good considering we couldn't match fish for the first three months of the year. I didn't manage to get to Thailand again, hopefully that might be possible this year, we'll have to see. No new species or personal bests either but I did fish some new venues and along with the Club Angler of the Year at Todber, I also entered my first ever Fish 'O' Mania Qualifier and the Angling Trust Pairs on the T & B canal. Despite struggling in both I really enjoyed doing something out of my comfort zone.
I also fished the Air Ambulance match on the River Stour for the first time and really enjoyed it, winning my section with 4lb 13oz of roach. Baz had been telling me I should fish Revels as I would love it and when I did eventually go, he was right! I've absolutely loved it and can't get enough of the place.
New Venues
Bird's Quarry
River Stour
Ash Ponds
Revisited
Taunton and Bridgwater Canal
The Viaduct
Thorney Lakes
Revels Fishery
The blog continues to do well and the feedback and comments I've received have been amazing, if you like what I do, please get in touch or if there's things I could do better please let me know, I'm always open to constructive criticism. I would still love to feature more guest blogs and collaborations, if you're interested, contact me using the form in the sidebar.
The number of hits sailed past 5 million and currently stands at 5,513,176 which is just amazing. I'm very lucky that the blog is supported by Peejay Tackle and I'm immensely proud to be associated with Bait-Tech, after adding some more great products to their portfolio, I'm really excited to see their new releases for 2022.
So here are the stats (with how they compare to last year in brackets),
Matches won – 6 (-3)
Silvers wins – 2 (+1)
Winnings – £1218 (–£161)
Golden peg wins – 0
Matches fished – 61
Number of pick ups – 34 (+6)
Success rate – 56%
New pb match weight
Hebditch's Pond – 95lb 8oz