I was back at Revels for the silvers open and once again the weather was bloody horrible but there was still a great turnout of 15 anglers including Trevor Holmes who I hadn't seen for years. Several lakes were being used and when the draw commenced, John Barker got peg 20 on Main Lake which is a great silvers peg although its gone off the boil in recent matches. When my name was called out, number 48 on Dead Tree (where John had won the silvers on Tuesday) was still in the bag. I came close when Jason pulled out peg 46, it's not used that often but can be quite good.
When I got to my swim, it looked nice with lots of options but the bad news was that the wind and rain would be straight in my chops all match! Marco Smith was behind me on peg 54 on Middle Lake so some good banter was guaranteed. He was down the bank and would have the worst of the wind over his back.
I set up the usual 0.3 gram Guru AR floats to fish two lines, one in the open water in front at 10 metres and the other at same distance angled to my right just before the lake narrows up the arm. It was pretty much the same depth all over the swim at around two foot. On the side tray I had casters, live and dead reds, disco pinkies and Bait-Tech Special G Dark and the Juice groundbait.
On the whistle, I cupped in half a pot of loose groundbait and a few pinkies straight out and then a full pot containing some casters as well to the right. I started with double pinkie out in front and toss potting in a few. The fine, misty rain was already being a pain and it's days like this I wish I had windscreen wipers on my specs!
After a few minutes, a positive bite resulted in a chunky 2oz perch, another followed next chuck and then a smaller one so I tried double dead reds to see if could catch a better stamp. Well it sort of worked as the next bite resulted in loads of yellow hydro out and a carp of a pound or so was the result. I was getting a bite a chuck from perch and the odd gudgeon but was hoping some skimmers and roach would put in an appearance.
Marco was catching regularly as well and I'd seen him net a couple of better fish. Going into the second hour, I pulled out of another small carp and then hooked a big wobbly unit, I had it on for ages and nearly had it in the net a couple of times, it looked around 8-10lb but eventually broke me. I did also manage my first skimmer, a decent 12oz fish, from the right hand line along with a couple of roach and apart from the weather, I was really enjoying myself.
There was no let up in the rain and my maggots and pinkies were all attempting a mass jailbreak and I'd given up trying to wipe my glasses. Also the wind which had been straight at me was now swirling around and making presentation a nightmare. I was still catching mainly perch and hooking the odd carp but worryingly, I hadn't caught anymore skimbobs.
With three hours gone, bites were slowing up but I found that by toss potting in some loose groundbait on one line and leaving it, I would get a couple of quick fish before repeating the process. I swapped between my two lines doing that and then decided to feed another line at 10 metres up the channel to my left as well and I did miss a couple of bites from there but that was it.
My right hand swim was now the better line and I hooked what felt like a decent fish and was sure it would be a skimmer or a decent roach and was gutted when a gorgeous little 6oz crucian popped up as they don't count in these matches. I also went to swing a 2oz roach which of course dropped off. The wind was now horrendous and I tried adding a couple of inches to the depth of the rig to keep it steady but with hindsight a heavier rig plus a couple of backshot would have probably really helped .
Going into the last hour I started to get a few more bites but was missing more than I was hitting and then with five minutes to go I had a 6oz skimmer and next chuck had a roach around the same size to finish with a flourish. My final tally was 49 fish (mainly perch with a few roach and gudgeon plus those 2 skimmers) which at 2oz apiece would give me 6lb. I also hooked 8 carp (plus that crucian), landing half of them.
The scales were with me first and I was quite pleased with 6lb 3oz but didn't think it would be enough to do any good today. Marco weighed 8lb 9oz and I said he'd frame with that, he'd caught well early but then only had nine fish in the last two hours and he didn't hook a carp all match. I packed up and took my kit back to the car, John was waiting for the scales and admitting to 6lb so I knew he'd beaten me.
As the others started arriving back, I heard someone say they'd had 7lb 12oz and it sounded like there were lots of 5lb weights, then John came up and said he'd weighed 6lb 4oz and I thought he'd ounced me for third (remember that roach!) but there was a 6lb 7oz so it had been another incredibly close match.
1 – Marco Smith (Catchy Bait) – 8lb 9oz
2 – Stephen Blunden (Revels) – 7lb 12oz
3 – Adrian Hayes (Revels) – 6lb 7oz
Looking at the results it had been really tight today and that's why I love it so much, loads of pegs on different lakes are capable of winning the silvers. Dean Hodder had weighed 5lb 15oz on peg 6, Trevor Holmes (peg 57) and Dean Green (peg 19) both weighed 5lb 13oz, Neil Muir (peg 48) had 5lb 6oz and Steve Crowford weighed 5lb 5oz. That's just 1lb 2oz (or a decent skimmer) between third and tenth place, great fishing.
I must admit, I can't get enough of it, I'm really enjoying fishing the different lakes and swims and after each match, I can't wait to get back again. I've said it before but for me, I really like the mix of carp and silvers, the weights aren't silly and your match isn't over at the draw bag. Of course there are some pegs better for carp or preferred for silvers but there is no such thing as a totally fair venue. I also like the fact that you can frame with accidental carp so it's worth trying to get them out.
Hopefully if we're allowed to, I've got a couple more matches down there next week, fingers crossed!
Well that's my last match of the year so I'd like to take this opportunity to wish everyone who reads the blog A Happy New Year, lets hope 2022 is a better one and we can get back to some kind of normality.
If you have the post Xmas blues, why not treat yourself to some new fishing gear using the exclusive discount code AgainstMenandFish10 to get 10% off when you shop online at Somerset Angling
If you didn't get a copy of my book for Xmas, I still have copies of my book available or you can get them from eBay here or Amazon here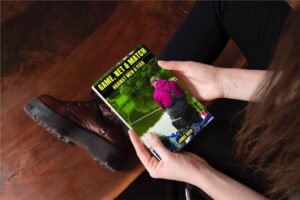 And if you could spare five minutes to leave a nice review on Amazon, it would be very much appreciated.
Next up – 2021 Review
Coming soon – Lots more match reports
Check Out – My last match (below)