After a really lovely few days of eating too much and watching lots of telly (the Mortimer & Whitehouse Xmas Special was just brilliant), I was gagging to get out and had several matches planned, starting with the open at Revels on Tuesday. I was up early and as I loaded the car, the temperature didn't feel too bad but it was really windy. Breakfast at the Airfield Tavern with Steve P was as good always before we headed to the venue.
Given the weather there were still a dozen plucky anglers willing to brave the elements, Main lake seemed to be getting the worst of the wind so they decided to use Dead Tree, Canal, Middle and Trendles. The draw got underway and John Barker was happy with 48 on Dead Tree which he said is the best peg on there, Steve P was next door on 49 and then I got 63 on Canal which was a new lake for me.
It looked really nice with a tinge of colour but with some wicked gusts of wind, presentation was going to be a nightmare. I set up a 0.3 gram Guru AR float to fish two lines down the middle at 8.5 metres and also plumbed up a line at 10 metres. On the side tray I had casters, live and dead reds, disco pinkies and Bait-Tech Special G Dark and the Juice groundbait.
On the whistle I fed the left hand line with half a pot of loose groundbait and a few pinkies while the other line was fed more positively with a full pot. I started on the left with double disco pinkie and thought it might take a while to get any indications but after ten minutes I had a knock and then a positive bite resulted in a little perch. Terry Dell was on 64 and had a carp quite quickly dobbing bread.
I was getting regular bites and had a few more small perch before hooking and landing a 4lb carp but would need a better stamp of silvers if I was going to do any good today. Double dead red maggot didn't improve things and I couldn't get a bite on caster. Terry had a couple more carp and was doing well. All I could seem to catch was small perch, no roach or skimmers or even better sized perch.
Then on the two hour mark, a positive bite saw more elastic come out but as I went to ship back, it came off and was either a decent skimmer or a small carp. With Terry now on four or five carp, I was wishing I'd set up a dobbing rig and I had some bread but had left it in the car as I was determined to catch silvers – doh!
The wind died down a little bit so I decided to start another line across at 13 metres and first put in I had a little 2oz skimmer which was encouraging but then it was back to little perch so had work for little return. I fed another line at 10 metres and it was the same story although I did have my first roach, albeit a small one. I also foulhooked and landed my second carp but I was going nowhere fast.
Steve P turned up with about half an hour to go and said he hadn't had a bite! Apparently John Barker had caught some nice skimmers but it was hard for most on Dead Tree as well. On the whistle, I'd ended up with 41 fish (2 carp, 1 skimmer, 1 roach and 37 little perch).
When the scales reached me, John was leading the silvers with 10lb 15oz and Steve Crowford was the best overall weight with 31lb 2oz from Middle Lake (I think). My silvers went 2lb and the two carp weighed 6lb 12oz. Terry had done really well to weigh 24lb 5oz to go into second place but then the others on our lake had struggled, peg 66 weighed 6lb 11oz and then 68 and 70 didn't weigh.
1 – Steve Crowford (Revels) – 31lb 2oz
2 – Terry Dell (Revels) – 24lb 5oz
3 – Alan Winsper (Revels) – 16lb 4oz
Silvers
John Barker (Revels) – 10lb 15oz
One to forget for me, I got that badly wrong as there were obviously some carp at our end of the lake and I'm sure if I'd dobbed bread across, I'd have had enough carp to frame.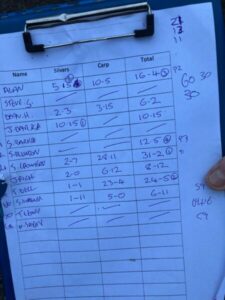 If you have the post Xmas blues, why not treat yourself to some new fishing gear, Somerset Angling are offering 15% off up until 31st December 2021when you shop online, just use the code AgainstMenandFish15 at the checkout.
If you didn't get a copy of my book for Xmas, I still have copies of my book available or you can get them from eBay here or Amazon here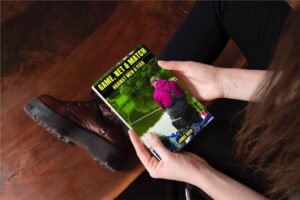 And if you could spare five minutes to leave a nice review on Amazon, it would be very much appreciated.
Next up – Revels
Coming soon – Lots more match reports
Check Out – My last match (below)