We were back at Trinity for another open this week but after frosts all week, it could be a struggle again but at least we got the day off to a good start with breakfast at the bowling club. On arriving at Trinity, the car park was pretty busy with 21 booked in for today. I was hoping for a nice central peg so I could fish for silvers but Tom's drawing arm is nearly as bad as mine and I ended up on 30, just two away from where I was last time.
Nick P didn't move far either when he got peg 6 next to where he was in the previous match and 'The Toast' was on 7. The Grand Wiz was on peg 10 and then the two remaining members of The Breakfast Club, Andy S and Steve 'The Pole' were on pegs 21 and 22 respectively. We all bunged a nugget in the pot for the best weight and Steve and me had one on silvers too. When I got to my peg, I was in good company with owner Tom next door.
In the last match the skimmers didn't show on the pole line until the last couple of hours so I'd brought my 11ft Guru N-Gauge feeder rod with me this week. My plan was to feed a 13 metre line and then leave it alone for three hours unless people started catching on the pole. I set up a 0.6 gram Drennan Pencil for the pole and a little 20 gram Guru cage for the feeder. On the side tray I had maggots (dead and alive), pinkies, casters plus some Bait-Tech Special G Dark and The Juice groundbait.
On the whistle I had three chucks on the feeder to put a little bit of feed down before potting in three balls on the pole line. I kicked off on the feeder with three dead reds on the hook, although we hadn't had a frost overnight, it was still decidedly chilly and I was expecting a slow start. Tim Lewis on 32 had no such problems and flew out of the blocks with a big carp on the bomb and bread.
Not long after Ian W next door on 31 also had a lump, again on the lead so some carp were having a munch although I hadn't seen any silvers caught yet. After about half and hour I started getting the odd knock on the tip and then a decent rattle resulted in a 2oz roach to get me off the mark. Things got even better ten minutes later when I had a positive pull round and landed a nice skimmer of 12oz or so.
Tim was now on the pole and landed another big carp, this one on corn and then Ian lost one on his skimmer rig. At this stage, with just over an hour gone, I was still getting quite a few indications and it felt like there were some fish there. As far as I could tell Nick and Toastie opposite were really struggling and I don't think Tom on my right had caught although he had pulled out of a skimmer and lost a carp.
The next hour came and went and I still only had the two fish but with nobody catching skimmers on the pole I decided to stick with my plan. Tim had caught his third big carp and was doing well but Ian hadn't added to his early fish. With half the match gone I decided to have one more chuck before trying the pole for the first time. I slipped on two dead reds, tipped with a live disco pinkie and put only groundbait in the feeder. After five minutes or so I had a good bite but missed it, next chuck it went round again and I landed my second skimmer.
I gave it thirty minutes more but no more bites and it was finally time to try the pole line where hopefully some skimmers had settled. Shipping out with double pinkie on the hook, I thought I'd get one quite quickly if they were there but the float stubbornly refused to go under, another half an hour elapsed with no indications and it just wasn't happening. I fed another two balls of groundbait on the pole line and had another chuck on the feeder to let it settle.
With an hour to go I was back on the pole and started getting a few bites, I had four roach and a carp but sadly no more skimmers. It had been tough at our end, Tom had a skimmer and a few roach, the guy on my left just had the one carp, Tim on 32 had caught four carp and wouldn't be far away today. Nick opposite had blanked and Terry had fished 16 metres all day for a few roach.
Tom and Mish started the weigh in with him, he had 1lb 4oz before heading up the lake, when the scales got back round to our bank. Brian Slipper was leading with 56lb 10oz from peg 14, the next best weight was only 15lb 6oz, Andy was winning the silvers with 12lb 10oz followed by Mark Broomsgrove with 10lb and Emma who had done well on the waggler again to weigh 5lb 4oz. Tim had four lumps for 47lb 8oz to go into second place, Ian's one carp went 10lb 12oz, mine was somewhat smaller at 5lb 8oz and then my two skimmers and five roach went 2lb which was only good enough to win a nugget off Steve who had 1lb 8oz. Photo credit – Trinity Waters*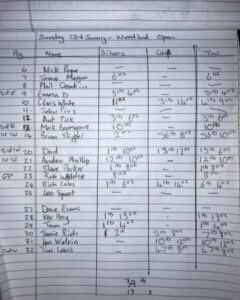 1 – Brian Slipper (Trinity) – 56lb 10oz
2 – Tim Lewis (Trinity) – 47lb 8oz
3 – Dad (I think it was Tom's!) – 15lb 6oz
Silvers
1 – Andy Saunders (Sharp MG) – 12lb 10oz
2 – Mark Broomsgrove (Trinity) – 10lb
3 – Emma Drysdale (DT Floats) – 5lb 4oz
So Andy won the silvers catching on the feeder and the pole and he also had the side bet sweep. My charity Nugget-O-Meter now stands at £15 thanks to Steve's pound.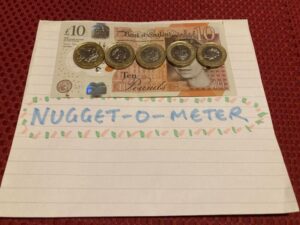 My bad run continues and with the weather still cold unless I draw a handful of pegs on the river on Sunday another struggle could be on the cards. Roll on the summer!
If you have the post Xmas blues, why not treat yourself to some new fishing gear using the exclusive discount code AgainstMenandFish10 to get 10% off when you shop online at Somerset Angling
If you didn't get a copy of my book for Xmas, I still have copies of my book available or you can get them from eBay here or Amazon here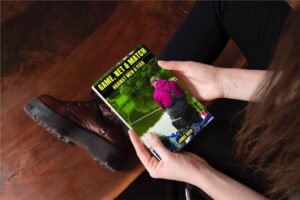 And if you could spare five minutes to leave a nice review on Amazon, it would be very much appreciated.
Next up – River Isle
Coming soon – Lots more match reports
Check Out – My last match (below)