With frosts all week and only a handful of pegs on the river showing any sort of consistency, I must admit I wasn't looking forward to this weeks match, especially as I can't seem to draw for toffee at the moment. As always breakfast and the banter were superb before we got on to the draw and the 'Wheels of Doom' spun into action.
On my wish list for today were 14, H3, H3a, M5, MS1, MS2 and possibly 126, so basically bridge pegs and a weir pool. The wheels started spinning and those pegs started disappearing at an alarming rate and my name still hadn't come up. The usual draw bags were having no such problems, Simon Garbutt got 14, Neil Purchase on H3a, Russ Hilton and Jake Woodard either side the bridge at Midelney.
The last two numbers were 123 and 124, both not very good at the moment and the former is a peg I dislike a lot. Ian 'Bagger' Burton was the next name out and he got 124 leaving me gutted. I did win a match on it once but I've had more bad days than good. My only glimmer of hope was that it does throw up the odd chub occasionally.
When I got to Isle Brewers, Danny B was on Barney's Bend, Les was the poor soul on 127 (a peg I hate even more than 123!) and porn star Karl got 126a. Above the bridge on 125 was Justin, Tony C had 124a and Ian was above him. 123 is on a bit of a bend and I could get down nice and  low to the water.
Plumbing up, the deepest part of the peg was straight in front of me before it shallowed up going into the bend and the tail of the swim. I set up a 1 gram bodied float for the flow and deep hole and a 0.6 gram DH16 for across and the shallower water. Both had size 20 Guru Match Specials to 0.10mm. Bait was just the the normal maggots, pinkies, casters and Bait-Tech Super Seed hemp.
Kicking off at 10:00, I started with the heavier rig at 6 metres in flow with single maggot on the hook. After a few minutes, I had two minnows in the net and had also snagged up a couple of times so I buried the hook in a caster to see if there were any better fish around. Inching the float through in the flow, another ten minutes passed without any indications. I was beginning to get that feeling of deja vu and six hours was starting to look like an awfully long time!
I added a section and went across into the deeper water where there was also a bit of a back eddy. A lovely slow, deliberate bite resulted in solid resistance on the strike, I shipped back to the top kit as quickly as possible. Using the pulla bung, the chub didn't give me too many problems, even with the light elastic and hooklength and a lovely fish around 2.5lb slid into the net.
Next chuck, the float slid away but this time a gudgeon was the culprit, this was already way better than I'd expected and if I could carry on catching some small fish, I'd be happy. I shipped out again and after a short wait, another positive bite resulted in another chub, number three followed not long after and I couldn't quite believe what was happening. Things got even better when I had my fourth and looking at my watch, it was 11:05, in just over an hour I had 10-12lb in the net!
Despite my brilliant start, I knew it wouldn't last, I'd never caught more than three chub from this peg before and the most I'd ever caught from any peg at Isle Brewers is five. Going into the second hour, Karl appeared behind me and said everybody below the bridge was struggling just catching minnows, I didn't have any more bites while he was there and he left me to it. Then out of the blue, the float disappeared and after a decent scrap I landed chub number five to put me on 13-15lb but apart from a couple of gudgeon and minnows that was it for the second hour.
Russ phoned from Midelney and said he was struggling as was Rob below him but Jake was getting a few above the bridge, he also said he'd heard from Simon in the Tank Traps and he hadn't had much either. I certainly wasn't counting any chickens though as all match anglers are notorious for lying through their back teeth, in fact I was only admitting to a few chublets myself!
No more bites in the deeper water so I picked up the shallower rig and tried against the reeds to my left and also further down the peg but as the halfway mark approached, I hadn't added anything else to my net. I knew I must be doing well but I was also very aware that any of the pegs on my wish list were capable of doing 15lb+ and I needed to find another fish or two from somewhere.
Picking up the heavier rig I went back to running the rig through in the flow, still nothing and I went to lift the rig out only to find it was snagged but then the bottom started kicking and before I had chance to fling the pole back, a big fish went straight under all the crap to my left and it all went solid. I tried applying pressure from different angles, letting the rig go slack to see if the fish would swim out but it was gone. After grabbing the elastic and pulling, I got everything back along with some dead reeds on the hook which was rather bent out of shape. Gutted, as I felt sure that fish was going to cost me.
With around sixty minutes to go, Terry phoned from Hambridge and said both he and Dave Pope only had a couple of fish although Neil P and Bish either side of the bridge were catching some quality perch. I had him on speaker phone when my float sunk from view and another chub was on, this was a good one too, getting on for 3lb, once safely in the net, I told him I had six for around 15lb.
Into 'The Golden Last Hour', I started upping the hemp and caster thinking one more chub would probably be enough. Nothing for a while but then I've had three in a frantic ten minutes to put me on nine chub for 22-25lb. At this stage I really thought I might get a couple more but that was the last of the action, what a unbelievable day. I was really chuffed that I'd only lost one using relatively light gear but I wasn't fishing tight to snags.
We started the weigh in with Justin who had 5lb 1oz which included some nice roach from 125, Tony C on 124a had loads of minnows and a few small roach for 1lb 15oz and then 'Bagger' Burton on 124 had nearly all minnows for 1lb 3oz. Then it was my turn and the first five chub went 13lb 11oz and the remaining four added another 11lb 3oz to give me a total of 24lb 14oz.
Below the bridge it had been painful, Les weighed 12oz from 127, Danny 7oz on 126 and Karl weighed 4oz on 126a. Back at the results and Simon had found the fish in 14 after a couple of hours to weigh 15lb 10oz, Bish had 13lb 3oz which included some cracking perch from H3 and Neil P weighed 11lb 3oz of nearly all perch from the other side of the bridge (and he landed three pike as well). Thanks to Nick Payne* and Terry Morgan** for the photos.
Jake Woodard did well at Midelney to win his section with 8lb 12oz of roach, Russ had 6lb 12oz the other side of the bridge and Steve 'The Pole' Parker weighed 1lb 8oz from peg M4. It had been really hard going with half the anglers weighing 1lb 3oz or less and hardly any roach showing. Thanks to Russell Hilton for the photos***
1 – Jamie Rich (Against Men and Fish) – 24lb 14oz
2 – Simon Garbutt (Ilminster) – 15lb 10oz
3 – Steve Bishop (Sharp MG) – 13lb 3oz
4 – Neil Purchase (Ilminster) – 11lb 3oz
Sections
A – Jake Woodard (Ilminster) – 8lb 12oz
B – Russell Hilton (Ilminster) – 6lb 12oz
C – Ian Burton (Taunton) – 1lb 3oz
D – Tony Coubrough (Ilminster) – 1lb 15oz
I had a nice pick up of £85 and a nugget off Steve P to put the charity Nugget-O-Meter on £16. It wasn't until I got home that I realised how close I'd come to breaking my best ever Isle match weight which has stood at 24lb 15oz for a long time! I must admit I was resigned to a bad day when I drew 123 this morning (and possibly moaned a bit!), I still don't like the peg but it just goes to show how fishing can surprise you sometimes.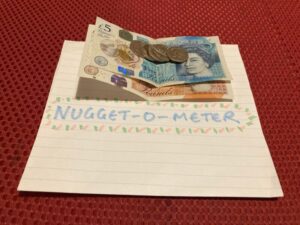 Days like today do raise lots of questions, just how many chub were in my swim? I'm positive there must have been more, some say you only ever catch a third, so possibly 27 chub? That's a lot of fish. How many other swims on the Isle still hold numbers of chub, there's 122, possibly several at Redbridge, what about 55 at Ilford, 66 or 74 at South Bradon? The trouble is, access and parking are very limited at some of those sections now. It would be a brave match secretary to put them in, especially if they all blanked! Also where have all those roach gone, I'm sure they haven't all disappeared but something has happened to stop them feeding.
After six matches (and dropping the worst result) it's very tight at the top and all to play for in the last round,
Russell Hilton – 8 pts (dropping 3)
Jake Woodard – 8 pts (dropping 20)
Les Braunton – 9 pts (dropping 3)
Rob Cox  – 9 pts (dropping 4)
Steve Parker – 10 pts (dropping 4)
Steve Bishop – 11 pts (dropping 4)
Jamie Rich – 11 pts (dropping 5)
Ian Burton – 11 pts (dropping 20)
Neil Purchase – 12 pts (dropping 4)
Terry Morgan – 12 pts (dropping 5)
Here's a list of the framing pegs (top three) from the eight matches on the river so far,
14 – 7 times (won 4)
126 – 3 times (won 1)
H3a – 3 times (won 1)
15 – 2 times
H3 – 2 times
M4 – 1 time (won 1)
M5 – 1 time (won 1)
123 – 1 time (won 1)
MS1 – 1 time
120 – 1 time
124 – 1 time
125 – 1 time
128 – 1 time
H2 – 1 time
H4 – 1 time
H5 – 1 time
*Note, the pegs at Midelney/Hambridge aren't permanently pegged so numbers can vary.
If you have the post Xmas blues, why not treat yourself to some new fishing gear using the exclusive discount code AgainstMenandFish10 to get 10% off when you shop online at Somerset Angling
If you didn't get a copy of my book for Xmas, I still have copies of my book available or you can get them from eBay here or Amazon here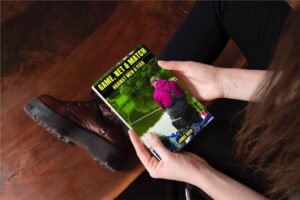 And if you could spare five minutes to leave a nice review on Amazon, it would be very much appreciated.
Next up – River Isle
Coming soon – Lots more match reports
Check Out – My last match (below)