After sadly losing Jack last year, IAA's annual open would now be known as the Jack Newman memorial match and his family very kindly supplied a lovely trophy. There was a great turnout to remember him including his son Tony who still fishes with us several times a year. There were also some new faces at the bowling club which is always nice to see with Dave Nicholls and Lee Stanley fishing their first matches with us.
The forecast was horrible and we were in for an unpleasant day with strong winds and rain. With a lot of areas not fishing very well, Rob decided to try a few pegs at Redbridge and I really fancied the 'Gas Pipe' swim to do well although the wind could make it difficult today. After another cracking breakfast it was time for the draw and 'The Wheels of Doom' spun into action.
Quite a few of the fancied pegs went quite early, Rob got 14 which has been really consistent and Neil P got 109 (Gas Pipe), 123 hadn't come out yet but I wasn't sure those chub would show again this week. Then my name was next and Rob said I was on 122, it hasn't been in for a while but I fancied it for a few as Digger had two chub and lost five in one of the earlier matches, that left Tony C who was on my peg from the previous match.
Arriving at my peg, I could get my box in down the bank and although the wind was howling down the river, I was relatively sheltered. It would still be a case of battening down the hatches so I set minimal gear up, just the one rig, a 0.75 gram bodied float and with chub the target, I went for a size 18 B611 to 0.12mm with green hybrid elastic in the top kit. On the side tray I had maggot, casters, Bait-Tech Super Seed hemp and a flask of coffee!
At 10:30, I started with double red maggot on the hook just the other side of the main flow at 7 metres, the wind was difficult but as I was only fishing short, presentation wasn't too bad. No indications so I added another section and was inching the rig through. I had a quick minnow like bite and one of the maggots had gone, I laid the rig back in, it went straight under and a minnow flew out of the water on the strike and fell off!
That was enough of that, so I switched to caster and a further 15 minutes passed without any bites and I was just thinking it might be a case of sitting it out for a couple of chub when the float buried and I was into a good fish. With fairly robust gear on and no real snags to worry about, it didn't give me any problems and I landed a nice chub around 2.5lb, so with only 20 minutes gone, I was off to a great start.
The next hour was uneventful, only populated by me cursing and swearing at the wind. Then with an hour and a half on the clock, a positive bite resulted in chub number two. I shipped back out, laid the rig in and as I picked the catapult up, the float went again and I had another nice fish so despite the weather, it was all going rather well.
Not long after, John Dursley (who was on 125), appeared behind me and said he was really struggling with the wind and only had a few small roach and minnows and was going to head off home soon. He also reported that Tony had landed one chub but lost three.
As we passed the halfway mark, a bite out of the blue resulted in my fourth chub. Along with the wind, we had a fair bit of rain and the river was starting to come up a bit. My next visitor was Tony who sat down behind me clutching two broken bits of pole. He was having a nightmare, the score was still 3-1 to the chub and he'd lost a top kit along with with a snapped number four section, he was holding the remnants of his other number four section and had also broken a number five! If that wasn't bad enough his brolly was ruined as well.
He was contemplating having an early bath but I suggested he telescope the two broken bits together so at least he could carry on fishing and he headed back to resume battle with the wind and hopefully some more chub. Into the penultimate hour and I had my fifth chub to put me on around 10-12lb. Given the conditions, I was well chuffed with how it had gone so far, five bites, five hooked fish, five chub landed and there was still plenty of time for a couple more.
The 'Golden Last Hour' arrived and I was still on five fish, laying the rig in at the top of the swim, I missed a really good bite and then next put in, the float buried again and I missed that one too! At least I knew there was another one in the peg and I still felt like I was going to get another chance. Time was ticking by and with just thirty minutes left and no more indications, I stuck another section on and went further across into the slacker water.
After a couple of minutes, the float buried and lots of green elastic came out on the strike, the fish was just plodding about and I really wanted to make this one count. It tore off and then there was that sickening feeling as everything went slack and the hook had just pulled out – gutted! With twenty minutes remaining, I was praying for one more bite but it didn't happen.
I quickly packed up and when I reached Tony's peg I was faced a scene of destruction and chaos, there were bits of pole everywhere and after all the rain, the steep bank looked lethal as he'd slid down it several times and was struggling to get his box out. Between us we got all his kit up the bank safely. He'd finished up with five chub as well so this could be very tight, mine went 11lb 12oz, so they were a smaller stamp than last weeks and I was sure Tony would beat me.
Justin arrived and said he'd weighed 5lb 8oz from 120, Neil had two and lost four from 109 and 108 didn't weigh. When Tony pulled his net out, he had some cracking chub and the needle settled on 12lb 14oz – well done mate.
Back at the results and Rob had weighed 8lb 14oz from peg 14 which was third on the day as the rest of the river hadn't fished very well but the conditions had certainly been a factor today. Neil P's two chub went 5lb 10oz for fourth place and section wins went to Steve P with 3lb 4oz on peg 19, Justin with 5lb 8oz (peg 120) and Jake who had 2lb 14oz from Midelney. It was lovely to see Jack's family at the bowling club and Tony N presented Tony C with the trophy and a bottle of scotch. Thanks to Rob Cox for the photo*
So another really enjoyable days fishing (the same couldn't be said for the weather!) and I picked up £60 for second place plus nuggets from Rob and Steve. The running total for the Nugget-O-Meter now stands at £18.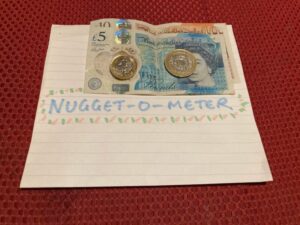 I have to say in my last two matches it's been exciting stuff when the float goes and you know it's going to be a chub. More of the same in the next match please!
1 – Tony Coubrough (Ilminster) – 12lb 14oz
2 – Jamie Rich (Against Men and Fish) – 11lb 12oz
3 – Rob Cox (Ilminster) – 8lb 14oz
4 – Neil Purchase (Ilminster) – 5lb 10oz
Sections
A – Steve Parker (Ilminster) – 3lb 4oz
B – Justin Charles (Ilminster) – 5lb 8oz
C – Jake Woodard (Ilminster) – 2lb 14oz
Here's a list of the framing pegs (top three) from the ten matches on the river so far,
14 – 8 times (won 4)
126 – 3 times (won 1)
H3a – 3 times (won 1)
123 – 2 times (won 2)
15 – 2 times
H3 – 2 times
M4 – 1 time (won 1)
M5 – 1 time (won 1)
MS1 – 1 time
120 – 1 time
122 – 1 time
124 – 1 time
125 – 1 time
128 – 1 time
H2 – 1 time
H4 – 1 time
H5 – 1 time
*Note, the pegs at Midelney/Hambridge aren't permanently pegged so numbers can vary.
If you have the post Xmas blues, why not treat yourself to some new fishing gear using the exclusive discount code AgainstMenandFish10 to get 10% off when you shop online at Somerset Angling
If you didn't get a copy of my book for Xmas, I still have copies of my book available or you can get them from eBay here or Amazon here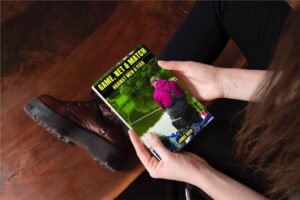 And if you could spare five minutes to leave a nice review on Amazon, it would be very much appreciated.
Next up – River Isle
Coming soon – Lots more match reports
Check Out – My last match (below)