It was back to Summerhayes and this weeks match was on Sellicks. A few of us had breakfast at the bowling club first (thanks Drew) and then it was on to the fishery which was already starting to get busy with matches on both lakes. With 21 anglers booked in for our match and it being sunny, bright and the lake flat calm, it would probably be hard going. Along with the regulars (including The Tart unfortunately), there was a name on the list I recognised and hadn't seen for many years, Tom Rattenbury who used to fish quite a few of the Ilminster and Chard matches, he's not long got back into fishing and it was nice to have a bit of a chat.
Pete announced the draw, starting with the golden peg which today was number 2. My name was fairly near the top of the list and I got peg 21 which I was happy with. As for the rest of the breakfast club, Jenny got the golden peg, Nick was on 5, Steve 'The Pole' on 12 and Terry 'The Toast' on 16. My neighbours for the day were Jim Jenner on 22 and Dave Phillips on 20, thankfully The Tart was up the other end on 13, so ear plugs not required.
I set up a 0.6 gram Malman Pencil to fish top two plus two and a couple of lines at 11.5 metres left and right and then a little 0.2 gram NG Mini Gimp with strung shot to fish across to the island at 14 metres, both with size 18 Guru F1 Pellet hooks to 0.08mm. On the side tray, I had 2mm and 4mm Bait-Tech Xpands, red maggots (alive and dead), micros plus Special G Green and The Juice groundbait.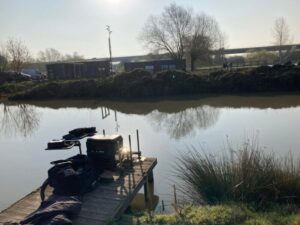 On the whistle I fed a ball of groundbait short and one on the longer right hand line and then some micros on the left, I also flicked a few maggots across. As expected it was a slow start and the only angler I saw catch anything was Duncan on 23 who had a small fish. I had my first bite after thirty minutes which was a 2oz roach on double maggot but that was it for the first hour. No indications on the micros line so I had my first look across and had my second roach but I have to confess I didn't see the bite!
The Tart wandered down and said he hadn't caught yet, it was fishing rock hard although he did report that Rob B on 15 had landed a decent skimmer. I had a look on the short line and after an age, a positive bite resulted in a tiny carp of less than an ounce. After another wait, I missed a bite and then hooked what felt like a decent skimmer but the hook pulled out! Back on the longer groundbait line, the float buried and I landed a 3lb carp without too many problems. Jim had started getting the odd carp and was doing well but from what I could see, not a lot else was happening.
Roger Russell turned up for a walk round and said that Glynn had only caught one skimmer, he soon got bored watching me catch nothing so he headed up to see how Rob was doing. After feeding my lines again I went back across where I'd been flicking maggots on a regular basis. It wasn't fast and furious but I started getting some bites and landed two or three nice roach and was happy to be putting something in the net.
Dave was getting the odd roach from his shorter line so I had another look on mine but never had a bite there. Back to 14 metres and the rest had done it good as I had a flurry of action with some more roach and my first skimmer. I was starting to enjoy myself although felt sure it would only be a matter of time before the inevitable carp moved in. More roach and three skimmers followed before I pulled out of one. Roger came back and said Rob had a couple of skimmers but had only caught one small 4oz fish while he'd been sat with him.
I added a nice rudd and was stilling getting quite a few bites with everything coming to single red maggot. Dave had a nice skimmer from his short line and Jim was still catching odd carp although one led him a merry dance even going under his pallet at one stage and he did well to get it out. My first carp from by the island gave me the right run-around before I eventually netted it and I also managed two more skimmers but annoyingly, I had another come off.
With around an hour to go, Glynn came round and had really struggled for one skimmer, while he was with me I had a couple more nice roach. I carried on catching odd fish and just before the all out, I pulled out of a slightly better fish. My final tally was 6 skimmers, 21 roach and a rudd plus those two carp (and a micro version).
I packed up and went to watch the weigh in, young McKenzie on peg 1 had 14lb of carp, Jenny, Glynn and Tom didn't weigh on 2, 3 and 4. Nick on peg 5 had 20lb 2oz, Geoff Young was a DNW on peg 6 before Kevin Osbourne went into the lead with 43lb 1oz on 7. Roger C had struggled for 1lb 15oz on 9 then Alex Kerr on 10 weighed 37lb 2oz.
Mark Leahy on peg 11 was the new leader with 68lb 9oz of carp, Steve P weighed 15lb 11oz on 12 and then The Tart had 43lb 9oz which put him in second spot but crucially as he had no silvers, the side bet was quits. Juri on 14 weighed 31lb 15oz of carp and then Rob Birch had some big skimmers for 4lb 15oz.
Terry 'The Toast' had two carp for 7lb 6oz and then Bill 'The Paste' on 17 had some lumps for 47lb 7oz. Mark V chucked back on 18 and then Dave P weighed 4lb 1oz of silvers, I didn't weigh my carp and then my silvers went 8lb to go into the lead with two pegs to weigh. Jim had 31lb 7oz of carp and Duncan weighed 17lb 4oz.
Overall
1 – Mark Leahy (Summerhayes) – 68lb 9oz
2 – Bill Hopping (Summerhayes) – 47lb 7oz
3 – Brendon Ions (Tackle Trader) – 43lb 9oz
Silvers
1 – Jamie Rich (Against Men and Fish) – 8lb
2 – Rob Birch (Summerhayes) – 4lb 15oz
3 – Dave Phillips (Taunton) – 4lb 1oz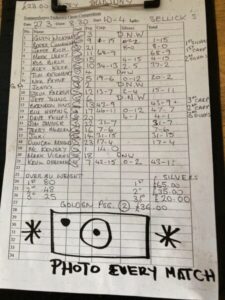 Back at the results and I picked up a very nice £65 plus a nugget off Steve P to take the charity Nugget-O-Meter to £28.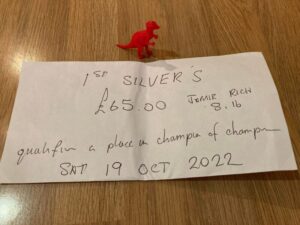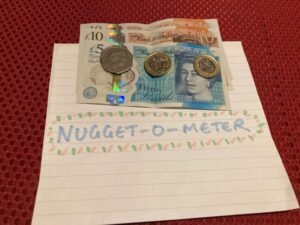 There's still a great offer running if you fancy treating yourself to some new fishing gear, use the exclusive discount code AgainstMenandFish10 to get 10% off when you shop online at Somerset Angling
If you don't fancy getting out on the bank in this awful weather, you can still get your fishing fix with a copy of my book from eBay here or Amazon here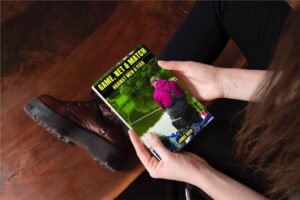 And if you could spare five minutes to leave a nice review on Amazon, it would be very much appreciated.
Next up – Revels
Coming soon – Lots more match reports
Check Out – My last match (below)