My third match in four days and another 6:00 alarm meant I was starting to flag a bit but a cracking breakfast at the Airfield Tavern soon sorted me out and even better it was looking like being a gorgeous day. I was soon pulling into the car park at the fishery and there was another great turnout of 18 anglers fishing today.
The draw was announced and we were on Main and Trendles again, I was hoping to avoid the latter and carpy corner on Main and was really pleased when peg 22 was drawn for me. It hasn't been used in the last few matches but as it's opposite peg 2 which is a great silvers swim, I really fancied it. Neil Saxby was next door on 21 and Dave Litchfield was over on peg 2 and both were fishing for silvers as well. I was just about to head off to my peg when Tony C, who fishes the Ilminster matches, turned up to have a walk round.
My swim looked lush, there was a little island in front which I would be avoiding for obvious carpy reasons but there were lots of options with the channel between two islands to my left and to the right there was a bit of a bay, the insides looked fishy too. Plumbing up it was fairly shallow to the left but there was a slightly deeper area between the islands at 11.5 metres, I also decided on a swim at the same distance to the right but it was a bit shallower and lastly I would feed a top two plus two line to the right.
If you've been reading the blog recently, it'll come as no surprise that I set up a couple of Guru 0.3 gram AR's to cover all three lines. Both had size 20 Guru Match Specials to 0.08mm. On the side tray I had lots of maggots (dead and alive), casters, pinkies and some Bait-Tech Special G Dark and The Juice groundbait. I was ready with a few minutes to spare and Tony took a photo of me just before the start.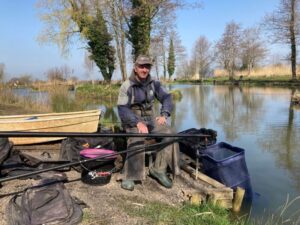 On the whistle I fed a pot of loose groundbait on the left hand swim, two on the right as I wouldn't be fishing it for a while and the short line got some as well. I started on the left and was toss potting in a few maggots as well as catapulting a few over the top. I did miss the first couple of indications and was expecting to get some small perch or gudgeon to begin with but was pleasantly surprised when a decent amount of elastic came out and I netted a 3oz skimbob. Next put in I had a slightly better one and then a gudgeon and it was a bite a chuck.
I then hooked a good skimmer but disaster struck when it came off shipping back, I did say to Tony that I hoped that wouldn't spook them. The next bite resulted in it's twin, a nice fish of probably 8-10oz and I was in heaven, surely this couldn't last? Tony left me to it and headed off, saying he might fish next Tuesday. I did try toss potting in a little loose groundbait and they were straight on it, after an hour I had around a dozen fish, a gudgeon, a little perch and the rest skimmers. Neil and Dave both looked to be netting fish regularly but I couldn't really see how anybody else was doing apart from Rene on peg 4 who'd landed a couple of carp on the feeder.
The second hour was similar and I was also making sure I wasn't neglecting to feed my other two lines. With about an hour and quarter on the clock, I hooked a carp that headed off up the pond before snapping me. Next put in I hooked another which I got out but it had me fearing the worst so I fed a little more groundbait and would swap lines if I hooked another. I needn't have worried as the next put in, the float buried on the drop and I netted a nice 4oz rudd, the same thing happened next chuck but this time a nice skimmer.
Out again and a repeat performance but this time the strike met with solid resistance and a carp tore off which had me cursing, but then it stopped. As I shipped back I saw a flash of silver and sure enough it was a foul hooked pound plus skimmer that I netted safely (lucky dinosaur strikes again!). Bites started to slow towards the end of the second hour so I tried fishing past the feed at 13 metres but it didn't really work with just a small perch the only bite. I decided to feed another pot of groundbait and have a look on the right hand line.
I had a small roach straight away but then had to wait a while for the next bite which was a nice skimmer. It wasn't fast and furious but by being patient I added another three or four skimmers from this line before feeding it again and going back to the left. I then had a funny five minutes when I foul hooked a small skimmer but as I shipped back it kited towards the island and went round some reeds, snagging me solid which resulted in me losing it. Next chuck I bumped a decent fish and then hooked a fish which I initially thought was a carp but again it stopped and I was just beginning to think it might be a big skimmer when the hook pulled.
Every time bites slowed I'd feed some more groundbait and swap lines which would result in a couple more skimmers, I did also land my second carp. Towards the end of the match the right hand line was getting stronger and stronger and I was catching some nice roach. I also hooked a fish that splashed on the top straight away and felt bigger, as I unshipped at the top kit, there was a fair bit of elastic out and I was thinking big roach or maybe even a chub but it came off before I could see it.
The six hours absolutely flew by and I didn't want the match to end, the whistle went and I'd finished up with 58 fish (mainly skimmers with some roach, a rudd, two gudgeon and two perch) plus those two carp. I had less fish than last time but a better stamp so thought I must have double figures.
Dean soon arrived with the scales and said Trendles had fished hard, Rich Butler had the top weight there with 10lb 8oz from 25 and Dave Stanbridge was the top silvers with 4lb 10oz on peg 30. My two carp went 7lb 11oz and then my silvers weighed 13lb 4oz, just a lovely day. The scales then headed off round the lake and I carried on packing up.
After loading the car, I caught up with the scales as they reached Bob on peg 16, he had 4lb 5oz of silvers and then plonked some lumps on the scales that went 33lb 4oz to give him a total of 37lb 9oz. Looking at the weigh board, I was still leading the silvers ahead of John Bass with 9lb 15oz from peg 6 and Chris Burgess who'd done really well on peg 14 to weigh 7lb 15oz.
Next to weigh was Adrian H on peg 18 and had 18lb 7oz, Andy M on 20 weighed 13lb 5oz and then Neil had 5lb 12oz of silvers from peg 21. So I'd won the silvers again and picked up £40 to finish off almost the perfect day. Overall, Paul Lancaster had the top weight with 48lb 8oz from peg 8, followed by Terry Lenny with 40lb 6oz from peg 11 and Bob was third.
Overall
1 – Paul Lancaster (Revels) – 48lb 8oz
2 – Terry Lenny (Revels) – 40lb 6oz
3 – Bob Crisp (Revels) – 37lb 9oz
Silvers
1 – Jamie Rich (Against Men and Fish) – 13lb 4oz
2 – John Bass (Revels) – 9lb 15oz
3 – Chris Burgess (Revels) – 7lb 15oz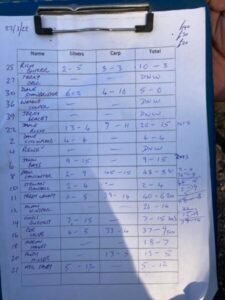 There's still a great offer running if you fancy treating yourself to some new fishing gear, use the exclusive discount code AgainstMenandFish10 to get 10% off when you shop online at Somerset Angling
If you don't fancy getting out on the bank in this awful weather, you can still get your fishing fix with a copy of my book from eBay here or Amazon here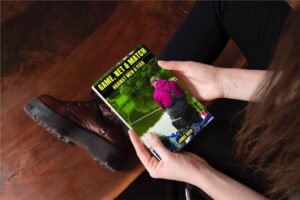 And if you could spare five minutes to leave a nice review on Amazon, it would be very much appreciated.
Next up – Summerhayes
Coming soon – Lots more match reports
Check Out – My last match (below)